Whether you're looking for a training gym bag for MMA, BJJ, Muay Thai, or Boxing, there are key features you to make your life easier. There's nothing worse than stuffing a bag full and rummaging around for your mouth guard, a pair of clean socks, or your all-important jockstrap – ladies we have you covered too.
The best training gym bags for MMA will be durable, well equipped with pockets (lots of them!), a space specifically for your MMA shoes, and especially a wet compartment for your sweat covered kit. At FitnessToDiet.com we've trained in combat sports, we understand the importance of carrying all of your gear and equipment in one convenient and practical training bag.
A training gym bag for MMA or even for BJJ is crucial to ensuring you're prepared in advance and have everything you need to turn up to training or competition ready to go. Turning up and realizing you left your MMA gloves in another bag is a disaster, and can put you off your game if you're wearing borrowed equipment. A bag for MMA needs to be big enough, comfortable, and hold everything you need.
We've compared 5 of the the top training gym bags for MMA or any combat sport as well as a buyers guide to finding the right bag. Let's dive in.
Fitness To Diet is supported by its audience. When you purchase through links on our site, we may earn an affiliate commission, at no additional cost to you. Learn more.
Comparison of Gym Bags for Mixed Martial Arts
To save time, here's a high-level overview of the top 5 best gym bags for MMA in a table easily accessible from your trusty online store.
We have alternatives options throughout this post.
Preview
Product
Sport Large Gym Duffle Travel Bag Wet Dry Storage Carry On Cobra Grips BackPack
Elite Sports Warrior Series Boxing Mma Bjj Gear Gym Duffel Backpack Bag, Large
Canway Sports Gym Bag, Travel Duffel bag with Wet Pocket & Shoes Compartment for men women, 45L, Lightweight
Gold BJJ Jiu Jitsu Backpack - Heavy Duty Gym Bag with Waterproof Gi Pocket (Black)
Under Armour Adult Undeniable Duffle 4.0 Gym Bag , Graphite Medium Heather (040)/Silver , Large
Preview
Product
Sport Large Gym Duffle Travel Bag Wet Dry Storage Carry On Cobra Grips BackPack
Preview
Product
Elite Sports Warrior Series Boxing Mma Bjj Gear Gym Duffel Backpack Bag, Large
Preview
Product
Canway Sports Gym Bag, Travel Duffel bag with Wet Pocket & Shoes Compartment for men women, 45L, Lightweight
Preview
Product
Gold BJJ Jiu Jitsu Backpack - Heavy Duty Gym Bag with Waterproof Gi Pocket (Black)
Preview
Product
Under Armour Adult Undeniable Duffle 4.0 Gym Bag , Graphite Medium Heather (040)/Silver , Large

Best Overall Gym Bag For MMA ⭐⭐⭐⭐⭐
Sport Large Gym Duffle Travel Bag Wet Dry Storage Carry On Cobra Grips BackPack
Grip Power Pads Bodybuilding Sport Large Embroidered Gym Duffle Bag with Wet/Dry Storage TWO BAGS IN ONE You can carry this unique gym bag like a classic duffel bag by its adjustable shoulder strap or strong top handles or use the double straps to convert it to a backpack
ROOM FOR ALL OF YOUR GEAR With a large main compartment plus front, right and left zip compartments you have plenty of space to fit all of your necessary items when on the go. Dimensions (fully extended): 26" wide x 12" tall x 12" deep Dimensions (compressed): 22" wide x 12" tall x 12" deep
HELP WET GEAR DRY On one end, you'll find a ventilated wet/dry compartment for airing out dirty shoes, wet towels and sweaty clothes
Reasons To Buy ✅
Heavy-Duty Durability
Largest
Versatility
Hybrid Carry Style
Ventilated Wet Compartment
Comfortable Carrying Heavy Load
What makes the Cobra Grips bag our top pick is that it ticks so many of the boxes that you need when buying a gym bag or MMA. Upon first look you'll notice the hybrid carrying capability, meaning you can carry this training bag in your hand like a normal duffel bag, sling it over one shoulder to have easy access to the front and side pockets or carry it on your back in full backpack style – versatility defined!
When you're traveling around on your way to the gym, those who use public transport or walk will find that a backpack setup is essential to free up your hands and the ability to move freely. Having the additional option to hold this in your hand or over your shoulder with the comfy padded shoulder straps gives you the freedom and choice to switch it up whenever necessary.
You'll notice the material this bag is made from – and you can quickly tell it's high-quality. This training bag for MMA is constructed of 600 denier polyester with PVC coating. It comes with reinforced stitching on the handles too because the designers know you'll be filling it up with all your gear and it needs to be built to last.
We love the zipper designs on this bad boy. They are totally unique to the Cobra bag and is very handy when you have sweaty hands, or your grip strength is destroyed from a tough roll in BJJ class. They're red, grippy, and reinforced to help keep the zipper functional for the life of the bag.
The one downside we found was that it was lacking the waterproof test. Whilst it is made from a thick material – if it rains enough on the bag it'll get heavier and weigh you down more. We've also found that most bags we've looked at didn't have full waterproof functionality so we're not pulling a star off for that.
As mentioned in our buyer's guide at the bottom of this post. A shoe compartment is a must. When training MMA or wrestling, you'll often need a pair of MMA shoes or wrestling shoes for training. If you've trained for a while you'll know that stuffing these into a bag will ruin the shoes over time, and you also don't want wet clothes to be in contact directly with the footwear. The Cobra Grip training gym bag or MMA also has a mesh cover to allow air into the shoe space
The final huge advantage of this bag is the size of the wet bag compartment. You can fit a decent-sized gi in there. Not to mention all of your soaking wet rash guards, underwear, and even wet shin guards.
This is the best YouTube review for the Cobra Grips bag – see it in its full glory!
Best Bang For Your Buck ⭐⭐⭐⭐⭐
Sale
Elite Sports Warrior Series Boxing Mma Bjj Gear Gym Duffel Backpack Bag, Large
CONVENIENTLY STORAGE – The Warrior gym duffel bag for boxing, MMA, BJJ gear is big enough to keep gym gear, equipment, and other accessories conveniently. The gym bag shoes compartment is dedicated for shoes; other dedicated pockets are also available.
MESH VENTILATION POCKET – Our boxing gym bag has a mesh pocket allowing ventilation drying damp gear preventing bag and other items from absorbing the smell, just take them out as you reach home. This MMA bag is washable so you can thoroughly wash it.
TAKES HAYMAKERS WITH EASE – Our MMA gym backpack duffel is made of heavy-duty Cordura fabric which is known for its strength, durability, and resistance so you won't be needing to replace this gym bag boxing backpack it anytime soon.
Reasons To Buy ✅
Hybrid Carry
Convenient Shoe Storage
Ventilated Pockets
Great Wet Pocket Storage
Multiple Colors
Great Value For Money
If you're hoping to spend a little less, and get more bang for your buck then the 'Elite Sports Warrior' is the one for you. It comes with a lot of the features which make our 'best pick' great, as well as a more traditional look and feel to the duffel bag.
This is a more breathable gym bag, it's not made from the same heavy-duty materials as the Cobra, but still highly durable. Although not entirely waterproof either, it will keep light rain off temporarily. The upsides are great, there's a lot of color combinations to choose from which represent the broad range of the colors often found in Muay Thai or MMA.
The bag itself is equipped with the all-important dedicated shoe compartment for which provides quick access away from your other gear. This is a fully closed pocket to prevent anything from getting inside, unlike the Cobra which has a mesh cover for the shoes.
What's really unique about this bag is the additional strap to carry your gi. Whilst there is space to fold and store your Brazilian Jiu-Jitsu gi inside the bag, you can also strap it on the outside so that it sits securely and tight. And this may not be the right option for everyone, but if you're training BJJ in the same session as MMA or kick-boxing – you'll be better offer to store your Hayabusa shin guards inside the bag and your gi outside (as long as it's not raining!).
There is plenty of space in this bag, it's a perfect bag for Muay Thai and other combat sports. Not only does it also come with the great hybrid carry option, but mesh pockets to allow ventilation into the bag to prevent that dreadful smell of damp and sweat – make sure you know how to properly take care of your gear, like washing your gi and BJJ belt to avoid odor and shrinkage. Some compare this bag to the Venum Trainer Lite Sport, but from our reviews, we found that to be slightly more expensive, and limited in terms of the colors available.
The downside we saw, which is unfair to deduct points for, is the poor BJJ app this bag comes with. A training bag for combat sports that's sole purpose is to carry items, doesn't need an app. There are dedicated apps for that.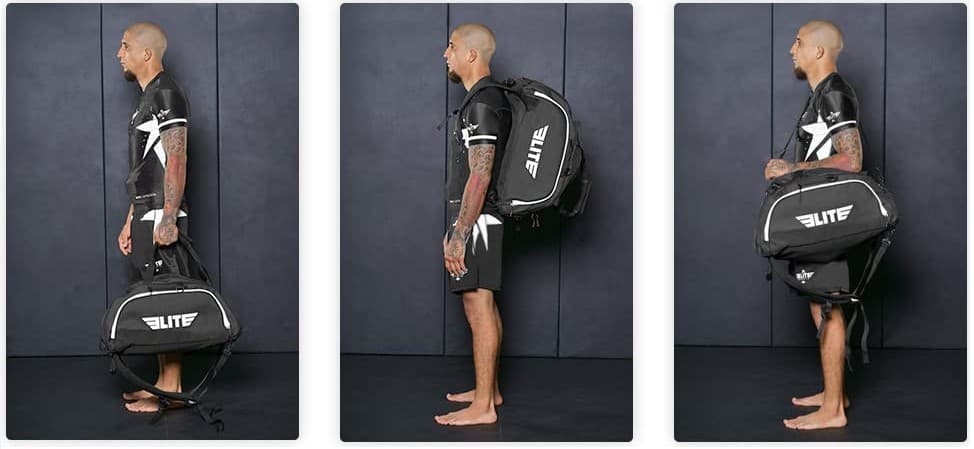 Best Gym Bag For MMA On A Budget ⭐⭐⭐⭐⭐
Sale
Canway Sports Gym Bag, Travel Duffel bag with Wet Pocket & Shoes Compartment for men women, 45L, Lightweight
LARGE DUFFEL: The gym bag measures 20 x 10x 10 inch with 45L capacity. It is your choice if you're looking for a big, fashionable, no-nonsense hauler that'll hold all your essential items for sports.
MULTI-POCKET: The sports bag has one spacious main pocket and eight separate pockets. One shoe compartment for sneakers. Two front pockets and one inner wet pocket. Side mesh pocket fits one water bottle and one protein shaker. The inner pockets for shampoo and facial cleanser.
BUILT TO LAST! Made of 600D polyester fabric, waterproof & tear-resistant. Premium metal SBS zippers and reinforced major stress points will never fail you. It comes with rounded stitched grip handles and padded, adjustable, removable shoulder strap buckle.
Reasons To Buy ✅
Low Budget Option
Great Colors
Waterproof & Leather Bottom
Soft Pocket For Valuables
Wet Pockets
Dedicated Shoe Compartment
The most stand-out part of this bag is the clean, sleek, compact design. The 'Amazon Choice' Canway bag is without a doubt a nice looking bag, one that could be used in a professional environment without standing out or looking awkward, as well as all the things you need it for in the gym. A lightweight, breathable gym bag that is also built with a solid 600D polyester fabric that will last if you look after it well.
Waterproof! Not many of these bags claim to be fully waterproof – Canway does. Not only is this bag waterproof, but tear-resistant. We all know how much wear and tear a bag for MMA gets. It's thrown around, tugged at, handled rough (sounds awfully like BJJ!) and after all that, it needs to stay durable and last you a long time.
Canway has opted for premium SBS zippers with reinforced stress points across the bag. Although Japanese zip manufacturer, YKK is largely known to be the best in the business, SBS have been around since 1984 with a wealth of knowledge and experience in making robust zip designs.
If you're looking for a low-budget option then this bag is for you. Priced very reasonably but still competing with the more expensive bags in terms of quality and functionality – there's not a lot of reasons not to choose this bag. It can store all of your training equipment, mouthguards, Hayabusa MMA gloves, and headgear all while looking stylish over your shoulder.
Let's not forget a great feature often overlooked – the valuables pocket is lined with a soft fabric to ensure you're not scratching your phone screen. Often the valuables pocket stores phones, keys, and wallets, and all of these items together can scratch your expensive smartphone – not if you intentionally place your phone in the protective soft pocket – great thinking!
Check out the alternative color options available!
Best Gym Bag For BJJ ⭐⭐⭐
Gold BJJ Jiu Jitsu Backpack - Heavy Duty Gym Bag with Waterproof Gi Pocket (Grey)
DESIGNED BY JIU JITSU ATHLETES 🥋 Our backpack is made by athletes who actually train every day. We've thought of all of the special touches that will make it the last training bag you'll ever try.
WATERPROOF GI POCKET 💦 Keep your clean clothes clean, and your sweaty gear quarantined. Easily pack a dirty gi or rashguard in our backpack's waterproof pocket to keep your gear stink and germ free!
HEAVY DUTY MATERIALS 🛡️ We doubled down on reinforced stitching and top grade nylon to make sure the Gatame Backpack will remain part of your Jiu Jitsu journey from white belt to black belt.
Reasons To Buy ✅
Perfect for BJJ
Beautiful design
Compact
Practical
Soft Pocket for Valuables
1 Year Warranty
Made in the USA
Reasons To Avoid ❌
Much smaller than competition
If you're looking for a gym bag for BJJ, the Gold BJJ backpack is without a doubt the bag you need. A smart, compact design that beautifully houses all of your gear for training Brazilian Jiu-Jitsu. As seen on the Cobra bag, the zippers are practically designed with rubber-coated hooks for durability and ease of use.
The key feature this bag has is its purpose-built departments. Each section is thoughtfully designed to place a certain item. A section dedicated to your gi, your belt, your valuables in a velvet soft sleeve (no more phone scratches!). However, if your gear is limited to a gi, your belt, a spare change of underwear and socks, some tape, or grappling soap then this bag is perfect. Our alternative options are more ideal if you plan to bring along more gear such as shin guards, headgear, boxing gloves, etc.
As this is just a backpack style design, rather than a hybrid carry, it comes equipped with a chest and waist strap to secure the bag to your body if you need to move fast or run with the bag on your back. Although to keep the bag looking compact, the waist straps aren't as padded and comfortable as you'd find on a hiking bag, but they will do the job well for what you'll use it for.
The wet compartment design of the Gold BJJ backpack is quite unique. The idea is that you place your clean folded gi in from the top, and after practice, you insert the folded sweaty gi in from the bottom into the wet pocket to house the gi and prevent it from causing your other clothes from getting smelly or soaked in sweat. A good design, however, you must fold your gi well in order for it all to fit!
The use type is very different in this bag versus the likes of the Venum Trainer Lite or a Fairtex gym bag. This is purpose-built and designed for BJJ and therefore the compartments and ability for it to carry more gear, that of which would be required in the likes of Muay Thai or MMA will be limited.
Great alternative bag for BJJ
Best Gym Bag for MMA, BJJ, and Muay Thai ⭐⭐⭐⭐
Reasons To Buy ✅
Water and Wind Protected
Front and Back Zipper Pockets
Padded Shoulder Strap
Largest Carrying Capacity – 85 Litres
The Under Armour Duffle bag is without a doubt the gold standard in training gym bags for MMA – it may be the perfect gym bag overall. It will do everything you need it to, last you a long time, and won't disappoint. What it does lack is all the bells and whistles the other bags come with, however, the Duffle 4.0 has been refined to be practical and purpose-built.
The primary purpose of a training bag for Muay Thai or Mixed Martial Arts is to carry all of your gear, store it in a clean and dry department, and be easily accessible. This bag does that. There is plenty of space in this bag, – the large is 85 liters which is significantly more than the competition. Be aware that the 'large' size is bigger than your standard 'large'. It will house all of your gear for MMA easily. If you're looking for a training bag just for the gym then a medium would be more than adequate.
Equipped with two pockets on either side of the bag, one of which is a mesh compartment provides easy access to smaller items such as phone, wallet, mouth guards, tape, or jockstraps.
Where this bag shines is the large space inside that can provide easy access to all your gear and clothes. Boxing gloves, shin guards, and headgear are the largest items that take up the most space. These can easily be stacked and divided and still provide enough room for a change of clothes and a light towel too – a true martial arts bag at its core.
Fairtex Gym Bag: Most Vibrant Training Bag 🤯
Reasons To Buy ✅
Vibrant Colors
Can Fit All MMA Equipment
Lightweight: 4 Pounds
Waterproof Nylon
Lockable Zippers
Durable Bottom Base
We love the Fairtex gym bag. It's not our standard choice because of how outlandish it looks, but we love it. A huge benefit to this bag is that you'll immediately recognize your bag when you walk into a locker room. It's bright, it's vibrant, and it'll turn heads.
Fairtex have constructed this bag from a waterproof nylon material which is incredibly helpful in keeping all of your gear dry during any precipitation, something not all training bags come with. Not only that but the zippers are premium grade and lockable in case your dojo or training center doesn't have lockers to secure your belongings.
This is the ideal size and weight bag – weighing only 4 pounds and dimensions that are slightly bigger than our recommended size (W 14″ x L 24″ x H 12″). This means it can store all of your gym kit including shin pads, gloves, shoes, head guard etc.
Check out the alternative options from Fairtex below!
Best Alternative Gym Bag: The Fanny Pack
Sale
FREETOO Waist Pack Bag Fanny Pack for Men&Women Hip Bum Bag with Adjustable Strap for Outdoors Workout Traveling Casual Running Hiking Cycling
【AMPLE ROOM, KEEP ORGANIZED】: Well constructed with 5 separate zippered pockets of different sizes for all your needs;The largest pocket can easily hold a standard water bottle (16oz); A small hidden zipper compartment inside the main pocket perfect for your valuables for extra security; A flat zippered exterior pocket located behind the waist band, against your body. Provides spacious storage and help keep you organized while maintaining a slim profile
【DURABLE MATERIAL&LININGS, WEAR-RESISTANT】: Made of strong 1000D Polyester+ Exquisite overall craftsmanship with cleanly finished seams, this waist bag is sturdy and built to last yet soft and pliable. It'll make a great addtion for your daily errands and outdoor activities, perfect for walking, running, biking, hiking, traveling, festivals, fairs, concerts and farmers markets etc.
【QUALITY SOLID ZIPPERS】: Zippers are a very important component of a bag and should never be compromised. This waist pack adopts tough and heavy duty zippers, sturdy,easy to slide and working smoothly. Zipper pulls are good-sized and elegant in design. Worry no more about anything falling out and getting lost.
Reasons To Buy ✅
Lightweight
Discreet
Easy to Carry
Affordable
Stylish
Practical
Reasons To Avoid ❌
People stopping you in the street to tell you how cool your fanny pack is.
So you realize you don't need a full-on gym bag for MMA. Maybe you keep your gear at the gym, maybe you like to travel light, you're the type of person who rocks up ready to smash. The ultimate heavy-duty fanny pack has you covered.
Keep your custom built mouth guard, hand wraps, hand sanitizer, face mask, phone, keys, wallet all in one safe place – around your precious hips.
Talk about durability, this waist pack is built from 1000 denier polyester, significantly stronger than your stander 600D or even nylon fanny packs on the market. It can take the rough and tumble that comes with slinging a bag around your waist.
This bag for MMA is designed to carry your essentials and incredibly convenient especially for throwing over your shoulder if you wanted to.
Here are some great alternative colors to choose from!
No products found.
Buyers Guide For MMA Gym Bag
Storage Space
When choosing a training gym bag for MMA there are slightly different considerations to a normal gym bag, one of which is the size. Your typical gym bag requires a spare change of clothes, water, possibly an extra meal or your supplements – it's not a huge amount. For MMA or BJJ you need to consider the gear you'll be carrying. Typically you'll be carrying:
Headgear
Shin guards
Jockstrap or Cup
Wrestling or MMA shoes
MMA gloves (4oz)
Boxing gloves (12 oz +)
BJJ Gi
Shower kit
Meal / supplements
Water
Therefore, you want a big enough bag to comfortably fit all of the above, in which case you should consider a minimum of 60 liters if you plan to take all of the above.
Durability
Wear and tear is all part of MMA. At the end of the day you're constantly putting your gear to the test; gloves are used to punch, shin guards kick, headgear takes punches, and your bag will no doubt take some damage too. With this said, it's important to consider high-quality materials when choosing a training bag for Mixed Martial Arts. As much as you try to treat it with care and love, you're constantly pulling, throwing, and stuffing the bag so it'll need to be strong.
We recommend high-density fabrics like the 600D polyester, especially with a PVC coating to further protect it. You often find outdoor furniture covers for the garden made of this type of material. Long-lasting, weather-proof, and durable.
Versatility
Being able to carry your bag in more than one way is highly desirable. If you can sling it on your back as well as carry it over the shoulder – winner winner chicken dinner!
This hybrid-carry style is great for when you're on the go. If you bike to the gym or need to take public transport the backpack style is helpful to keep moving with your hands-free. If your bag is only built to be held like a duffel bag then be sure that your usage will work for that style i.e. walking to the car.
Compartments
Having the right compartments takes a bag to the next level. Everyone loves practical pockets – and considering that when practicing MMA you are in a completely different set of clothes – all of your valuables will be stowed away safely somewhere in your bag. Having a pocket to carefully hold your phone, wallet, and keys is ideal, especially if it's a velvety soft pocket that will prevent your phone from being scratched as we've seen in the Gold BJJ backpack.
You also want additional compartments for things like shoes, or protein shakers, and water bottles. Consider whether the bag has separate pockets for storing your mouthguard or jockstrap.
Design
An important element that shouldn't be missed is the design of your bag. This your flare, your character, what makes you stand out – if that's what you like. Most gym bags come in a variety of colors – but some more than others. The Elite Sports Warrior bag comes in some fantastic colors that can match well with your shoes and gloves.
The Cobra grip bag stands out a lot and almost looks like it's made from BJJ Gi material which gives it that extra flare.
Whatever your fancy, make sure your bag suits your needs and ticks all the boxes so you can concentrate on kicking ass.
Frequently Asked Questions
What is a good size gym bag?
This depends entirely on your use. For Mixed Martial Arts we recommend a gym bag that can hold at least 60 liters of carrying capacity. A gym bag of that carrying capacity will have dimensions that are roughly 12 x 26 x 12 (Width x Length x Height). As we've discussed in the buyer's guide, this will ensure all of your gear fits in with extra storage for the likes of supplements, phones, keys, and additional items.
What are gym bags called?
Gym bags can often be referred to as duffel bags (pronounced: duff-full), sports bags, or training bags. These are typically rectangular shaped bags that can be slung over your shoulder or be held in one hand.
What are boxing gym bag essentials?
It's important to bring all the right kit to training practice whether it's for boxing, kickboxing, BJJ, or MMA. Forgetting your kit means you can be at a disadvantage by not having it or end up borrowing someone else. Imagine a situation where you forgot your all-important jockstrap…we all know that doesn't end well!
You will often find essential items in a boxing gym bag such as:
-Hand wraps/hand tape
-Gloves
-Mouth guard
-Headgear
-Boxing or MMA shoes
-Skipping rope
-Elastic bands to stretch
-Massage gun or vibrating foam roller
-Towel