Having been in combat sports for over 7 years and taking many strikes to the head, I took it upon myself to really understand the benefits and drawbacks of wearing the best headgear for MMA sparring, even if it was 7 years too late! Ultimately, if you are entering into some form of combat that inflicts damage to your head, and therefore the brain, you should be considering factors to mitigate head trauma as much as possible. Wearing headgear for MMA comes down to your skill level, experience, fighting style, and ultimate goal in the sport. In this post, we break down the best headgear on the market today and how to decide whether it's for you.
If you're asking the question, "should I be wear headgear for sparring?" the answer is that it depends on whether you are a beginner, intermediate, or professional athlete competing in MMA or training recreationally. For a recreational beginner, you are more likely to get hit, cut, and bruised, and therefore headgear in MMA is ideal for you.
As you become more advanced, you will find that headgear may protect you from cuts and bruises. Still, it will make you a bigger target, less agile in your movement, as well as giving you an unrealistic expectation for how a professional fight feels like. That being said, as a professional a few weeks out from a fight, wearing headgear will absolutely give you protection from unwanted bruising and cuts that can leave you more exposed and vulnerable in a fight.
At the end of the day, if you go to great lengths to pack the right gear for the rest of your training, such as , and jockstrap – then why not protect your head too.
Before you choose which headgear is right for you, we've broken down the nuances of the different features and functionality available in headgear so you can make the right pick.
Editors Top Picks
👇Read about all 9 reviewed headgear below👇
Fitness To Diet is supported by its audience. When you purchase through links on our site, we may earn an affiliate commission, at no additional cost to you. Learn more.
Types of Headgear For MMA
Headgear often protects your nose, cheeks, and face from cuts and bruises, but it will not stop you from getting blows to the head, which can ultimately lead to concussions. On the other hand, without headgear, you will also be hit with blows that can cause brain injury, but your sparring technique will be different as there's more urgency to protect yourself given your lack of head protection. But there's more to this.
If the science shows that wearing headgear for soccer does not prevent sports-related concussions, you can bet your bottom dollar MMA is in a similar position. However, this is one study, and there are definitely more benefits to your health and safety by wearing protective headgear during sparring for MMA, boxing, Muay Thai, or Kickboxing.
There are two main types of headgear:
Open Face Headgear
Closed Face Headgear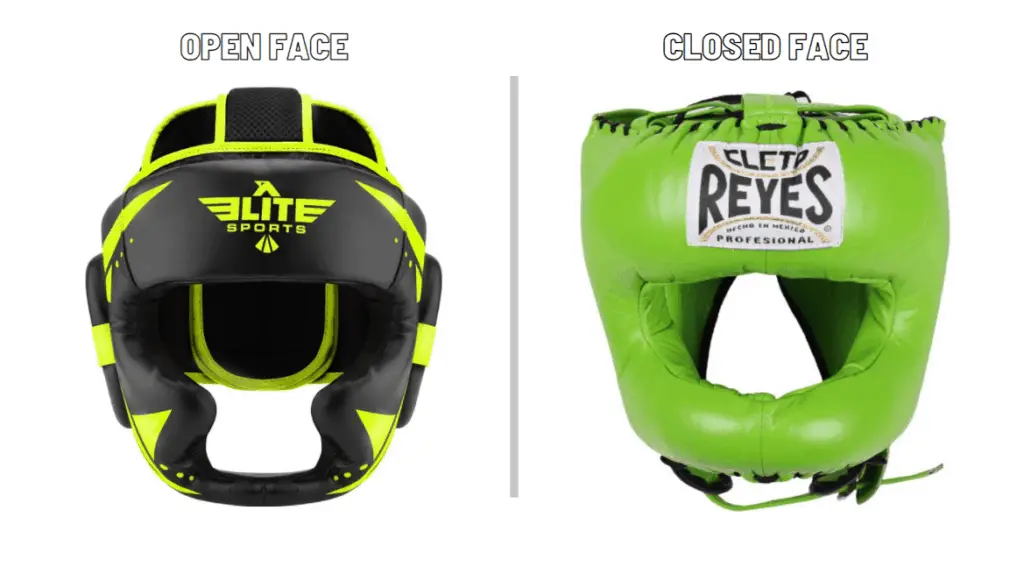 Headgear type
Advantages
Disadvantages
Open Face Headgear
+Better vision
+More agile
-Little to no protection for cheek and chin
-Increased risk of injury in lead up to competition
Closed Face Headgear
+Protection across the cheeks and chin
+Better for boxing, less need to see kicks
-Limited vision, less likely to see strikes
-Additional protection creates a false sense of security
Venum Challenger 2.0: Overal Best Headgear For MMA
Reasons To Buy ✅
Most reputable MMA brand
Full cheek and chin protection
180 Degree vision
Secure 3 strap velcro
Sleek design
High-quality and made in Thailand
Lightweight (0.57 lbs / 270 grams)
As always, Venum tailors their products towards high-quality and affordable gear for those training in combat sports. After extensive testing of all the different head protection types on the market, we found the Venum Challenger 2.0 to be the best headgear for MMA sparring on the market today for several reasons.
It provides a multitude of protection for your head, including solid cheek protection and a great wrap around for your chin. Unlike other brands that often have a chin strap, the Challenger 2.0 has all-encompassing chin protection. This covers the bottom of the chin, which is especially important if sparring with smaller 4oz gloves that can leave your chin exposed.
The outer material is similar to most MMA gear (gloves, pads, etc.), made from Skintex, an artificial synthetic leather material that is durable, high-quality, and imitates a leather feel. On the inside, you'll find a "triple density contoured foam" that molds around the shape of your head really well. The soft fabric on the inside has been designed to wick sweat away from your face and ensure there's more breathability while you spar, in addition to avoiding a soaking wet fabric at the end of your session.
With ample testing for this product, Venum released it as a 'one size fits all,' like most of their headgear. There are benefits to this: you don't have to worry about finding the perfect size, as the 3-way velcro straps do all the adjustment work. On the contrary, if you want a more bespoke feel or have an odd-shaped head, this may not work for you.
You'll also notice advanced ear protection compared to a more simple designed headgear. The ear is defended more effectively from hooks, elbows, and kicks that can eventually cause a 'cauliflower ear.'
An important element is the field of vision a head guard provides, and the Challenger 2.0 allows for 180 degrees, which is perfect as humans generally have 120 degrees field of vision with our eyes.
Whilst Venum built a very sturdy head guard with this model, there is a good amount of forehead protrusion, meaning that the upper part of your head is a bigger target to be hit. Finding the space and timing to evade straight punches may be slightly more difficult, even by an inch.
There are plenty of more expensive options on the market to choose from. Still, comparing the look, the feel, the functionality, and ultimately protection, we found the Challenger 2.0 to tick all the boxes and still sit at an affordable price point, which deemed it the best headgear for MMA.
Watch Julius Anglickas talk about the different types of headgear
RDX T2B: Best MMA Headgear With Face Shield
Reasons To Buy ✅
Great for beginners
Incredibly durable material
Super secure fit
360 head protection
Face bar prevents broken nose
When looking for the best MMA headgear with a face shield, RDX has you covered. This will provide the ultimate protection for your face and head, both in its ability to prevent cuts and bruises landing on your facial area but also the shock that's absorbed and dispersed effectively throughout the headgear.
When a punch lands, the job of good MMA headgear is to disperse the impact across the headgear so that the direct impact isn't amplified. RDX has several patented designs that provide added resistance against heavy strikes and more even distribution of force. This, therefore, is a great piece of equipment for those newer to combat sports and do not want to absorb too much damage.
The face shield element is perfect for stopping hard blows landing directly on the nose, causing it to break. Whilst your head will still jolt back, you won't suffer the more devastating damage of a broken nose.
One downside to the RDX HDG T2B is that it is on the larger side, therefore easier for your opponent to hit, harder for you to evade, and slightly heavier than the more lightweight models we review in this post. Although this may seem like a major downside, part of a newbie's journey in combat sports is to learn to get hit and be comfortable in this environment. As you progress, using a different head guard may prove valuable, but if your goal is to avoid as much damage as possible, this is a great entry-level option.
Fairtex HG10: Best For Professional Sparring
Reasons To Buy ✅
Market-Leading Protection
Premium Materials
Lightweight and Agile
Curved Chin Strap Protection
Additional Lace Up
High-Cheek Protection
For a professional athlete in combat sports, headgear use will differ from those starting or intermediate fighters. A professional fighter will often be sparring without headgear to simulate real combat scenarios; what it feels like to duck, slip, parry, and counter without any equipment to change the feel of the fight.
With that in mind, when coaches choose to increase the intensity of sparring, be in pure Boxing, or Muay Thai, or any other Martial Art, it is often best practice to use headgear to prevent as much damage as possible, especially in training camp. Without disorientating the fighter with cumbersome and bulky MMA headgear that can change their fight game, using something that's light and keeps the fighter agile is integral to an effective sparring session.
Fairtex provides coverage through high-density foam cores across the ears, cheeks, and especially chin to ensure the fighter doesn't absorb damage. The design on the HG10 model allows plenty of visual clearance from all angles to see punches, knees, elbows, and kicks.
Another important factor for professionals is a premium product that won't keep slipping, moving, and causing the fighter to adjust the MMA headgear. Not only does Fairtex include a 2 strap velcro designs as seen with the Venum products, but an additional lace-up design to further secure the head guard in place.
Venum Elite Iron: Best Headgear for Hard Sparring
Reasons To Buy ✅
Premium High-Density Foam
Ability To Absorb Hard Strikes
Best Fit: Velcro and Lace
Reputable Brand
Made in Thailand
Hard sparring requires aggression, control, and trust in your sparring partner. But that doesn't always go to plan. As a smart backup option, having the right gear to support this sparring style is integral for longevity in combat sports. Having the will and strong mind to take punishment and keep going is one thing; being smart about how much punishment you absorb is another.
Venum perfectly designed their most durable and highly popular Elite Iron headgear for this exact purpose – to absorb and evenly distribute hard strikes across the head guard. The 'Elite Iron' is the upgraded model from the 'Elite.' Whilst both are top of their class for what they do, the Elite Iron provides even more support against damage taken and is closed face. Even from looking at the design, it's clear that it's bulky, solid, and great for taking punches.
The high-density foam provides sound structural support across all head parts, but specifically the forehead and cheekbone/nose ridge area. The purpose-built design means that even hard strikes thrown straight down the pipe will be absorbed by the durable bar protecting your nose, as well as the majority of your face as a secondary protective measure.
One thing to note with head guards is that, without a doubt, they will move or slide to some degree as you get hit. It's inevitable. Finding well-fitted equipment will make a big difference, but so will a good chin strap. The Elite Iron model comes with an adjustable chin strap that can lock the lower half of the headgear with its loop closure mechanics. When you get clipped, it will hold the full headpiece in place better than those without – something to consider with hard sparring.
Cleto Reyes: Best Headgear For Sparring With Braces
Reasons To Buy ✅
World-renowned Boxing brand
High-quality stitching
Real Leather
Robust
Lightweight (1.3 lbs / 595 grams)
Reasons To Avoid ❌
Heavier than average (1.3 lbs / 595 grams)
As a combat athlete with braces, certain aspects of safety within the fight game can't be ignored. Mouthguards and headgear are top of the list. Having been an athlete with braces growing up, there's nothing worse than a punch in the mouth to find your braces have cut all of your inner lip. Having this occur each sparring session doesn't bode very well for comfort – especially during meal times.
A great way to solve this issue is to opt for a high caliber, and arguably one of the best headgear for MMA sparring on the market that comes with a face bar that can protect your mouth area.
Whilst any head guard with a face bar can still allow a punch to get through to some extent. The bar will do a lot to prevent hard punches to your nose, mouth, and cheeks. This is exactly what you want if you have braces.
Cleyto Reyes has been used by some of the top athletes to ever box or fight in MMA. From Floyd Mayweather to Manny Pacquiao, to Connor McGregor. They have all been seen using Cleyto Reyes branded gear.
Elite Sports: Best MMA Headgear For MMA Sparring
Elite Sports Boxing MMA Sparring Kickboxing Headgear for Men, Muay Thai Boxing Head Guard (Hi-Viz)
✅ SECURE FITTING – Pre-curved technology of our boxing headgear for men gives natural fitting for your head. Adjustable closure these boxing head guards gives secure and comfortable fit regardless size & shape of your head, this one size fits all.
✅ INCREASE YOUR SPEED – With our ultra-lightweight MMA headgear your speed and head movements become fast and precise. Comfortable open-top and mouth design of our sparring headgear helps in better sweat management and breathing keeping you relaxed.
✅ VERSATILITY – Elite Sports offers versatile kickboxing headgear that is perfect for boxing, kickboxing, MMA, & Muay Thai. Our boxing helmet has chin strap, head cap, and head height, three personalized adjustment options proper stability and protection.
Reasons To Buy ✅
Ultra-Lightweight
Great for MMA Sparring
180 Degree Field of Vision
Affordable
Great Fit
Durable Velcro Straps
Tons of Colors Available
Elite Sports do some of the best gear in the world of Martial Arts, whether it's headgear, gloves, shin pads, you name it. They pride themselves on high-quality gear and incredibly affordable compared to some of the more well-known brands out there.
This open-faced head guard is great for MMA sparring. Both in its lightweight breathable design and the highly adjustable velcro straps that ensure a snug fit on your head, which is paramount for MMA sparring. Coupled with excellent peripheral vision through a clear 180-degree angle – you can see all shots coming.
MMA sparring requires more agility, more movement and comes with higher consequences. As the MMA gloves are typically 4oz gloves, much smaller than boxing gloves, you want to make sure your head guard isn't too bulky or heavy, weighing you down and causing you to be a larger target to hit.
Although the Elite Sports is at a lower price position, quality is not compromised. With thick foam padding, which has shock absorption properties, a hard strike will dissipate effectively and evenly across the whole head guard.
Sparring headgear can vary, but the Elite Sports excels in the quality of the design and building materials – this is a highly recommended choice for all MMA and combat athletes. The durable synthetic leather design will keep this in your gym bag for years to come.
Sanabul: Best Head Gear For Beginners
Sanabul Essential Professional Boxing MMA Kickboxing Head Gear (Blue, S/M)
Just What You Need: Sanabul Essentials checks all the boxes to get you started. Highly functional, form fitting, and a name recognized around the world. We make the key equipment with the best possible value for you
Tested By Pro's, Created For You: We challenge our Team Sanabul athletes, like UFC Champion Michael Bisping, to put our gear through their toughest training sessions. We know it'll hold up for you, because it holds up for them
Ready For Any Sport: Essential Series Headgear provides full coverage of the face and is designed for use in any striking art from Kickboxing and MMA to Karate and Tae Kwon Do
Reasons To Buy ✅
Reputable MMA Brand
Ultra Thick Velcro Strap
Very Comfortable Inner Protection
Industry-Leading Design
Affordable
Great Facial Protection
Hook and Loop Closure System
Reasons To Avoid ❌
Vision Is Sacrificed For Extra Protection
Sanabul is in a similar bracket to Elite Sports – well known for their combat sports gear expertise. The Sanabul Essential Head Gear is exactly that. This is a great primary head guard for beginners looking to get into sparring. This means it's inexpensive and doesn't break the bank, and has great protection for combatants who aren't quite comfortable taking head strikes yet.
The first thing you'll notice in the field of vision is compromised for additional protection around the upper face and cheeks. The extra facial protection means you can more quickly become comfortable with the concept of punches coming in your direction. It can also mean you don't see as many punches coming or as quickly. Either this, this will be driven in some cases by your style of attacking and defending.
A big highlight for this headgear is the suede inside, which is soft and comfortable on your face. Unlike some other leather interiors, it won't slip and slide when faced with profuse sweating.
Storelli ExoShield: Best Alternative To MMA Head Gear
Storelli ExoShield Head Guard | Sports Headband | Protective Soccer Headgear | Black | Size 2
#1 RATED SOCCER HEADGEAR: Rated as the #1 soccer head guard by Virginia Tech for reducing the risk of sports head injuries by an estimated 84%. Sleek yet heavy-duty design provides 360 degree impact protection from cuts, bruises, and contusions.
MILITARY-GRADE PROTECTION: Armored with 9mm of combat-grade Team Wendy Zorbium foam used in U.S. Army, Navy, and Marine Corps helmets. Engineered to reduce g-forces to the head by up to 50%. Made stronger for safer soccer.
ULTRALIGHT & ERGONOMIC: Ultra-light at just 8 ounces, headgear conforms to the head for optimal fit. Perfectly suited to head the ball and accommodates short and long hair, including pony tails. Maximizes comfort without compromising performance.
Reasons To Buy ✅
Protects against head clashes and headbutts
Ultra-Lightweight
No Vision Impairment
Discreet
Fashionable Design
Reasons To Avoid ❌
No protection compared to actual head gear
An alternative to MMA headgear is a funny term – you either have protection for your head or don't. But there are some schools of thought that headgear can prevent you from being afraid of strikes – which can be costly in real combat. So having nothing to protect your head can actually indirectly protect you.
However, headbutts are also very common in MMA, Boxing, and Muay Thai. A head clash can cause a KO, huge cuts, and even an unfortunate loss in a fight. This doesn't need to happen in training, and if you prefer a more minimalist approach to headgear, using the Exoshield" is a great option. It's discreet and lightweight and almost looks like a hairband. But this can provide enough protection for the forehead against forehead clashes that can cause nasty cuts and concussions.
Frequently Asked Questions
Can you wear headgear in MMA?
Professional MMA fighters do not wear headgear or head guards during any combat sports as it causes too much of a problem during the grappling and submission element of the fight. However, in some amateur contests, you can see this, although it's rare. While you do see headgear for amateur boxing bouts, this is because there is no grappling element. The head guard would play a huge factor in the wrestling and jiu-jitsu game of fighters at any level of experience.
Does headgear reduce brain trauma?
Contrary to common sense, headgear does not reduce brain trauma. Whilst it can protect you from a direct strike, the brain's rattling inside the skull still takes place when hit, even with protective padding surrounding your head in the form of headgear. Whilst unknown sources say, "Boxing Headgear will reduce the impact of a hit by 40-60%," – there are many variables in this that debunk the claim.
Does headgear actually work in MMA?
Headgear is optimal for heavy MMA sparring. It will help beginners get used to punches and fighters in the final few weeks leading up to their fight (to prevent cuts and unwanted bruising).
Good headgear is designed to absorb the shock from strikes and distribute it evenly across the full headgear, so you don't feel as much impact from one direction.
Is headgear bad for sparring?
Head can be seen as effective against heavy strikes, preventing cuts and bruising, but there is also a thought that it can make the fighter less fearful of strikes which isn't ideal in a real MMA bout.
Can you box without headgear?
It is entirely possible to box without headgear but the likelihood of swelling, bruising, and cuts will be increased.
How to clean your MMA gear
What's the difference between Venum Challenger and Elite headgear?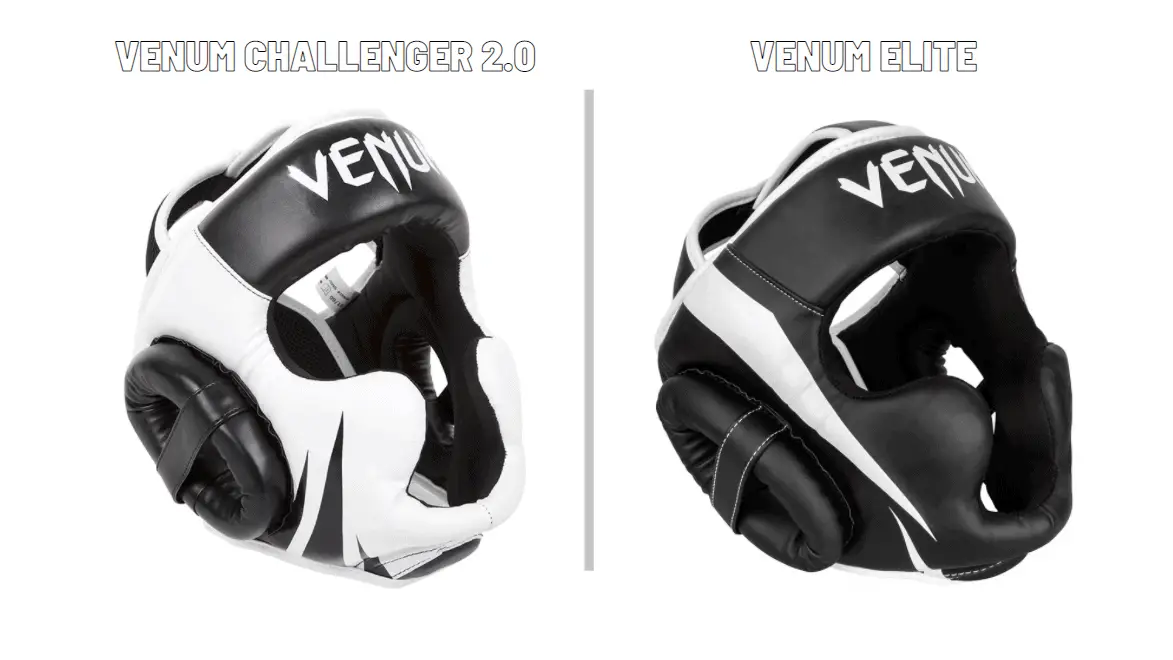 While the biggest differentiator is the price point between the Venum Challenger 2.0 and the Venum Elite headgear – there isn't a lot different in the makeup. Both look practically identical.
They both look incredibly similar in build, functionality, and design. However, the Elite model has more than double the number of colors available to purchase.
One of the main differentiators is ear protection. They look similar from the outside, but you'll notice the Elite provides more space and therefore comfort to your ears when the headgear is on and strapped tight around your head.
Whilst the Elite also claims to be handmade, which would provide a superior fit and build, it isn't confirmed whether the Venum Challenger 2.0 is or isn't.