Finding the right MMA shoes for MMA training can be difficult given how versatile the sport is, but we've taken the hard work out of looking and provided our readers with a comprehensive list of the best options for Mixed Martial Arts shoes for MMA training. We review the pros and cons to each and ensure that you're leaving knowing exactly what to purchase.
When it comes to finding a shoe that works for MMA, you need to be aware of certain factors that will arise during your training practice. These factors are:
Will the shoe support movement in all directions?
Will it provide the right type of grip on different surfaces?
How comfortable are they?
Will it limit your ability to move in wrestling, or on the ground?
Will it limit your Jiu-Jitsu game?
Will it cause issues striking with the foot?
An Overview of MMA Shoes for MMA Training 🥋
Firstly, you'll want a shoe that can replicate what it will be like in a real scenario. By that, we mean a flat shoe with as little drop in height from the heel to the toe as possible. For that reason, traditional running or gym shoes are out of the question as they have a good amount of padding on the heel. By getting your body used to movement patterns with heel support, it will impede your actual movements barefoot in combat.
Having a shoe that is flexible enough so that it doesn't limit the movement of your foot in any direction is important too. For example, there should be enough flexion in the shoe that when shooting in for a takedown you can freely move your toes, mid-foot, and ankle without resistance. Having that flexibility in MMA is crucial to move with fluidity. In addition, the shoe must be well equipped with the right materials to grip you to the mat so you can comfortably push off in any direction.
In Mixed Martial Arts you and your opponent can be changing direction in an instance. Your footwear should support you being able to move in that direction with ease, in the same way your mouth guard supports your jaw and teeth from excessive damage.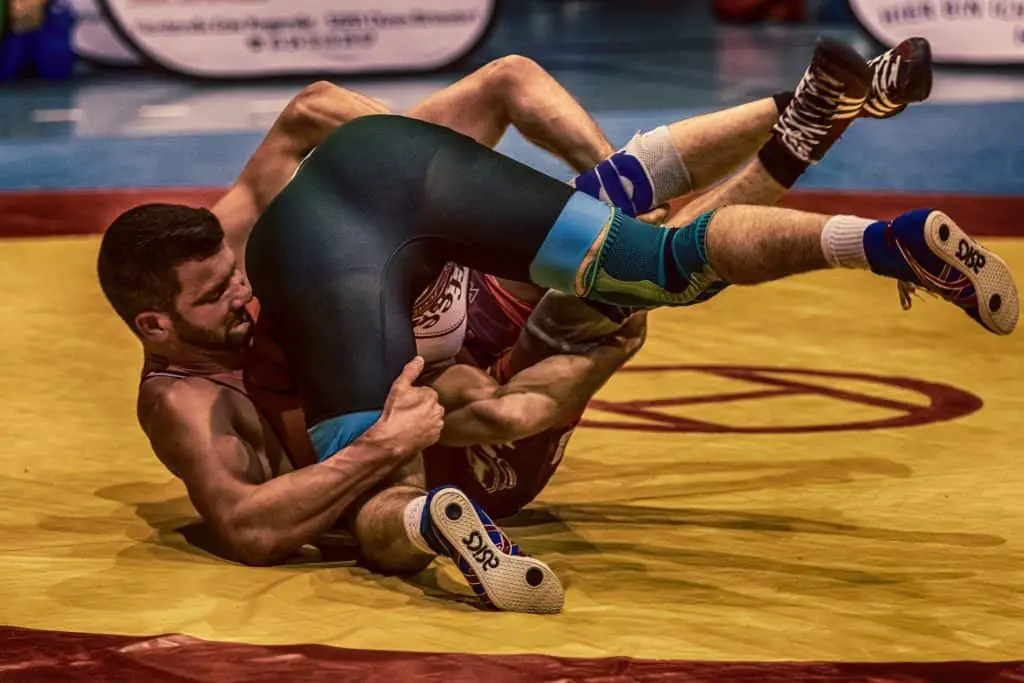 Whilst it's unlikely that you'll be using wearing shoes and doing head kicks – mostly this is frowned upon. You will be allowed to kick to the legs and body with shoes as it won't add much extra punishment to your training partner. Having the ability to fully flex your toes forwards and backward in your shoes can mean the difference between a good front teep kick and not – think Anderson Silva vs. Vitor Belfort UFC 126.
It doesn't matter if you took up MMA for weight loss, for the love of the sport, or a natural progression from a single martial art, you should always be aware of the benefits a good MMA shoe can do for your game.
Most shoes in combat sports will be similar to wrestling or boxing shoes and for good measure. However, it's worth exploring other options until you find what works for your style of fighting. If you're predominantly a boxer and aren't as concerned about the ground then a more boxing style shoe may suit your needs better. But if you are fully adopted into the MMA world and know that you'll need to utilize all aspects of the fight game, then a shoe that gives you that freedom must be used. The ability to feel micromovements in your feet and surrounding muscles is important, just as important as optimizing recovery in MMA or refining your favorite techniques.
Minimalist shoes are a growing trend and for good reason. Their ability to replicate real-world walking scenarios means they carryover well into combat sports. Lightweight, good grip and wide toe box means are all advantageous on the mat.
Also, you shouldn't forget the important of having the right gym training bag for MMA. A bag that has enough space to securely store your training shoes is crucial.
Fitness To Diet is supported by its audience. When you purchase through links on our site, we may earn an affiliate commission, at no additional cost to you. Learn more.
Best Overall MMA Shoe -⭐⭐⭐⭐⭐
Pros✅
Premium MMA shoe
Built to last
Stylish
Ankle protection
High-quality sole
Innovate lace design
Cons❌
Can run small, consider ordering a size up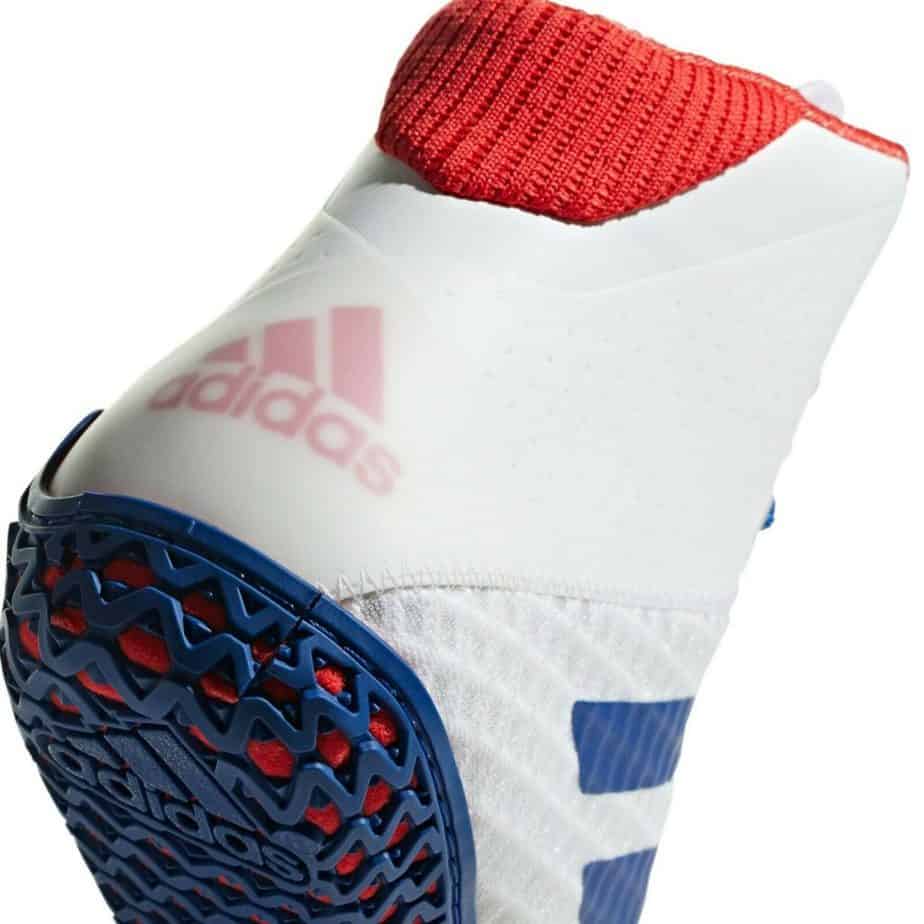 When studying our list of mixed martial arts shoes, the one that stood out the most in the category of Overall Best MMA Shoe was the Adidas Wizard line. It's no secret that Adidas has successfully spread into all facets of sports apparel and accessories, and Mixed Martial Arts shoes aren't overlooked. There are several reasons we chose this particular model as it stood out in a number of categories that fall under function, longevity, and style.
We understand that the key to a great shoe for this sport is a tight but comfortable fit. You won't be wearing these shoes for hours on end as you would for long-distance running, or hiking. In a similar fashion to skiing, this type of footwear needs practicality and functionality for its purpose.
This purpose is to be able to give your footwork the grip, the stability and angles it needs to dynamically move your body in order to dominate your opponent. With that said, the Adidas Wizards do just that, a narrow midsole with 14 lace loops to ensure the shoe is wrapped around your foot like a mold during your practice.
Not only does it tick the practicality you need, but you also get the premium feel which naturally comes with most high-end Adidas products. You can be confident that when shifting, slipping, and working the lateral and medial drive zones of the shoe that the outsoles will support your movement patterns.
We will be honest in the drawbacks this shoe also has, which is that your ground game in MMA can be negatively affected if you or your opponent plays heavily on the leg locks. Having footwear that impedes your ankles can mean you're unable to escape or move in certain positions when practicing full contact sparing with shoes on.
There are countless reviews that also speak to the fact that these shoes can be used in weightlifting and powerlifting due to it's flat sole and ability to stay close to the ground. So without having to have two separate pairs of shoes for both activities you can use these when you're building strength or enduring metabolic conditioning.
What this mixed martial arts shoe does not lack is style. It stands out from the sea of ASICS branded footwear common in both wrestling and MMA. Whilst the black and white combination is somewhat subtle, it's a perfect contrast for an Adidas shoe. The simple contrast resembling the same 'Adidas Ali Shuffles' worn by one of the greatest boxers of all time, Muhammed Ali when he beat Oscar Bonavena in 1970 with a glorious left hook sequence in the 15th round at Madison Square Garden with very little time left on the clock.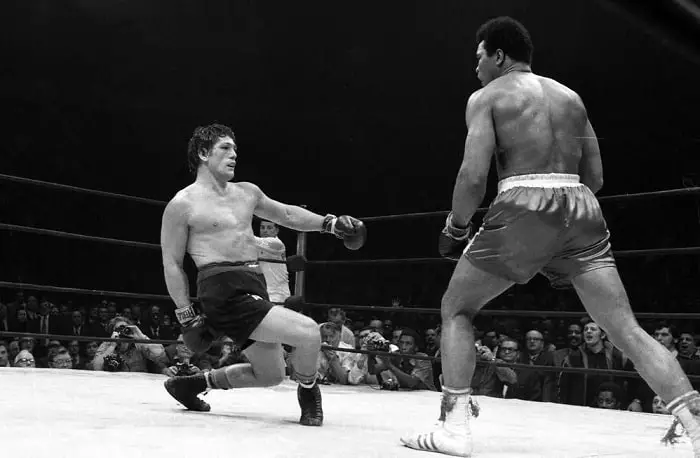 The Adidas Wizard line up have a number of different styles and trims to choose from which can also affect the price. You can find links to these below. 👇
Best Budget MMA Shoe 💸
Pros✅
Comfort
Stability
Durable
Solid grip
Affordable
Designed for MMA/Wrestling
Cons❌
Can run small, consider ordering a size up
So you're looking for an MMA shoe to train with, then look no further. ASICS are one of the best in class for wrestling, and a lot of the features that make great wrestling shoes transfer over to MMA. Tight fit, non-slip grip on the mat, and durable to last through hours of training. As we've already discussed, if you prefer to wear shoes for mixed martial arts then you'll need ones with a low profile ensuring the shoe feels as close and in tune to the floor as possible, and Matflex 6's do just that, with a full length gum rubber sole that even wraps to the outer edge which is useful when level changing and scrambling.
The build quality, the design, and functionality these MMA shoes provide are made even better by the fact that they're in a great price range. You can afford to be reckless with them without worrying about the price you paid – which isn't often the case when you wear new shoes.
In terms of design, the original black and champagne colours are subtle yet stand out in a line-up. The mesh insole gives you, the athlete, comfort in both feel but also breathability so you're feet aren't overheating as other wrestling and MMA shoes can do. Furthermore, allowing air to circulate in your shoes also increases the life of the MMA shoe, reducing damp and unwanted smells.
From our research, we found that the Matflex 6's can require a half size or full size up compared to regular footwear, this is to ensure you have enough space in the toe box to feel comfortable and move freely. The good news is that Amazon is one of the industry leaders in terms of returning items in the event that you need a size bigger or smaller without any charges. Simply return via the 'your orders' page or contact them for support for hassle-free returns at no cost to you. Depending on your location, you can find options to return without the need for a printer.
If you're looking to spice things up on the mat and prefer an MMA shoe with a bit more character and personality, then the you can dip into the different colours ASICS have designed for these shoes.
Best Runner Up MMA Shoe 🥈
Pros✅
Minimalist
Wide toe box
Zero drop heel
Vegan friendly 🐮
Ankle freedom
Vibram x Merrell brand
Your initial thoughts may be that this isn't the shoe for MMA. You don't often see these being worn for combat sports. However, read on as we explain how the low profile Merrell Vapor Glove 4's are advantageous to your MMA practice.
First off, let's point out the most obvious part, they don't have full ankle support. This isn't necessarily a drawback. MMA is fought barefoot in a professional bout and therefore a shoe that can mirror the real world scenario will help during training. These means that your ankle and feet will move in exactly the same plane of movement as when you're in the Octagon, ring, or cage. This also means when the fight transitions from standing to the ground, that you'll still be able to move as you would without shoes on, without your feet getting trapped in half guard or pulling your feet out in a scramble when you lose your opponents back.
The wider toe box means more freedom for your toes to move and grip as they would in a barefoot environment. No cramping or bunching of the toes like conventional shoes which not only helps during training but for the long-term health of your feet. Additionally, the advantage of a completely zero drop, which means the heel and toe are exactly in alignment, means that your feet move naturally as they would barefoot.
If you're a vegan or would prefer that your clothing and footwear were made of non-animal products, then look no further. The Merrel Vapor Glove 4's are vegan friendly. Whilst the standard black versions are ok on the eyes, Merrell has produced some outlandish colours for this line of shoe – we won't judge if you go for the yellow pair.
These shoes were intended for normal use, trail running, normal running, and gym use, but have no trouble on mats or even outdoor training, workouts, or sparing.
Best Alternative MMA Shoe: MMA Grip Socks 🧦
RDX MMA Socks with Grip for Boxing Yoga, Non Slip Ankle Support Anti-Skid Pilates Barre Workout, Stretchable Neoprene Slipper Socks for Grappling, Wrestling and Martial Arts
ELASTICATED SYNTHETIC FABRIC is combined with neoprene to manufacture the non-slip socks that are ideal for Pilates, Barre, Yoga, Dance, Martial Arts, Gymnastics, Walking, Running, and numerous other activities.
RUBBERIZED SOLES are dot-mapped to provide an ideal grip during the various activities performed while wearing the socks.
PULL-ON DESIGN gives users speed and ease while putting on or taking off the socks.
Pros✅
Cheaper alternative to shoes
Non-slip rubberised grip
Comfortable
Versatile
Machine Washable
Stretch
Cons❌
Doesn't protect feet
Needs adjusting during practice
During our period of research for finding the best MMA shoes for MMA training, we stumbled across a new product that has real world applications and could be a much cheaper option to consider.
MMA Socks.
Before you scroll back up and reconsider the ASICS or Adidas, let's look at why this could go straight into your Amazon basket. RDS is one of the most trusted gym brands there are. They produce some of the most recognizable weight lifting belts on the market, and Muay Thai shin guards, having started their journey in 1999, and branched out to all combat sports and athletes over the years including Tony Ferguson, Michael Bisping, and Amir Khan.
The MMA socks work by including a rubberized dot-mapped sole on the underside which gives you the grip you need to move around the mat. This obviously means that they won't be useful outdoors – not that you're training in any pair of socks outdoors! The material of the sock is made of a mixture between neoprene and lycra, giving you an all-encompassing flexible yet non-slip function when wearing these socks. A great benefit of neoprene is its ability to work well under a wide range of temperatures which means that as your feet get hot and sweat, the material will absorb the sweat without disrupting your ability to move.
We will honestly say that these are great socks, but they're not for everyone. Before buying these understand what you're planning to use them for. If it's BJJ or No-Gi Jiu-Jitsu then it will work just fine, but you may find they slip off when constantly rubbed against. There really is no better alternative to barefoot. However, if your MMA style suits these socks then they can be a big win in feeling as close to barefoot with the extra grip – especially when the mat gets slippery with sweat.
If you plan on doing yoga and stretching without a mat, again these socks will be the best bet without a doubt. Often you can slip out of a stretch or yoga position like warrior two when you have sweaty feet, or even during hot yoga – but grippy socks will definitely aid this.
Frequently Asked Questions (FAQs)
Best MMA shoes for wide feet?
Wide feet are common, and often normal shoes for gym or running can be uncomfortable for people with wider feet. This means finding comfortable footwear for intense mixed martial arts training is important. For this, we would recommend the Merrell Vapor Glove 4's as reviewed above. They have a wider toe box than conventional shoes and can be worn normally as part of your daily driver.
How long do MMA shoes last?
This is entirely dependent on the frequency of use and how you train in them. However, from our research across over 100 individuals across the USA who have been training for 1 year or longer, typically these shoes will last 12-18 months before significant wear and tear happen. These were amateurs athletes who train 4x a week or more, so if you train once a week, expect them to last a lot longer.
Can you wear shoes in MMA?
In all professional bouts within the realm of MMA, you cannot wear shoes during the fight. Fighters can wear shoes up until they are checked by the State Athletic Commission prior to entering the ring, cage, or Octagon. The fighter is checked for gloves, a mouthguard, and a protective cup.
Do UFC fighters wear shoes?
UFC Fighters wear shoes in every aspect of life except for when they enter the Octagon where this is against the rules set by the State Athletic Commission. In order to remove any advantage, including grip and damage to an opponent, shoes are not allowed during the actual fight.