So you've taped your hands and made sure your body is limber and warm from your MMA and BJJ stretches, but do you have the one thing that may prevent you from actual man tears today? Every man (and even woman) will know the day they realized they need a cup for MMA or Jiu-Jitsu.
You either saw someone else learn the lesson or, unfortunately, had to go through it first hand. Whilst you may get away in training without a head guard or MMA shoes – although we wouldn't advise it – you really can't get away without using the best jockstraps for Brazilian Jiu-Jitsu or Mixed Martial Arts.
Before we begin, let's make a somewhat obvious but overlooked distinction. The difference between a "cup" and "jockstrap." Although these terms are used interchangeably sometimes, a cup is the hard device that covers your genitals, designed to take the impact and protect what hides underneath. A jockstrap is the inclusion of the compression shorts and straps to hold the cup in place.
The evolution and development of groin protection guards have drastically improved in the last decade. Individuals and athletes recognize the greater need to protect the groin area in sport and combat. This is particularly important for Brazilian Jiu-Jitsu and Mixed Martial Arts and other tough sports like Ice Hockey, Football, and Rugby.
Best Jockstraps For Brazilian Jiu-Jitsu Comparison Table
If you don't have the time, take a look at our comparison table to see our top picks and competitive runner-ups with brands ranging from Lobloo, Shock Doctor to the very reliable Venum.
Scroll down to find out why we love Diamond MMA and made it our very close runner up. 👇
Product
lobloo Thai Cup 2.0 Patented Athletic Groin Cup for Close Contact Sports as MMA, Krav MAGA, Thai Boxing. Male Size +13yrs
Shock Doctor Men's Core Compression Short with Bio-Flex Cup - Adult - Medium - Black
Venum "Challenger" Groinguard and Support, Ice, Large Black
Product
lobloo Thai Cup 2.0 Patented Athletic Groin Cup for Close Contact Sports as MMA, Krav MAGA, Thai Boxing. Male Size +13yrs
Product
Shock Doctor Men's Core Compression Short with Bio-Flex Cup - Adult - Medium - Black
Fitness To Diet is supported by its audience. When you purchase through links on our site, we may earn an affiliate commission, at no additional cost to you. Learn more.
Best Overall Cup For BJJ
Reasons To Buy ✅
Unrestricted Movement
Male and Female Designs

Well Tested vs Competitors

Soft Edges

Easily Washable
Reasons To Avoid ❌
Elastic can spank your backside
Ok, we get it, this jockstrap probably has the funniest appearance. It looks like a head torch had a love affair with a pandemic face mask. Dear athletes! Don't be put off by the images. The Lobloo cup is a powerful contender for the best cups for BJJ and Mixed Martial Arts.
The first thing you'll notice once you wear this jockstrap in Brazilian Jiu-Jitsu is the amount of unrestricted movement in the groin area- which is exactly what any athlete, recreational or professional should be looking for. This means that you won't be concerned that the cup has shifted positions when the striking transitions to the ground game, not leaving you compromised.
The jockstrap's unique aspect is the elastic cord, or the "elephant ears" in the pictures. These are a single elastic cord that starts at the top of the cup, wraps around the back of your legs/lower buttocks, and re-attaches to the bottom of the cup. This is very different from just straps in compression shorts or a simple pocket to place the cup. It means that the cup is firmly positioned throughout all movement and won't dislodge easily.
An overlooked aspect of buying the right jockstrap for Brazilian Jiu-Jitsu is the sizing and fit for you. Firstly, let's recognize that not all men are built the same downstairs and the waist, hips, and leg size. Using an arbitrary measure such as waist size to decide on a groin guard doesn't make sense. Lobloo's jockstrap can be adjusted both by the strap and the elastic cords, so the most important thing is picking the right model to suit your groin – you can find a long list here.
One of the other great aspects of the Lobloo brand is that they cater specifically to men and women. Typically, a jockstrap for Brazilian Jiu-Jitsu would be seen as a requirement for men, any woman who has trained or competed in no-gi or gi BJJ will know that a shin or a knee to the 'queens palace' is far from comfortable. We're not ones to exclude, and for that reason, we support this brand. So after you limber up with yoga for BJJ, why not pick up the best in groin protection from our list below!
Best Budget Jockstrap For Brazilian Jiu-Jitsu
Reasons To Buy ✅
Outstanding Quality of Compression Shorts
Shock Doctor:

Trusted Brand

Multiple Colours to Choose From

Breathable Design
Integrated Cup Pocket in Shorts
Reasons To Avoid ❌
Protrusion of the cup can be off-putting
Shock Doctor Men's Core Compression Short with Bio-Flex Cup - Adult - Medium - Black
COMFORTABLE PROTECTION: Shock Doctor's Compression Shorts come with a removable Bio-Flex Protective Cup designed to shield areas where protection is most crucial, positioned for a fit that allows a wider range of motion
BREATHABLE TECHNOLOGY: Made with moisture wicking four-way stretch fabric that moves with your body while eliminating sweat & a vented bio-shaped design that provides maximum airflow & ventilation, while giving compression benefits to your muscles
SUITABLE FOR MANY SPORTS: Perfect for sports where protecting that area is important! Baseball, Hockey, Softball, Lacrosse, Football, Soccer goalies, Cricket, MMA and more
Shock Doctor is one of the leading brands in the MMA and Brazilian Jiu-Jitsu accessories world. They have broken records by selling more than 75 million mouth guards in the last 25 years, and they didn't stop there. Shock Doctor has also created some of the most respectable and popular jockstraps for Brazilian Jiu-Jitsu on the market.
Without breaking the bank, you can get an entry-level BJJ cup that will do the job for you in most cases. But unfortunately, where Shock Doctor's jockstrap fails is its inability to cope with lots of dynamic movement in the groin area, and with BJJ, this isn't ideal. We've found that once the cup and shorts are on and you have to stand up and sit down, the cup can be wedged into an uncomfortable position that loses the full coverage of your crown jewels – and because of that, it'll need readjusting often.
If you were striking standing up, you wouldn't have any issues, and the cup will hold perfectly in place and give you all the protection you need to unleash a can of whoop-ass. This cup has superior protection to cheaper groin guards and the comfort and flexibility in the compression shorts. And we advise that you know what you're buying this for and when you'll be using it so that you don't encounter a nasty nut shot.
On the upside, when we have taken a strike to the groin wearing the Shock Doctor jockstrap, it was incredibly satisfying to feel a strike, but no follow up pain and tears. The protruding shape (which can look weird to some) has a huge benefit in that there's plenty of distance between the strike absorbed and the 'twig and berries' between your legs, not to mention the tough bio-flex material that can supposedly transfer shock and impact of up to 100mph – but I wouldn't want to be the guinea pig on that test.
Best Runner-Up Jockstrap for BJJ
Reasons To Buy ✅
Military Grade Elastic
Premium Look and Feel
Renowned Customer Service
Best In Market for Groin Protection
8 Different Sizes To Choose
Reasons To Avoid ❌
Some consumers found the compression shorts too tight. Ensure you find the right fit.

The Diamond MMA Cup was born from fighter's and athletes' frustrations with current market products that were uncomfortable and underperforming expectations. Our first thoughts on the Diamond MMA cup was the difference in price point compared to its competitors.
Initially, it was hard to justify the price tag (use the code FTD10 for 10% off) without diving deeper into the research. We quickly realized why and then ranked the Diamond MMA Cup the best runner-up jockstrap for Brazilian Jiu-Jitsu and MMA.
The number one reason anyone is in the market for a jockstrap is so that you can protect what's in between your legs. Gentlemen, we've all been there. An eye-watering, stomach-churning pain that is all too familiar. You don't want to go through that again.
This cup gives you the benefit of the doubt that you'll be protected to a high level if you experience a groin shot. In BJJ, this is almost always inadvertent and will catch you off guard. You're rolling and take a knee or shin straight. This BJJ cup is made has a "co-molded elastomer design coupled with a polycarbonate core". Confused? This simply means that you get the benefit of the tough polycarbonate material as well as the comfortable rubber-like properties from the elastomer design – ideal for your BJJ cup.
Aside from premium level protection, this jockstrap for Brazilian Jiu-Jitsu has been perfectly designed for BJJ athletes by those who train. The compression shorts and strap design are purpose-built to provide not only great comfort but durability during hard sparring sessions when you'll be moving in so many different angles and being pulled and pushed in all different directions.
From the pictures on the Amazon listing, you can see that the compression shorts have built-in straps that ensure the cup is firm and tight in place. Most other jockstraps for Brazilian Jiu-Jitsu or MMA will only have a pocket for the cup to be placed in. In either MMA or BJJ, you want to know that the jockstrap you choose will be there when you need it – without a doubt, the Diamond MMA Cup does just that.
Best Jockstrap For Brazilian Jiu-Jitsu Under $50
Reasons To Buy ✅
World-Renowned Venom Brand
Affordable and Available
Easy To Use
Sits Deep In Compression Shorts
Lightweight
Reasons To Avoid ❌
Not as secure compared to Diamond or Lobloo
Sale
So you're looking for an affordable groin guard that still has the superior protection you need to keep all the junk in the trunk – Venom won't let you down. A trusted brand that delivers once again.
You'll notice that this product is built with a simple design – flexible and durable compression shorts that have a well-placed pocket to slide the protective cup right in. There can be some friction sliding the cup into the pocket of the compression shorts, however, this is due to the rubber outer material on the solid cup which is there to dissipate the shockwaves from the strike.
A great benefit with this lightweight groin protector is the position of the cup sits in. Most athletes that have trained in MMA, Muay Thai, or even Kickboxing know that a cup that sits too high can be in a bad location when you have a strike land in your groin area. This can often happen as you're throwing a kick yourself, and the big advantage to the Venom Challenger groin guard is that it is perfectly placed in between your legs.
Another upside for the Challenger is that it has a well thought out curvature for the cup, similar to the Shock Doctor where it protrudes more than enough to ensure strikes and knees, whether intended or accidentally (as in Brazilian Jiu-Jitsu) will absorb much of the damage.
Buyers Guide For Brazilian Jiu-Jitsu Jockstraps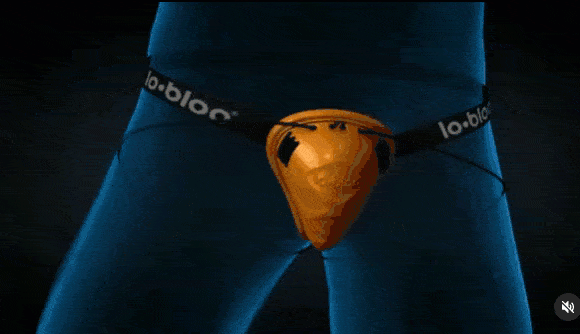 Finding the right jockstrap for Brazilian Jiu-Jitsu shouldn't be a chore. This part should be straight-forward and easy to do so you can focus on the training and skills you're building to excel your ground game.
We've taken the headache out of the buying cycle to help you get to a decision quicker. But if youre keen to understand what details you should pick up on when choosing your next cup, then read on.
Type of Groin Guard
There are a handful of different groin protectors on the market. The most commonly used are the cup and jockstrap.
A cup in most cases will do the job, but without some form of compression shorts or straps, it can lose its position and ultimately fail to protect you.
A jockstrap, like the Lobloo or Diamond MMA groin guard, has the cup placed in a tight yet flexible pair of compression shorts that have straps, or bands that hold the cup in place and are supported from the rear.
If you're looking to use a groin protector for MMA or BJJ then a well fitted jockstrap is what you should be looking for.
Sizing
Most groin protectors will come in regular Small, Medium, Large sizes, which isn't all that helpful. Others use the waist size as a measurement but again, that doesn't necessarily help gauge the size of your 'package' and whether the jockstrap will fit well.
Lobloo does a great job in sizing, with adjustable straps and elastic cords to ensure the positioning is perfect, and then both boys and adult sizes for a variety of the different models they have to offer.
Keeping your BJJ cup clean
Most people struggle with how to wash a sports cup – but it's quite easy. If your jockstrap is all material, then it can go in the washing machine. But your cup will likely have some rubber fencing on the outside which you don't want to damage. Taking good care of your gear is integral to avoid unnecessary purchases – do you know how to wash your BJJ gi properly without it shrinking?
Either use anti-bacterial wipes like Lysol, or wipe with 60-80% isopropyl alcohol and let it dry.
Frequently Asked Questions (FAQs)
Do you need to wear a cup in BJJ?
It is highly recommended to wear a cup or jockstrap in Brazilian Jiu-Jitsu, whether Gi or no GI. After taking some damage the first time you'll notice how hesitant you can be which will affect your game, especially if you're now anticipating pain from certain moves and transitions- think about the defense when your opponent is passing your half guard.
Whilst it is recommended you have a groin guard for BJJ, the downside to this is the discomfort you can feel by having an object in between your legs. If you haven't chosen the right size or fit, that can be a problem. If you haven't properly adjusted the groin guard before training, that can also give you issues during training.
Can you wear a cup in BJJ competitions?
The short answer is no. The International Brazilian Jiu-Jitsu Federation (IBJJF) states that:
"Use of any footgear, headgear, hairpins, jewelry, cups (genital protectors), or any other protector fashioned of
hard material that may cause harm to an opponent or the athlete him/herself is forbidden…"
This clearly highlights that the use of a cup is not allowed in competitions. The widely regarded reasons are the additional pain and damage that can be inflicted on the opponent by using the cup. For example, when you have your opponent's back, the high-strength cup can cause direct pain in the spine as well as to the elbow joints during armbars.
Do you need to wear a cup in MMA?
In both MMA training and fighting, you should always wear a cup. It is mandatory to wear a cup in MMA fights, along with the correct hand wraps, gloves, and mouthguard. So make sure your MMA gym bag is packed with all the right gear before leaving for training or competition.
Whilst it isn't mandatory in training, it is highly recommended given the variety of strikes that can be thrown, and the most common are missed body and low kicks, as well as knees during the clinch which fall south of the target.