In the past, grappling dummies have been frowned upon for their inability to replicate what a real-life person can do. While this may be true, a grappling dummy shouldn't be used to directly replicate your training partners' real-world actions, behaviors, and movements. One of the biggest benefits of using a grappling dummy for MMA is to drill techniques repeatedly without relying on anyone else.
Bruce Lee said, "I fear not the man who has practiced 10,000 kicks once, but I fear the man who has practiced one kick 10,000 times."- with a grappling dummy, it is possible to accumulate a significant amount of reps to compliment your overall game.
Most people looking to buy a grappling dummy understand that it's not going to replace drilling techniques and turn up to an MMA or BJJ class. The best grappling dummies in MMA are used to complement training and to put extra repetitions into your techniques.
Think about the transition from full mount to a standard armbar. This looks pretty straight forward. However, for a new starter to Mixed Martial Arts or Jiu-Jitsu, it can take a long time for the mind and muscles to move in sync and speed to make the transition into the submission effective. In a normal BJJ or MMA class, you may be able to perform 20 to 40 repetitions of that mount to armbar transition. At home, you could easily triple this output to maximize repetitions.
Here are the main benefits of using a grappling dummy:
Drill Jiu-Jitsu techniques
Practice technical ground striking
Perform heavy ground and pound
Not dependent on training partners or class schedules
Practice strikes for various ground positions (full guard, side mount, knee-on-belly, full mount)
Ideal to use when injured or isolated
Low-cost models available
Fitness To Diet is supported by its audience. When you purchase through links on our site, we may earn an affiliate commission, at no additional cost to you. Learn more.
If you want to skip ahead to the best grappling dummy for MMA check out our top 3 below 👇
No products found.
Overall Best Grappling Dummy For MMA: Fairtex 'Maddox' II
No products found.
Reasons To Buy ✅
World renowned Fairtex brand
Premium synthetic leather
Easy to clean and maintain
Purpose-built body dimensions for submissions
Comes with hands and feet
Can sit and kneel without stand
Reasons To Avoid ❌
High price point
You must fill it yourself
Whether it's MMA gloves, shin guards, or headgear for sparring, Fairtex brings the best in quality equipment into the world of combat sports. If you want to jump straight to the best grappling dummy for MMA, this is it. The 'Maddox' dummy ticks many boxes that most athletes require. A robust piece of equipment built to last and easy to clean with the same high-quality synthetic leather most MMA and Boxing equipment is made from. Not only does this faux leather reduce the price, but it reduces the weight and ability to clean and maintain the dummy.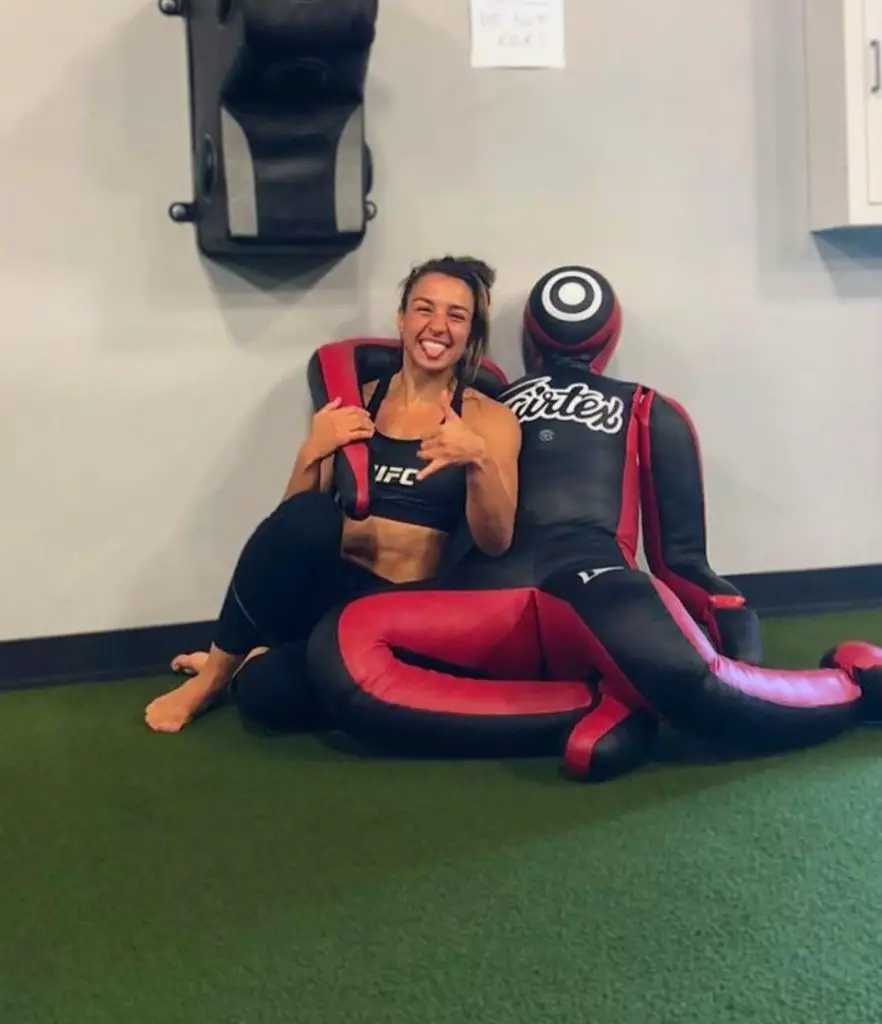 The Fairtex dummy can be stood up on its knees without it falling over – as in most Brazilian Jiu-Jitsu drills, that's where it starts, but also a great place to drill scrambles in MMA. The material also allows for an effective grappling session while wearing a rash guard – no friction burns. The inclusion of the limbs is hugely advantageous to ensure your synthetic leather opponent's positions and movements mimic that of real humans. It also opens up the ability to do effective leg lock drills, which is one area that often puts a lot of strain on training partners. Additionally, you can put Maddox in your full guard and work submissions, sweeps, and other techniques off your back.
The Fairtex Maddox dummy does not come filled, and you must stuff the inside of the body and legs yourself. This not only helps reduce the cost of shipping and materials of the equipment but allows you to choose what you fill it with. Sand from your local home improvement store can be used to make it hard and heavy, or softer shredded memory foam can be cheaply bought to provide a lighter, more comfortable option.
Best Grappling Dummy For Wrestling: Suples
Suples Wrestling Dummy with Legs - Black Vinyl - (X-Small - 35 lbs) Freestyle, Judo, MMA, Jujitsu, Grappling, Wrestling, Boxing, Fighting, Throwing Dummy, Crossfit, UFC
Very Sturdy
Never complains about getting thrown to hard
No shipping to Hawaii, Alaska or Anywhere Outside the USA
Reasons To Buy ✅
Arrives pre-filled and ready to go
Perfect build for wrestling and throws
Premium quality synthetic leather
Easy to clean and keep odor-free
Great for throwing techniques
Can be used for circuit training and ground and pound
Reasons To Avoid ❌
High price point
You must fill it yourself
Ivan Ivanov, a coach at the US Olympic Training Center in Colorado, built his company 'Suples' based on the need for wrestling equipment that is fully functional and can provide MMA fighters and wrestlers the ability to throw human-shaped objects around without hurting training partners. Suples has been making the best grappling dummies for MMA and wrestling since 2005 and is known in the combat world as a legendary brand.
As a beginner in Mixed Martial Arts, learning the art of throws that lean into either Judo, Sambo, or Wrestling can be difficult to master. Most training partners will be cautious about allowing a beginner to perform a belly-to-belly suplex without being confident they'll land somewhat safely. Having a heavy and ergonomically shaped two-legged dummy means you can perform that repetition 100 times and won't harm a training partner once – unless you throw it at them!
There are much cheaper alternatives to the Suples wrestling dummy, even produced by the UFC, but our research has proven they don't last as long and aren't built for extreme durability. Having the confidence that this design has been around with professionals for almost two decades gives us the assurance it's worth the higher price point.
Best Grappling Dummy For BJJ: Celebrita
Celebrita MMA Judo Punching Bag Grappling Dummy - Sitting Position Hands Front MMA382 (Choose Your Dummy) (Canvas-Red, 70" Up to 55kg/121 lb)
This dummy comes unfilled. You can fill it up to 100lb depending no the material you fill it up with. Images are for illustration of the final looking product once you fill it. You can fill with recycle textile cuttings or shredding. Can also be filled up with raw cotton or any suitable filler material. 40" to 47" dummies are suitable for kids. 59" to 70" dummies are suitable for adults.
Postures on its knees and elbows so you can prepare both quarter position/ turtle position and sprawl position procedures.Any leather dummies may smell initially because all dummies made of leather always may have some smell due to fresh leather being used for few days
Keeps its legs curved a 90 degrees at the hips the way a genuine adversary does as such you get more reasonable preparing (when contrasted with the "straight legged" hooking dummy that are implied for tossing… not accommodation catching).
Reasons To Buy ✅
Low-cost
Canvas material for softer/less irritation
Arms, legs, hands, and feet included
Easy to bend and manipulate
Whilst most professionally grappling dummies come at a high cost, the Celebrita MMA grappling dummy is a significantly more reasonably priced option for BJJ and even MMA. At less than $50, this allows you to be more reckless when it comes to striking, submitting, and tossing this dummy.
The Celebrita brand is less known and whilst in a competitive market, stand out for their canvas material that's both durable and soft to grapple with. You benefit from having all 4 limbs that move in realistic directions to mimic a real human, and it also comes with hands and feet to allow the use of leg locks and wrist locks. Like with most dummies, you will have to stuff this yourself.
You will benefit from cost efficiency; what you don't get is a dummy that can kneel without support or stand. If you're smart in the way you fill this dummy, you should be able to have it turtle up or be on all fours.
Alternative To Grappling Dummy: Wrestling Dummy For Takedowns
A&W Wrestling Equipment Super Snap & Shoot (Large)
The legs sit over 2 1/2 feet away from the wall. No other full takedown machines on the market offers that. This allows for complete range of motion on all kinds of leg attacks.
The legs provide a bigger target than the Snap and Shoot Plus and the old ADAM Machine.
The upper body allows for a full 360 % range of motion and a VERY human like resistance.
Reasons To Buy ✅
Range of motion for a takedown
Human-like resistance
Arms, legs, and head

Easy to install and setup at home or in the gym
The latest version in the Super Snap and Shoot dummy solves the problem of practicing one of the most important parts of combat sports, the wrestling takedown. The Snap-and-Shoot dummy sets up in an upright position that mimics a wrestler ready to defend your takedown. The purpose here is to use this frame of this dummy's body to lunge into takedowns or switch from a Greco Roman wrestling style, transitioning into a single or double-leg takedown.
What this offers that all other dummies don't is the ability for it to stay standing and for you to work around it. Even the best of the best dummies we've reviewed wouldn't be able to stand with enough resistance to complete a worthy takedown. The distance the dummy has from the wall is a huge advantage, too, as you'll be driving with force towards the dummy and at different angles, so you have plenty of space to avoid hitting your head or having to stop the movement early.
All parts of the dummy move independently in a wide range of motion. So if you're grabbing a single leg to the side, that leg will move out towards you with ease. The same for if you grab the head or arm and pull for an arm grab or snap down – the dummy is designed to work around you.
With the huge range of benefits this piece of equipment brings, it does come at a much higher price point. This is ideal for people who know they'll use it regularly and for a long time. It's also beneficial for gym owners as many athletes will benefit from whichever element of combat sports they train – ensure you're prepared with the right MMA shoes for the mat.
Coach Carl Adams demonstrates wrestling techniques you can practice with your Super Snap and Shoot.
Buyers Guide For Grappling Dummies
Our buyer's guide to finding the best grappling dummy for MMA will help you with the basics of buying, building, and ensuring you have everything you need to practice and train solo.
How to stuff a grappling dummy
One of the most important parts of buying and owning a grappling dummy for MMA or BJJ is putting it together. Most dummies won't be sent to you with the stuffing inside, as this adds copious amounts of weight and extra cost to your purchase.
Most will recommend stuffing shredded memory foam or old shredded clothes. This is a great idea, but with a few adjustments, you can supercharge your grappling dummy to work significantly better for grappling in MMA.
As you can see from the video below, there's a phenomenal difference between just stuffing it with foam and shredding, compared to building a skeletal structure to give it a better frame and rigidity to replicate how the human body moves.
Items you'll need to stuff your grappling dummy:
4 x Pool Noodles ($14 I used the Oodles Of Noodles Brand from Amazon)
4 x 3/4″ Pex Clamps ($5 Hardware Store)
2 x 3/4″ Pex elbows ($5 Hardware Store)
1 x 10′ piece of straight 3/4″ pex ($6 Hardware Store)
1 x 3′ piece of curved pex (from a roll) ($2 Hardware Store)
Pex Cutter (Borrow it from your friend if you don't have one)
Pex Clamp (Borrow it from your friend if you don't have one)
1 x 3′ piece of 7/8″ automotive heater hose ($8 O'Reilly or Autozone)
1 x piece of scrap pex for a push stick
Plenty of stuffing
Where possible, you should look to use materials you have rather than buying more. It will help keep the cost down and recycle rather than putting them in the trash.
Ways to fill a grappling dummy:
Old clothes – cut these up into smaller pieces that are easier to stuff (be careful with zips and metal objects)
Old towels
Polyfil – this can be bought and help to keep the weight light while fully stuffing the dummy (Amazon/Walmart)
How much stuffing you need to fill a grappling dummy depends on the size of the dummy you have. For a 70″ grappling dummy, 30lbs of Polyfil is enough.
Types of Grappling Dummy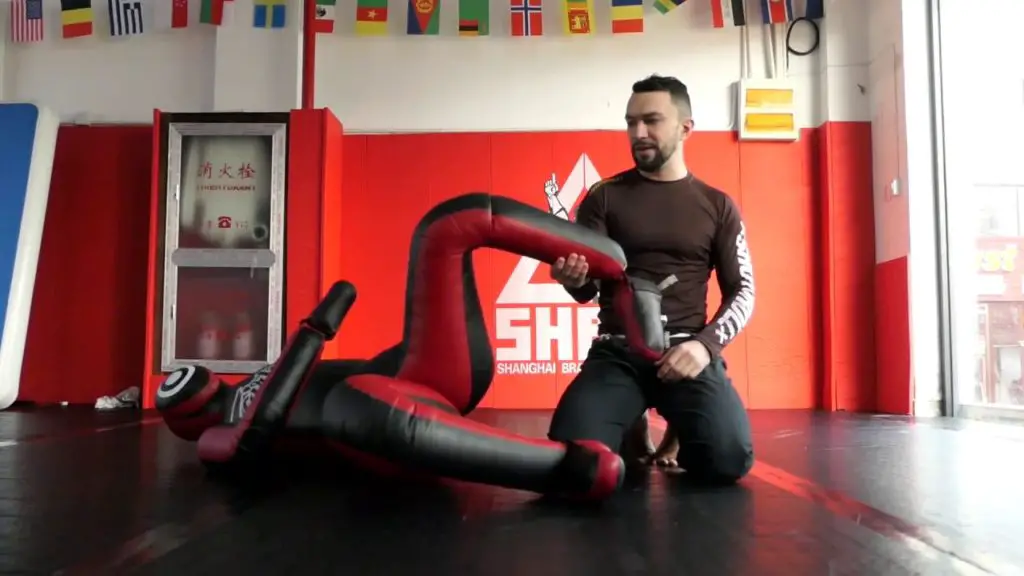 There is a whole host of different uses for a grappling dummy in Mixed Martial Arts. Some dummies are catered more towards the striking aspect, which looks more like a heavy bag with some limbs. Others focus more on the rigidity, human like-ness in terms of arms, legs, hands, and feet to give you a more realistic feel to practice Jiu-Jitsu. You'll also find grappling dummies that are purpose-built to be thrown around and tossed to mimic those aspects found in Judo, Sambo, or Wrestling.
Grappling Dummies for MMA
Grappling dummies for Mixed Martial Arts are more of an all-rounder. If you're looking to tick all the boxes and buy just one piece of equipment, then it should be a dummy that can be punched, thrown, and good enough to perform BJJ techniques.
Having an all-rounder does mean it's a "jack of all trades, master of none," so it's likely the dummy will be lighter and more prone to wear and tear if it's thrown around too much or used primarily for heavy striking practice. This is because it'll have arms and legs for the grappling element, and you'll most likely have to stuff it yourself with shredding.
You can take advantage of using this fake opponent to practice technical striking, striking from the guard and other positions so that you build up your ability to seek openings and find creative ways to hit your target from different positions. Combine this with the right MMA gloves and mouthguard to get as close to a real fight situation as possible.
Grappling Dummies for BJJ
If you're looking for the best grappling dummy for BJJ, then there should be some criteria to consider before you buy. You'll need to look for a dummy with both moveable but rigid limbs. Having some resistance when you move helps give your body an understanding of the force you'll likely feel during your BJJ roll.
To perform good chokes, arm locks, and leg locks, having bendable limbs will be helpful. It's a bonus if it comes with hands and feet – to perfect the moves' intricacies.
Grappling Dummies for Throwing
Most Mixed Martial Arts gyms now will have several different dummies or heavy bags to practice throws or even use as an exercise in a strength and conditioning session.
Having the ability to toss a dummy countless times in a session means you're able to accumulate a significant number of repetitions to move towards perfection. While doing this on a real person in training gives a better feel for how the movement works and doesn't work, it takes a toll on your training partner, and you only have a limited amount of times you can do it in a class. Supplementing the technical learning in class while practicing on a heavy dummy can give you the mind-muscle connection you need to improve in real-life situations.
Be sure to look for whether your grappling dummy for Judo throws comes filled or unfilled – and how much weight it can take in total. Always ensure the dimensions match up to your body type, as learning to throw a junior-sized dummy won't be helpful if you're 6 feet tall!
Grappling Dummies for Striking
While it looks somewhat easy when you watch UFC fighters strike on the ground, there are so many angles, moves, and advanced techniques to ground striking. Picking the right equipment to allow you to cover both heavy ground strikes to increase your striking power and technical striking to improve your accuracy and combinations is important.
Some dummies allow you to do both, but be sure to look for whether it has all 4 limbs, how heavy the bag can be when stuffed, and the reviews. If you want to make the scenario as real as possible – for example, passing the guard while landing a big head strike, your dummy must have legs so you can imitate throwing the legs to one side while you rain down a huge overhand strike.
Grappling Dummy Material
A grappling dummy's exterior material is typically synthetic (fake) leather, which has many upsides. Cheaper, durable, and easy to clean and maintain compared to fabric or cloth. Some dummies come in a tough cloth-like material, which isn't what you want for a dummy.
Sticking with synthetic leather will ensure you grappling dummy lasts long and can be well maintained for years.
MMA Grappling Dummy Workout
One of the best parts of owning a grappling dummy is not only for the techniques you can repeatedly drill in your leisure, but the ability to create tough workouts that will improve your MMA skills, cardiovascular abilities, and overall strength.
The below videos provide great "follow along" workouts to do solo that will help carve your MMA and BJJ skills. 👇
Frequently Asked Questions
Can you learn Jiu Jitsu on your own?
In short, you cannot learn Jiu-Jitsu entirely on your own or just online. The ground fighting style requires training partners and coaches for you to feel and learn the moves not just in your mind but with the mind-muscle connection. Even if you were to watch 10 hours of drills for basic Jiu-Jitsu online, stepping onto the mat would not give you 10 hours' worth of experience.
What can be great is supplementing the moves and techniques you learn in class or with a coach. Using a dummy in this situation to practice hundreds of times will help solidify the technique and your body's ability to perform the move quicker and more instinctively.
Online Jiu-Jitsu videos are also a fantastic way to learn new moves, experiment, and quickly find new techniques. Nothing is stopping you from performing these on your dummy, and eventually, on your training partners. Additionally, these videos are typically by advanced BJJ practitioners and will solidify your mind's technical aspects as they talk through the "why's" of the technique.
How to clean your Grappling Dummy
It's easy to take good care of your grappling dummy for it to last years if you practice regular cleaning and maintenance on it.
If it's leather, you should consider an anti-bacterial wipe down with regular household cleaning products to ensure it's free of sweat and a build-up of bacteria, which can result in bad odors in the future.
With a cloth or fabric-based materials, you can still use spray or wet wipes, but ensure that you wipe down any excess moisture and have your dummy somewhere it will be aired freely and, most importantly, dry quickly.