One of the most important pieces of gear for any MMA or BJJ practitioner is a good rash guard. Rash guards are made from materials specifically designed to wick sweat and moisture away from the body, keeping you cool and dry so you can train longer without overheating. We've put together this list of our favorite rash guards to help you find one that suits your needs best!
Fitness To Diet is supported by its audience. When you purchase through links on our site, we may earn an affiliate commission, at no additional cost to you. Learn more.
If you want to skip ahead, here are our top 3 best rash guards for BJJ and MMA 👇
Elite Sports Star Series Sublimation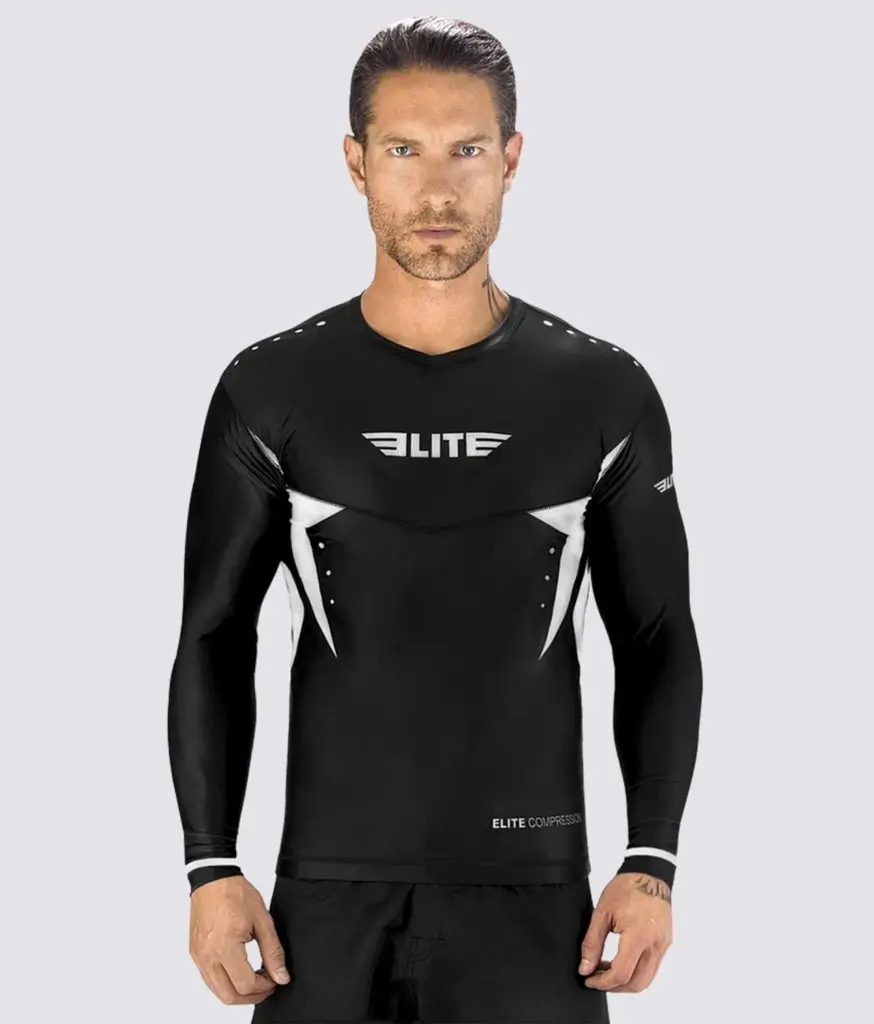 Elite Sports Star Series Sublimation
Extremely Durable
Premium Polyester and Spandex
Flat-lock Stitching
Fully-Sublimated Graphics Printing
Anti-Slip Bands (Waist and Wrists)
IBJJF Approved
Anti-Microbial Fabrics / Anti-Fungus
Great Color Options
Elite Sports lead the way in high-quality, durable, and affordable gear such as training bags, headgear, and MMA gloves. Often you can't find both long-lasting premium quality at a good price, but Elite Sports carved their way into the world of MMA and BJJ gear with this ethos.
The combination of polyester and spandex allows both flexibility but also breathability; this is incredibly important in BJJ. All good rash guards will be made predominantly from polyester. Cotton clothing when rolling in BJJ or MMA is very hazardous. The biggest disadvantage of a cotton t-shirt is that when cotton gets wet through sweating, it becomes very stretchy. You do not want stretchy clothes when rolling in BJJ or MMA because toes and especially fingers can get caught, twisted, and this leads to unwanted injuries.
Not only that but this rash guard boasts a very advantageous flatlock seam, which removes any additional flaps or bulk that you typically see in regular tees or jumpers. This will eliminate chafing, rubbing, and snagging on your body parts.
Whilst most rash guards will promise faster recovery and performance due to the compression element of the top, this will be such a marginal gain that you won't notice it. The takeaway here is that the compression top will be a tight fit that gives you comfort knowing you can move freely without worrying about snagging the wrists, arms, or arm-pits during your fast-paced BJJ or MMA sessions.
Sanabul Essentials Long Sleeve
Reasons To Buy ✅
Reputable Brand
Most Affordable
Designed by Fighters
Anti-Wicking Technology
Fast-Drying
Reasons To Avoid ❌
Predominately dark colors
Sanabul's high-quality Essentials long-sleeve is a must-have due to its affordability, quality, and quick-dry material. With the option of 6 different colors, you can have one rash guard for each session throughout the week. Reinforced under-arm stitching is a great addition to this compression top as typically that area gets a significant amount of heavy contact (think underhooks and guillotines) and this ensures the long-life and anti-rash effect of the rashguard after hours on the mat, for which you'll need ample protein and rest.
The Sanabul Essentials long-sleeve comes in sizes from small all the way up to XXL which supports practitioners of all sizes. This version is the long-sleeve which is definitely the preferred option in most cases as it provides extra grip during long and sweaty sessions. This is especially important when you need your own arm as a stable grip in moves such as the kimura or armlock. The additional benefit to long-sleeve compression tops is that arm sweat doesn't drip down to your hands which will negatively impact your grip.
The versatility of this BJJ rashguard extends beyond the mat. If you love outdoor activities such as surfing and paddle boarding and spend a lot of time in the sun then you'll love the UV SPF 50 protection across your upper body.
Hayabusa Metaru Long Sleeve
Reasons To Buy ✅
Great Design
High-end Sublimation Printing
Super Comfortable
Silicon Hem
High-Quality Rash Guard
Premium Stitching
Anti-Slip Waistband
Reasons To Avoid ❌
Only Small to Large sizes
If you're looking for the highest quality rash guard then look no further. The Hayabusa Metaru is hands down the best rash guard in their line-up with sweat-wicking technology that not only keeps sweat away from you but also controls your body temperature – ideal for high-intensity rolling sessions.
Additionally, this is 100% compliant with the International Brazilian Jiu-Jitsu Federation (IBJJF) and competition regulations, with 4 core colors: Black, Blue, Green and Red). So this is without a doubt a good option to go with if you're choosing to compete now or in the future.
Hayabusa has spared no expenses in design and production as the materials are a high-quality combination of elastane and polyester, known to provide comfort but also protection and performance.
Hayabusa has both a long-sleeve and short-sleeve version of this model, depending on your preference. Both come with an anti-slip waist band that will ensure your compression shirt does not ride up. Amazon has a lot of the great Hayabusa rash guard variants available.
Venum Gladiator 3.0 Long Sleeve
Reasons To Buy ✅
Elite Design
Very Reputable MMA/BJJ Brand
Reinforced Seams
Rubberized Waistband
Sizes S – XXL
Great Color Options
Venum Compression Technology
If you're in the market for a killer-looking BJJ or MMA rash guard Venum has cut no corners in bringing a badass gladiator-themed look to this product. Having a unique design is particularly common for BJJ and brings out both character, personality, and even your BJJ attributes.
Design aside, this compression gear is 87% polyester and 13% spandex, meaning you get all the stretch and performance from the material, but high-quality durability too. These are ideal ratios for your rash guard as the fabric plays a significant part in rubbing against your body, especially in the arm-pits and waist. Venum has also included a rubberized waistband that ensures a tight fit around your waist that won't move up and down as you roll into complex positions.
While this is more expensive than your standard Sanabul Essentials, it's one to keep for those days you're feeling good and want to jazz up your confidence and mindset. Not every item of compression wear needs to be plain black!
Best Women's Rash Guard – Sicchic BJJ
Reasons To Buy ✅
Multitude of Designs
Female Cut
97% Polyester
Sweat-Wicking Technology
Vibrant colors
Most female BJJ practitioners will know there isn't a huge market for female-only products, specifically rash guards. A small or medium men's rash guard is the best option – the same as shin guards. However, Sicchic has really cornered the female rash guard market with their vibrant and colorful designs that not only feel good but fit well too.
While on the higher-end of the affordability scale, you're paying for good quality polyester which not only helps to wick sweat away from the body (therefore cooling body temperature) but also an amazing design that will stand out in your training sessions.
This rash guard also comes with flatlock stitching which means a comfortable feeling that won't irritate you when rolling, but also highly-durable that will last after many practice sessions.
Best BJJ Rash Guard For Big Guys
Hayabusa Geo Long Sleeve Jiu Jitsu Rashguard - Red, XXL
COMFORT & FIT: The Geo Long Sleeve Rash Guard fits like a second skin, helping to regulate your body temperature by keeping your skin cool and dry. Made with breathable silky fabric and flatlock seams to avoid chafing as you train.
SHIELD YOUR SKIN: Our rash guards provide an essential layer of protection while you roll, which shields you from mat burns, scratches, and more.
UNRESTRICTED MOVEMENT: The Geo series was built to feel incredibly comfortable with a standard form fit that allows for free-flowing movement. Geo rash guards feel smooth and lightweight when you move, but stays locked in place thanks to its silicone waistband.
Reasons To Buy ✅
Runs up to XXL
Comfortable fit
Tight Yet Comfortable
Unrestricted Movement
Multi-Way Stretch
Silicone Waistband
A larger individual in both muscular and body fat will need to look at either XL or XXL rash guards. Rash guards for BJJ are already tight, but having one that's too small, or shrunk in the wash is not only uncomfortable but restricting. Hayabusa Geo Compression has an answer to this and offers larger sizes perfect for the larger person.
The Geo Compression rash guard comes with a comfortable fit, runs up to XXL, and provides unrestricted movement with its 84% polyester/14% spandex material – a perfect combination for a multi-stretch rash guard that will work well against any opponent, even your grappling dummy!
The silicone waistband is great to keep everything in place. Often with smaller rash guards your 'power belly' can slip out during intense rolling sessions which can be somewhat embarrassing and uncomfortable, taking your mind out of the game. Although, you should never feel bad about this as you train with purpose and reason, continuing to do so will only breed solid results.
To ensure you keep this rash guard at the right size, machine wash cold and hang to dry. Dry cleaning isn't necessary.
FAQs
Do rash guards work?
BJJ rash guards work to prevent a lot of unwanted risks during training such as fingers, hands, and feet getting caught in loose fitting clothes, as well as keeping enough friction and dryness between you and your (sweaty) opponent in No-Gi Jiu-Jitsu. In addition, wearing a rash guard is much more hygienic, creating a barrier between you and unwanted bacteria from your opponent, their clothes, and the mat.
Lastly, the name rash guard is there because the material and and long-sleeve element is there to protect you from rashes, or burns from the mat. Anyone who has experienced mat burn will know it is horrible, and can develop into a nasty infection if untreated or poorly maintained.
Should rash guards be tight?
A BJJ or MMA rash guard should be fairly tight, but not restrictive of your movements, breathing, or blood flow. If you've never worn a rash guard before it may feel uncomfortable, but when you get used to it after a few sessions you'll feel fine.
The tightness ensures that no loose material catches onto your own or your opponents body parts such as fingers or toes, which is known to leave nasty injuries. A loose t-shirt, especially when drenched in sweat, will hinder your opponents abilities to move, underhook, and grapple with your fairly – this isn't good gym etiquette.
Some large men and women may feel uncomfortable in clothing that's very tight, but remember, if you're training in BJJ or MMA you're participating in a high-intensity sport and trying to better yourself. Your training partners become family and won't ridicule you for turning up in a tight top.
What's the difference between a swim shirt and a rash guard?
A swim shirt is a loose fitted top that is used in hot conditions to prevent sun damage. They provide UV ray protection that doesn't wash off and typically come with a high UPF rating depending on the quality. Swim shirts are more like regular shirts with the added sun protection and are seen as more comfortable to wear than a rash guard for all day use.
A rash guard is tightly fitted top that can be used in more extreme summer sports like surfing, which can also provide UV protection and anti-chafing capabilities. Their primary use is to prevent the user from rubbing against and getting friction burns from surfaces such as a surfboard. Rash guards are also very commonly used in Brazilian Jiu-Jitsu or Mixed Martial Arts. For the same reasons, preventing mat burn, but also a much more hygienic way to roll or perform close combat activities.
Can you swim in a rash guard?
Yes, you can swim in a rash guard as that is their primary purpose. They are typically made from high polyester material which means quick drying unlike a cotton alternative.
What do you wear under a rash guard top?
In almost all cases you shouldn't wear anything under a rash guard top as that is your base layer. Good quality rash guards will wick sweat away and keep your body cool. If you were to wear another layer underneath you run the risk of overheating if performing high-intensity activities such as Brazilian Jiu-Jitsu or some form of martial art.
Can you tan through a rash guard?
You can tan from some brands of rash guard if they don't come with UV protection. Rash guards for surfing will almost always come with some form of UV protection, however, those designed for BJJ and MMA may not. Be sure to check before buying.
The Sanabul Essentials Long Sleeve does come with UV protection so you'll be protected and won't tan.
Do rash guards make you hot?
While it may seem that wearing a tight base layer such as a rash guard will make you hot, they are designed with "clima-cooling" fabric that wick sweat away from your body and ensure a controlled body temperature. Because rash guards are not made from cotton materials but rather polyester and spandex, this will allow for better breathability through your skin.
Do you wear a bra under a rash guard?
Depending on the size of a woman's breasts, a rash guard alone may be fine. If a woman's breasts are on the larger side then a sports bra is recommended, and allowed by the IBJJF rules.
Do you wear a rash guard under a GI?
You can wear a rash guard underneath a Gi for hygienic purposes, and in face some BJJ studios will require this. Creating a physical barrier against your opponent, their potentially dirty Gi and the mat is hugely important for good health and hygiene. The other very important factor for wearing a rash guard is to protect your BJJ Gi for a long time. If you train traditional Brazilian Jiu-Jitsu, you'll know that sweat rot can destroy a good Gi, and a rash guard can be the best way to avoid ruining a great Gi.
Why does Danaher always wear a rash guard?
There are several reasons John Danaher always wears a rash guard. They are easy to wash, made from very practical and comfortable fabric, very low maintenance for travel, they are low friction fabric and easy to wear under a Gi, they are warm on your skin in cool weather and cool in warm weather.
Did you know that John Danaher wore a rashguard to Matt Serra's wedding?! True story.