In combat sports, your mouthguard is one of the most important pieces of equipment you will use. It protects your teeth, jaw, and gums from damage if you fall or are punched while sparring. The right mouthguard could potentially save you thousands of dollars worth of dental work!
If you want to find a product that will help you stay in top shape without risking your dental health, then read through this post and discover what makes these 4 products stand out from the rest!
Mouthguards in MMA – Buyers Guide & Best Overall
Knowing the different types of mouthguards for MMA is crucial before you invest as there are some brands on the market that are better than others. Mouth guards also come in in a variety of options to perfectly fit them around your teeth, including the standard no-mold fit, the boil & bite, and the popular custom-fit options. Having the right equipment for a sport is integral to ensuring you're on your A-game. MMA shoes, gloves, tape, and a perfectly fitted MMA mouthguard will go a long way – so make sure you have the right gym bag to carry all of your important gear.
In any fight in combat sport, an athlete is checked to ensure they are wearing their mouthguard before they enter the combat stage, be it a ring, a cage, or the Octagon. This shouldn't be limited to a real fight; it's essential to ensure that even in practice, you have a mouthguard in place to prevent any unnecessary injuries while you train. It may seem obvious, but why do you need a mouthguard?
Wearing a mouthguard will:
Absorb impact and transfer less energy to the teeth, jaws, and brain
Prevent injury directly to teeth in the form of chips and breaks
Reduce cuts to the inside cheek and gums
Reduce stress on teeth from jaw clenching
Mouthguards aren't restricted to just Mixed Martial Arts or other combat sports such as Muay Thai or Kickboxing. Gumshields are common in soccer, hockey, football, basketball, and lacrosse, and the more common boxing mouth guard. Whether you're a male or female starting in the sport – you'll want to ensure that, as well as having the right equipment, you are staying well conditioned with metabolic training and recovering and stretching properly. This is a limited list, and there are obvious reasons why an athlete, recreational, amateur, professional, or otherwise, would want to use a mouthguard.
If you want to skip ahead to the top 3 picks for the best mouth guards in MMA and BJJ mouthguard, check them out below 👇
Fitness To Diet is supported by its audience. When you purchase through links on our site, we may earn an affiliate commission, at no additional cost to you. Learn more.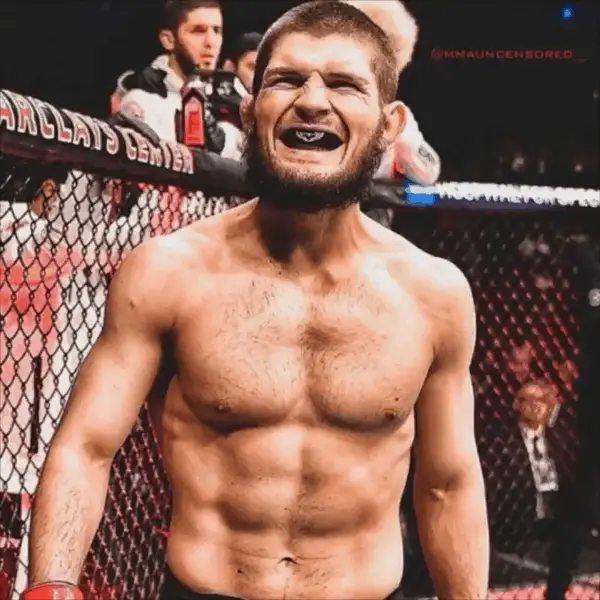 These benefits do depend on the quality of your mouth guard, of which there are a two main types.
Custom Mouthguard
Custom mouthguards for MMA are without a doubt the best way to ensure your equipment is doing what it should, and that objective is to protect your health and provide maximum protection overall. A sophisticated method of measuring, molding, and refining means that you end up with a perfect fit mouthguard – or as close to perfect as possible. This process requires biting into a thermoplastic (putty-like) material to accurately generate an impression of the grooves and shapes of your teeth, gums, and mouth. This mold is then transferred into solid form in the lab through a series of heating and cooling before being refined and ready to send back to you, and voila – your custom mouth guard.
A custom fit mouthguard is more expensive, but will without a doubt serve its purpose better than a standard version.
Bite and Mold Mouthguard
The classic boil and bite mouthguards for MMA and other sports have evolved over the years to be easier to mold, use, and protect your teeth in practice. The process can sometimes be complicated but when instructions are followed properly it's not that difficult. These types of mouthguards are more common, often cheaper to buy, and are still reliable if you choose the right brand and model.
The basic premise is that you dip the mouthguard into hot water (near boiling temperature) for about 20 seconds, put it straight into your mouth and clench your teeth and jaw for about 30 seconds to produce a good-quality impression, then dip it into cold water to solidify the plastic. This then becomes protective equipment for your teeth in any combat sport.
The downside to a boil and bite mouthguard is that they won't be as bespoke in the way it lines up with your teeth and mouth grooves in the way a custom fit mouthpiece will be. This means there is a chance that they won't be as comfortable, allow you to speak well through them, and increase the chance of it dislodging on impact.
Fitness To Diet is supported by its audience. When you purchase through links on our site, we may earn an affiliate commission, at no additional cost to you. Learn more.
Best Overall Mouthguard For MMA ⭐⭐⭐⭐⭐
Reasons To Buy ✅
Perfect Custom Mold
Unrivaled Customer Service
6-7mm Thickness
Over 100 Designs
BPA Free
Made in the USA
Also Great for Muay Thai
Best Shock Absorption
Reasons To Avoid ❌
Time taken for end result
No products found.
Without a doubt, if you're in combat sports you will want to choose a custom-built mouth guard option. Protecting your teeth, jaw, and surrounding tissue are not only quintessential to longevity in your respective sport but also to your overall health. In order to effectively do this, having the perfect mold around your teeth will only come from a custom handcrafted fitting.
By opting for a custom-fitted mouth guard for MMA you benefit from a more comfortable fit, the ability to breathe more freely, and a more secure fit which ultimately means better protection compared to the alternative options. Considering the time, effort, and most importantly cost of any dental work if you damage your teeth during practice or a fight, paying a little more for a superior solution has a much steeper return on investment in the long run.
Impact custom mouthguards has a successful and somewhat seamless process to assist you with a bespoke dental mold without having to pay above and beyond or visit an establishment. They simply send you a kit with step-by-step instructions to produce a mouth mold that is sent back to their labs. From there they'll build and refine your unique and custom-made MMA mouthguard to a professional standard. Whilst there is some hassle in doing this compared to a single purchase online, going cheap on a mouth guard is never recommended.
One of the most customized accessories for Mixed Martial Arts is the mouth guard, and another great benefit to Impact Custom Professional's custom gum shield is that they have over 100 different colors and designs, significantly more than the likes of Shock Doctor.
Alternative Colour Combinations for Impact Custom Mouthguard
Best Budget Mouthguard For MMA
Reasons To Buy ✅
18-Month Dental Warranty
Official Mouth guard of the UFC
Easy to Mold
Self-Fitting
Breathe Easy Technology
3 Layers of Impact Resistance
Power-fit Model
Reasons To Avoid ❌
Process can be tricky if not followed step-by-step
If you're looking for an MMA mouthguard that's quick, easy, and incredibly reliable – then the Opro power-fit mouth guard is for you. To add to the long list of benefits this gum shield has, it's affordable too.
An Opro mouthguard is one of the official licensees of the Ultimate Fighting Championships (UFC) which sees a lot of its fighters on the roster using this brand of mouth guard for MMA in their professional bouts, not to mention all the athletes in other combat sports. You can be reassured that the Opro Power-Fit model is tried and tested to a high level and is applicable as both a solid MMA and Boxing mouthguard. This model is built with a 'breathe easy' technology which ultimately means that the mouthpiece doesn't restrict the athlete's ability to draw in air when needed or irritate and distract the athlete during training or an event.
Like with most combat mouth guards, this sits on the upper mouth only as allowed by the athletic commission. You'll also find a convenient hard carrying case to transport your MMA mouth guard from home to training and to your fights – this is a great way to keeping your mouth guard bacteria and dirt-free.
One of the main concerns with any boil and bite mouth guard is the molding process which some people have reviewed as difficult. Even if you have zero experience molding a mouth guard you shouldn't have any difficultly if you follow the instructions in the video below for the Opro power-fit. 👇
Alternative Colour Combinations for OPRO
Best Runner Up Mouthguard For MMA
Reasons To Buy ✅
Great Designs
ReModel Tech (multiple fitting attempts)
Anti-Gag Build
Money-Back Guarantee
Also Great for Muay Thai
Good Shock Absorption
Reasons To Avoid ❌
Junior size too small for under 10 year olds
SafeJawz has done a great job in creating a mouth piece for MMA that is both reputable, affordable, and unique in its design. The ability to re-mold this mouthguard is a credit to SafeJawz's ability to address one of the biggest concerns when it comes to molding a mouthguard. If you get the hot water and mold method wrong, oftentimes you can't have a second turn. However, with this model it's possible to have multiple tries – this is a true testament to its ability to last a long time, especially if your mouth or jaw changes shape from impact over time.
Another issue with mouthguards overall is the gag reflex that can be onset by having something in your mouth touching the back of your teeth, an issue Dave Faulkner struggled with on The Ultimate Fighter: United States vs. United Kingdom episode 8. The SafeJawz design means an ultra-slim profile on the inside of the mouth near the back to ensure the best comfort possible that doesn't distract you during training. You can find a similar slim-fit design by Shock Doctor – but lacking the same quality.
Alternative Colour Combinations for SafeJawz
Best Mouthguard For MMA Under $20
Venum Challenger Mouthguard - Black/Ice
Nexfit Gel Frame for a better adjustment and comfort
Advanced design for an optimal breathing during the fight
High Density Rubber Frame for a better shock management and top protection
Reasons To Buy ✅
Great Value for Money
Large Variety of Colours
Well-Known Brand
Comes with Hard Case
Double Layered Design
Also Great for Muay Thai + Boxing
Reasons To Avoid ❌
Basic Model Compared to Competition
The Venum Challenger brings a new breath to the phrase "cheap and cheerful". Not only is Venom one of the top MMA equipment and clothing brands since it's founder Franck Dupuis brought the brand to life, but they provide a quality mouthguard at an entry-level price, without losing quality – a must in contact sports and Brazilian Jiu Jitsu.
Understandably, this won't compare to your top-end bespoke mouthguards like Impact Custom Professional, but it's a great backup option to have in your gym bag just in case. Without scrimping on design, but shaving on cost, Venum has implemented an impressive breathing channel to help airflow with this mouthpiece, as well as a gel frame for extra protection on the lips and teeth.
Like with most mouthguards in MMA, you'll receive a hardcover carry case, but on top of that this Venum Challenger is also CE Certified so you can be confident in the build quality.
If you're into combat sports but don't want to break the bank, the Venum Challenger is a great start. It stands out against similar competition in Shock Doctor who have a similar budget upper teeth mouthguard in the Gel Max.
Alternative Colour Combinations for Venom
How to Choose the Best Mouthguard in MMA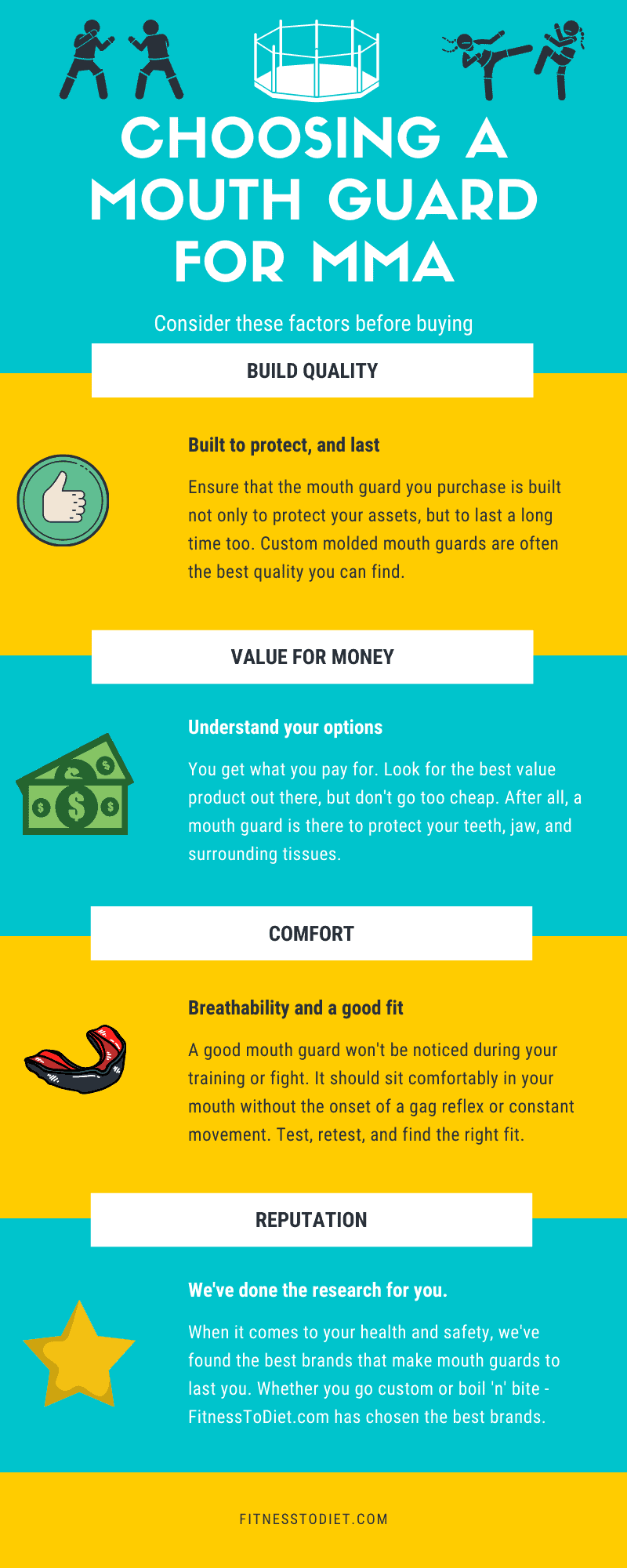 Frequently Asked Questions
What can I use instead of a mouthguard?
For Mixed Martial Arts, there is no alternative to a mouthguard. If you choose not to use it during sparring or practice that's entirely possible (not recommended). However, it is mandatory to wear a fitted mouthpiece according to the State Athletic Committee in the United States. So ensure you pack your bag for MMA carefully with all the right gear before leaving for training.
Do mouthguards prevent knockouts?
Can I talk with a mouthguard?
Yes, you can talk with a mouthguard in your mouth. However, even with the best mouthguards in MMA it will be difficult to be as clear as you would be without one. This is because the protective material of the shield adds thickness which inhibits your lip's ability to move and create the right sounds and vibrations with your mouth.
This isn't limited just to mixed martial arts, you'll also find a similar situation with a boxing mouthguard.
Best mouthguard for MMA with braces
Most MMA mouthguards will work with braces. But we recommend Impact's custom mouthguard design as this will give a perfect impression of your mouth, teeth, and braces to build a design around.
And for those who don't have braces, but want some – here's a great design to give your training partner or opponent something to laugh about!
Impact Mouthguard Boxing, MMA, Muay Thai Sports Mouthguards for Youth Adults, Professional Custom-Fit, Braces
PERFECT-FIT MOUTHGUARD – Get a 100% perfect fitting mouthguard for optimal protection. We send you a professional-grade, fast, and easy-to-use at-home teeth impression kit (includes paid postage to the dental lab).
DESIGNED FOR – These sports mouthguards are thicker than those we craft for helmeted sports. Designed to offer the ideal shock absorbency and fit for MMA mouthguard, Boxing mouthguard, Muay Thai mouthguard, KickBoxing Mouthguard and other sports that the athlete desires extra protection.
BREATHE EASY, SPEAK CLEARLY– Our breathable mouthguards are designed to ​​allow optimal oxygen to flow, letting athletes breathe easily, communicate clearly, and even hydrate with it in place.
What mouthguard do MMA fighters wear?
MMA fighters will change their mouthguards often, and there isn't one definitive brand that MMA fighters use in contact sports. At a professional level, you will almost always find a custom fit solution as it's imperative an MMA fighter has a high-quality mouthguard.
How do you clean mouthguard for MMA?
The first step is to ensure you rinse your mouthguard every time you use it. This will ensure bacteria, dirt, and other unwanted elements don't stick to the gum shield.
Once you get home from training or practice, you should use dental-grade cleaning tablets. These are cheap (roughly 15 cents each use), and ensure that your mouthguard is free from bacteria, and unwanted odors. Be cautious leaving your mouthguard in certain chemical solutions such as mouth wash as this can degrade the plastic over time and reduce the ability to protect your teeth.