Finding the best MMA gloves means you need the right fit, the right material, and the right brand. Having the right type of glove that perfectly fits your hands is paramount to ensuring you feel prepared and focused for competition, training, or sparring.
The difference between an MMA glove from a Boxing glove is that an MMA glove has individual open finger and thumb placements that allow for grappling, clinching, and submissions. Boxing gloves are more like mittens in that all four fingers are secured into one section, with the thumb in a separate section to allow for a tight fist.
If you've trained in Mixed Martial Arts for any period of time, then you'll already know that having both Boxing gloves and MMA gloves is important for the different activities you partake in – whether it's hitting the heavy bag, full contact sparring, or a hybrid wrestling and striking exchange.
While most Mixed Martial Arts gloves look similar, especially those used during UFC events, some nuances separate the use cases for each glove type. Just like conditioning your body for a fight and having the right game plan, putting some thought in before you buy a pair of MMA gloves can save you money down the road and remove any buyer's remorse.
We have reviewed several options alongside each other's pros and cons and want to make this part of your gear research hassle-free and ensure your new MMA glove fits…like a glove.
Fitness To Diet is supported by its audience. When you purchase through links on our site, we may earn an affiliate commission, at no additional cost to you. Learn more.
If you want to skip ahead to the top 3 MMA gloves check out our Editor's picks below! 👇
Different Types Of Gloves for MMA and Boxing
Gloves come in all different shapes, sizes, and weights.
A glove's weight is exactly that; a '16oz' glove will weigh 16oz and provide much more padding than a lighter glove. This means less damage dealt and absorbed, but also slower punches given the added weight factor.
Understanding the type of activity an MMA glove will be used for will indicate what type of glove you'll need.
Competition: Typically a 4oz glove for professional MMA bouts. All 4 fingers and thumb are separated, allowing for full-contact sparring as well as the dexterity to grapple, clinch, wrestle, and submit your opponent.
Sparring: Sparring in MMA can bring more risk than Boxing. With the multitude of different strikes available, the likelihood of a knockout is increased. This is why MMA sparring gloves are often similar, if not the same weight as in Boxing. There is less concern for the grappling element with MMA sparring aside from some potential Muay Thai clinches, but 10-16oz gloves will still perform optimally in this situation.
Training: MMA training brings together all aspects of "Mixed" Martial Arts. This means you will need gloves that can perform during the striking aspect, the grappling, the wrestling, and Jiu-Jitsu. However, as this is training, using slightly heavier gloves such as the 7-10oz gloves means you'll inflict less damage to your training partner, allowing for healthy competition without dire consequences.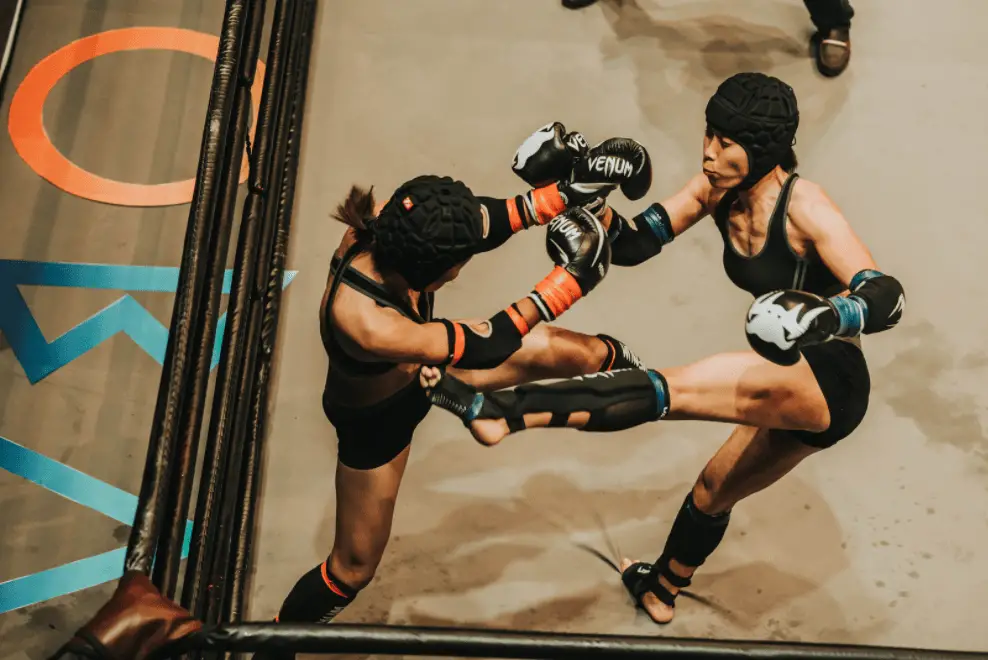 | Activity Type | Weight |
| --- | --- |
| MMA Competition (Professional) | 4-6 oz |
| MMA Competition (Amateur) | 6 oz (This can vary by location) |
| MMA Training | 7-10 oz |
| MMA Sparring | 7-10 oz |
| MMA Sparring (Striking only) | 10 – 16oz |
Gloves and weight used
Best Overall MMA Gloves: Elite Sports Hybrid Glove
Elite Sports MMA Grappling Training Sparring Mitts Gloves, Best MMA Gloves for Grappling Martial Arts (Black/White, Large/X-Large)
✅ PERFORMANCE – Elite Sports Star Gel MMA grappling gloves made from high-quality super lightweight and durable PU leather making your punches fast and precise while design ensures your focus and safety.
✅ ADDED PROTECTION – Triple-density gel and impact foam with pre-curved design and shock absorbent material of our grappling training gloves protects your hands enhancing performance and safety making these the best MMA gloves for grappling.
✅ MATERIAL – These Elite Sports high-quality and durable PU leather grappling sparring gloves are easy to clean and maintain giving comfortable and snug fit. These grappling training gloves can withstand tough and intense workouts for months.
Reasons To Buy ✅
Great fit
Impact foam is super shock absorbant
Great value for money
Tough thumb padding
Ultimate hybrid glove
Reasons To Avoid ❌
Double wrist wrap may be cumbersome
Most people reading this will be new to MMA or have a few years under their belt. If you're more experienced or a professional fighter, then you'll already have gloves you're comfortable with and understand the nuances that come with each glove type. The Elite Sports Hybrid glove takes the top position due to its resilience, versatility, and protection for the user.
As we've discussed, a hybrid glove like this doesn't separate the knuckles but instead creates a mitten-like shape around the hand. This natural curvature ensures that it's easier to make a fist – which the Elite Sports model does perfectly well. On top of that, one of the most overlooked aspects is not just the size and weight of the padding, but the location. If the knuckle padding doesn't sit right on the knuckle area, it won't feel comfortable, and you won't get the required protection. Rest assured, this glove has the perfect padding position, and as seen in the video below, around the 0:50 mark, our demonstrator thrashes the dummy without holding back.
Elite Sports are fast becoming a name brand in the world of MMA, for a good reason. They provide great value for money, a decent glove perfect for MMA training in this case, which comes in several vibrant colors – choose one that suits your style and personality. Elite Sports also have an array of gear, including shin guards for Muay Thai, headgear for MMA and training bags for the gym.
Not only is this an ideal sparring glove, but it provides your hands and fingers with ample room to grab, pull, push, and maneuver through grappling transitions.
Best MMA Gloves For Beginners: Venum Challenger 3.0
Reasons To Buy ✅
Stylish design
Industry-leading brand
Heavy padding on knuckles and thumb
Knuckle padding has good alignment
Reasons To Avoid ❌
Price point is higher than the average
The Venum Challenger 3.0 model is a must for beginners into MMA or keen to try a martial art. Not only do these gloves have an array of sleek looking gloves, but they're purpose-built for sparring and training. The 7oz design means a rounded padding area for the knuckle with a natural curvature to ensure it's easy to make a fist.
Venum is one of the most trusted sporting brands on the market, and you'll see their logo worn across a higher percentage of MMA fighters. These gloves will ensure that as rookies, there's plenty of padding both for your own hands and your opponent's. As you find your punching power, and more importantly, the ability to control it will help to have extra padding, so your teammates aren't taking too much damage as you learn.
The double-Velcro straps ensure a tight fit, with or without hand wraps underneath. Whilst you can use these gloves on a heavy bag, be cautious as a beginner not to put full force as your wrists will still be building up strength.
One drawback is the glove's bulkiness, which can be uncomfortable in the grappling exchange. When rolling in Jiu-Jitsu, having your hands get through tight spaces is important, especially when executing chokes. In some cases, a bulky glove can prevent you from comfortably being able to execute that submission.
Best Professional MMA Glove: Fairtex MMA Grappling Gloves
No products found.
Reasons To Buy ✅
Industry-leading brand
Triple-layer foam
Ergonomically contoured "natural" fit
Split knuckle design
Easy remove wrist strap
Non-padded wrist for increased movement
Reasons To Avoid ❌
Price point is higher than the average
Fairtex is a world-renowned and respected brand in the combat sports world. From Fedor Emelianenko to former UFC Heavyweight Champion Junior Dos Santos. As a professional MMA fighter, you're looking for top-tier quality and reliability in your gear. While boasting a higher price point, these Fairtex MMA gloves provide excellent protection for your hands with the triple-layer foam, ensuring as little damage to yourself as you strike.
What's also important for a sparring glove like this is how they are naturally shaped so you can quickly wear them in. This typically takes a few sessions before the gloves are more closely molded to the shape of your unique hands. These gloves arrive pre-contoured, so they fit perfectly to your hand shape much quicker.
As any veteran MMA fighter knows, the ability to switch from striking to grappling can happen at any point in training or a fight. With this in mind, these gloves provide the flexibility to bend and move with your wrist with little restriction. This means you can bend your wrist backward freely enough to grab limbs for a takedown or clinch. Other gloves tend to have large padding around the wrist for protection and add thickness that prevents movement.
The split-knuckle design is unique to the Fairtex smaller 4oz gloves. This means each finger has more freedom to move around, which is crucial during an intense grappling or Jiu-Jitsu exchange. With the smaller 4oz gloves, your safety should be prioritized, so always ensure you have a decent cup and mouthguard for any sparring session.
Best Gloves For Small Hands: Elite Sports UFC Gloves
MMA UFC Gloves for Men, Women, and Kids, Elite Sports Best Mixed Martial Arts Sparring Training Grappling Fighting Gloves (White/Black, Medium)
✅ PERFORMANCE – Elite Sports Gel sparring training MMA gloves made from high-quality PU leather are super lightweight and durable because of which your punches will be fast and precise. The Pre-curved anatomic of these UFC gloves is for proper fist closure so you can keep focus on the game all the time.
✅ ADDED PROTECTION – Triple-density gel and impact foam at front protect our grappling gloves keeps the hands from damage providing you the needed safety. Pre-curved design and shock absorbent material of our MMA sparring take the safety and comfort game a level up to increase your performance making these the best MMA gloves.
✅ MATERIAL – These Elite Sports MMA sparring gloves are made from durable and high-quality PU leather. Therefore, the MMA gloves are ultra-lightweight, easy to clean and maintain, giving you a comfortable fit and snug fit. These best MMA training gloves can withstand the toughest and intense workouts for months without needing any replacement.
Reasons To Buy ✅
Tight and Secure on Hands
Quick and Easy to Put on/Take Off
Easy Clean Leather
Very Durable
Multitude of Colors Available
Great fit
Reasons To Avoid ❌
Wrist Strap may be cumbersome
Elite Sports, one of the fastest-growing names in the MMA training world of gear, brings another great model to cater to athletes with smaller hands. The most important thing to consider with a small hand is how well the glove will fit, and Elite Sports provide an easy to understand chart that can give you the perfect solution in one quick measurement, hand circumference. A smaller hand typically sits on the 6-7 inch and can easily be measured with the tape going across the palm of your dominant hand.
These gloves come in a fantastic array of colors to choose from; if you like bold designs and noticeable style, then this is for you.
This versatile glove can be used for sparring and training and is built to protect your wrist and knuckles well. Shock-absorbent padding ensures you can confidently strike without worrying your gear will fail you.
With a noticeable, high-quality design, the stitching is superior to some other well-known brands, which provides the buyer with confidence that it'll last a long time. Coupled with the use of durable and long-lasting PU leather, you can't go wrong.
Best MMA Gloves For Heavy Bag: RDX
RDX Maya Hide Leather Grappling MMA Gloves UFC Cage Fighting Sparring Glove Training F12, Large, Black
MAYA HIDE LEATHER for durability. The quality offers better for tractability, crack resistance, wear and tear and more. Hard-wearing built is ideal for MMA, Kickboxing, Muay Thai and more.
TRI-SLAB PC3 PADDING deliver eventual protection and is exclusively designed for impact resistance. Experience prime punching safety while training. Shock is dispersed evenly across surface.
DUAL QUICK EZ HOOK-AND-LOOP closure offers compact wrist support and super easy on-and-off application. The strap is ergonomically designed owing to the requirements of athletes.
Reasons To Buy ✅
World-renowned brand
Easy hook and loop strap
Professional needlework for long-lasting glove
If you're looking for the perfect heavy bag pair of gloves, look no further. RDX ticks all the boxes to satisfy the needs of technical and endurance-based heavy bag training. They offer superior protection to the knuckles in exactly the right place, meaning the safety and health of your most vital assets are protected throughout your career.
There are 4 layers of protective material between the bag and your hand. The Maya-Hide leather, a more durable Polyurethane leather that provides a real leather look-and-feel as it wrinkles and 'breaks' in the same way cow-hide leather does. Additionally, there are spongey and shock-absorbing layers to ensure the impact is dispersed evenly across the hand – important for any combat sports gear.
These gloves come with a shorter wrist strap, making them significantly easier to put on and take off when needed. Other MMA gloves involve a double look, which can be difficult when you need gloves off quickly.
RDX is well known for long-lasting gear in the sports world, and their reputation for high-quality gear transfers into these gloves.
Best Gloves For Sparring: Sanabul Core Series Advanced
Sanabul Core 7 oz Hybrid Gloves (Blue/Silver, L/XL)
Good On The Feet. Good On The Ground: These gloves are designed to go wherever the fight does. 7 oz of padding to keep your hands protected on the feet, and your fingers free when it goes to the ground
Built for Sparring: Quality Engineered leather construction means Core Series gloves will hold up for hundreds of rounds. Easy to clean and maintain, you'll be using these for years
Feel the Impact, Not the Pain: Our gloves are gel infused to take the hardest hits for you. Get every ounce of power from your punches, without paying for it tomorrow
Reasons To Buy ✅
Designed by professional fighters
Solid hybrid glove
Good padding for knuckles
Reasons To Avoid ❌
Not ideal for heavy bag work
The Sanabul Core Series is the more superior sparring glove in Sanabul's Mixed Martial Arts gloves range. With the advantages of a contoured edge on the knuckle, this pair of gloves will fit perfectly and be easier than most to wear in. They also boast strong wrist support with the double wrap around to ensure a tight fit for each sparring round.
This sparring glove wins the round for sparring. Slightly heavier than your 4oz, and built around a hybrid sparring style for striking on the feet, on the ground, and grappling at any level. They provide flexibility for your wrist to move in all angles allowing for open hands and spread fingers during take-down defenses, as well as the required padding to quickly switch back to strikes.
A disadvantage here if you're not carefully picking the right size, you may encounter some rubbing of the material on your fingers. This is especially not ideal for heavy bag work when you'll end up with cuts and worn skin along the inside of your fingers
The synthetic leather material allows for a reasonable price point, high-quality, and very easy to clean. Keeping your gear clean is such an integral part of the training; whether it's your hand wraps, gi for Jiu-Jitsu, or mouth guard, good gear hygiene matters to prevent bad odors and the build-up of bacteria. With this type of leather, you can wipe them down with anti-bacterial wipes and air them out before the next session.
Best MMA Gloves For Competition: Sanabul Battle Forged
Sanabul New Item Battle Forged MMA Grappling Gloves 4 oz (Brown, Medium)
The Sanabul Battle Forged MMA Grappling glove (4 oz) is great for mixed martial arts training or sparring when you want to seamlessly transition between grappling and striking without having to change gloves
Technologically Advanced. The fit is similar to tradition MMA gloves but we use SBL engineered leather, hand-shaped foam, and other modifications to provide added comfort and durability
Performance premium lining prevents excess moisture from being absorbed into the glove helping extend the lifespan of the glove
Reasons To Buy ✅
Designed by professional fighters
High-performance glove
Ideal hybrid glove
Unique design
Reasons To Avoid ❌
Poorly aligned knuckle padding
Another great glove from the well-known combat sports brand, Sanabul. This glove has a slightly different use to the Core Series as it's smaller, lighter, and purpose-built for competition training or lives sparring.
Professional fighters design these pair of gloves to mimic exactly what competition gloves look and feel like, so there's no shock when entering an MMA bout. The open palm design accompanied by the loop and hook wrist strap offers a tight fit for the duration of your training.
With a mean-looking leather design, it's a throwback to old-school hardcore fighters that enjoy biting down hard on their mouthpiece and throwing leather. Although it looks the most like real leather, these are also synthetic, meaning they're built to last plenty of rounds, easy to clean, and won't carve up your opponent's face after a few jabs.
What these gloves offer that most others don't is the unobtrusive design that's particularly 'vanilla,' rather than displaying all the colors of the rainbow and flaunting your style. If you want something simple looking – this is your best bet.
MMA Glove – Buyers Guide
We've provided a comprehensive list of MMA gloves that you should consider after reviewing all the options available.
What's more important is ensuring that as a combat sports athlete and buyer of MMA gear, that you're armed with the knowledge you need to make the right decision the first time around.
Finding the right fit
A training glove for MMA needs to fit perfectly on your hand, or it can cause unwanted distractions from the task at hand, as well as limiting you in your abilities to perform. Here are some tips to ensure you find the right fit
Measure your hand: To find the best fit, measure your hand to understand what glove size fits you best.
Knuckle/Padding alignment: Some gloves have padding that doesn't sit square over the knuckles, meaning you can be exposed when punching the bag or opponents.
Wrist Straps: Double wrist straps are great for keeping everything tight, but exposed velcro can cut or scrape yourself or your opponent.
Choosing the right size
We've covered the difference in gloves available and why you should consider a certain weight glove. To answer whether you should get boxing gloves or MMA gloves, ultimately, it comes down to whether you're training or sparring in a mixed martial arts scenario or purely striking. If you're training involves mixing up the stand-up game with the grappling, a smaller 4-7oz glove is required to give your hands the freedom to do both aspects of the sport.
If your training involves purely striking, you'll likely be using larger 14-16oz gloves to allow harder striking and a safer sparring experience. As you become better and move towards competitions, you will encounter striking practice with smaller gloves to understand the pace, the technique, real-world experience of using smaller gloves.
Ensure you prioritize finding the right size, just like you would when buying MMA shoes for training.
Frequently Asked Questions (FAQ's)
What kind of gloves do MMA fighters use?
Professional MMA fighters have a variety of different gloves for each situation. These scenarios could include
-Boxing sparring
-Kickboxing sparring
-MMA sparring
-Hybrid MMA sparring
-Striking / Wrestling training
In both the Boxing and Kickboxing sparring, MMA fighters will use larger gloves, 14oz or heavier. This allows them to strike harder and simulate real fight scenarios without taking too much damage or dishing it out to their training partner. Often in these cases, headgear for MMA
will be used.
MMA fighters will use 4oz-7oz gloves that provide them with enough protection and small enough to simulate a real fight situation when carrying out MMA sparring or some form of hybrid sparring. Still, they will often not spar at 100% power, given the likelihood of knockout.
In terms of the brands used by MMA fighters, you will often see the likes of Venum, Reebok, Habayusa, RDX, Winners, and Fairtex.
Are MMA gloves good for punching bags?
Yes, you can use MMA gloves for punching bags but take caution if repeatedly punching a heavy bag with a lot of force as the lack of wrist straps and wrist support could lead to an acute injury or longer-term pain. As a beginner, going all out on a heavy bag brings a high possibility of knuckle and wrist injury as your hands aren't quite yet strong enough – in which case use larger gloves, 12oz and upwards.
MMA gloves can provide the benefit of simulating what it will feel like in sparring or competition. The smaller gloves will give a realistic guide on how punches feel and land on a smaller target, as opposed to large 16oz training gloves, where you don't have to be as accurate to find the chin or jaw.
Are MMA gloves more dangerous?
MMA gloves are more dangerous only because they are smaller, have less padding, and have a higher chance of landing directly on the chin or jaw, which can lead to a knockout. With larger training gloves, it's easier to protect against as a fighter covers up, and your hand, arms, partial head will absorb and disperse the force.
A punch with an MMA glove can easily slip through guards and find a target, which adds some additional danger.
Is it OK to hit the heavy bag every day?
A combat athlete can hit the heavy bag every day as long as they listen to their own bodies and take caution not to use 100% power every time.
Technical bag work on the heavy bag is a great way to understand how combinations may land, what position your hips or feet need to be in, and can be done solo in your own time.
If you're planning to use full force every day on the heavy bag, this isn't recommended and isn't a preferred training method for any professional combat sports athlete. The risk of injury is high, and pushing your body and joints that hard leads to injury.
How long do MMA gloves last?
A good pair of MMA gloves will last between 12-24 months, depending on your usage. In a lot of cases, after 12 months of regular usage (2-4 times per week), you'll find a growing amount of wear and tear, bad odors, and a looser fit. When you notice this, it's time to find a new pair of gloves.
If you're a recreational MMA athlete and train once per week, it's likely your gloves will last up to two years or longer.