You're starting out in Brazilian Jiu-Jitsu for the first time and need to know what Gi to wear? What color should you choose, what size, what brand, and what's the best value? We have you covered. While it can be daunting to decide all of this, we're here to help. We've tried and tested all the top Gi's on the market to tell you which is the best BJJ Gi for beginners.
What you're looking for in your first Gi is quite simple. Comfort, durability, and a good fit are the 3 essentials to choosing your Gi. It should last you for your first year at least, depending on how frequently you train.
This guide is tailored towards beginners, and most of our top picks cost under $100 and come with a free white belt – it's a great starter pack. While you figure out whether you are invested in this sport, you don't want to splash out too initially.
However, what is very important to note is that not all Gis are equal; they're not all made the same, designed the same, perform, or last as long. So if you live by the mantra, "buy cheap, buy twice," then we've covered some excellent options that are great value for money and will last over time.
Fitness To Diet is supported by its audience. When you purchase through links on our site, we may earn an affiliate commission, at no additional cost to you. Learn more.
👇 Skip ahead to our top picks of the best BJJ Gi's for beginners right here 👇
Tatami Nova Absolute – Best Overall Beginners Gi
Tatami Fightwear Nova Absolute BJJ Gi - A2XL - White
LIGHTWEIGHT - The NOVA Absolute features an all new lightweight jacket made from an advanced lightweight perlweave fabric
ATHLETIC FIT - We have spent many months developing the new cut for this latest NOVA Absolute. This model features a shorter jacket and tapered pants. The NOVA Absolute is build for training and competition
LARGE SIZE RANGE - Tatami pride themselves on having one of the large size selections in the world, offering heavy, short, long and extra long options for the perfect fit
Reasons To Buy ✅
Pearl Weave
Competitive price point
Free belt
Designed for beginners
IBJJF Gi Approved
The Tatami Nova Absolute is ideal for anyone looking to grab a Gi as quickly as possible to hit the mats and train. Boasting a lightweight pearl weave jacket and pants that provide durability and ease of mobility during training. A 350GSM (Grams per Square Meter) jacket means it is one of the lightest you can find on the market – ideal for warmer months or if you feel more comfortable in lighter clothing.
Tatami smartly designed this Gi with competitions in mind. An IBJJF approved Gi, which can be bought in white, blue, and black, stay within the official BJJ competition rules' guidelines.
Whilst some reviews talk to a small amount of shrinking, there are ways to unshrink your BJJ Gi – however, in this case, it's worth considering buying a size larger to avoid a small Gi.
Sanabul Essentials V2 – Best Design
Sale
Sanabul Essentials V.2 Ultra Light Pre Shrunk BJJ Jiu Jitsu Gi (A1, White) See Special Sizing Guide
If you go to any Jiu Jitsu school, you're likely to find someone who has a Sanabul gi. Why? Because we are obsessed with creating products for people like yourself and it shows.  Our Essential Jiu Jitsu gi has become the #1 POPULAR CHOICE among people looking for a training gi with hundreds of thousands of BJJ uniforms sold. Don't spend more time browsing and start training today with a brand trusted by customers and professional athletes
The Perfect Fit: We take the guesswork out of sizing. Our preshrunk gi can be thrown in a cold water wash and hang dried, without having to worry about shrinkage. Check the Sanabul sizing chart in the images to find yours. Still need to shrink it? No problem, you can wash this gi in hot water and machine dry it to bring it down a size
Just What You Need: A Jiu Jitsu gi created to go on the journey with you. We designed The Essential series to stand up to extended use, and we sell it at a fair price. Tested by Pros, Created for You: Some of the top competitors in the world rep Sanabul, like BJJ black belt Guilherme Bomba and legendary Jiu Jitsu coach, John Danaher. They put our designs through the ringer, so you can trust what you're wearing has the same grit as you
Reasons To Buy ✅
Affordable
Free Belt
Designed for beginners
IBJJF Gi Approved
Single Weave (Lightweight)
Drawstring pants
Great design
For those looking for a starter Gi, this should be in your top 3 list. Sanabul has re-designed their original 'Essentials' Gi by pre-shrinking the Gi to ensure that the fit remains the same throughout the product's lifetime – be sure to wash it in cold water, though.
Sanabul can reduce this outfit's cost by using single weave stitching, a simple yet effective method. It also means less effort in manufacturing and production of the Gi, which is where the end-user will benefit in price. This has not impacted the Essentials V2 Gi's longevity – which touts over 4,000 reviews nearing almost 5 stars.
The weight is another great benefit. Although it will vary slightly by the size you choose, this Gi is super lightweight. This is an advantage both on the mat to roll with and break in the Gi and when washing and drying your Gi. These pants come with an easy draw-string tie, but you should remove them to avoid fraying and damage when washing.
Sanabul has released standard competition colors to suit the beginner line of Gis. So when you're building confidence on that mat and want to challenge yourself to a white belt competition, your white, blue, or black Gi will be allowed.
Elite Sports Gi – Best Value For Money
Elite Sports BJJ GI for Men - Brazilian Jiu Jitsu Gi - IBJJF Tournament Kimono - Lightweight Preshrunk Sweat Wicking Fabric - Machine Washable - Free White Belt - Advanced Sizing Chart - Black- Size 1
✅ ADVANCE SIZING: Our sizing is superior to any other brand out there, we do not believe in 1 size fits all when it comes to Bjj gis. PLEASE SEE OUR ADVANCE SIZING CHART.
✅ NO SHRINKING- MACHINE WASH IS OK- Lets be realistic most Gi brands want you to hand wash and then hang to dry in order to avoid shrinkage – Elite Sports Jiu-Jitsu GI is made from pre-shrunk fabric you'll never have to worry about your lightweight BJJ GIs shrinking. Just wash this lightweight BJJ GI for men in cold water and use dryer. The pre-shrunk fabric of our BJJ kimono is strong and durable and will not disappoint you our cause unexpected shrinkage.
✅ IBJJF APPROVED – This IBJJF GI is approved from International BJJ Federation, so you can wear our BJJ Jiu-Jitsu GI in competitions and tournaments held by IBJJF. Various sizes and colors are available for both men and women from ages 18 to 55 years. This Jiu Jitsu GI has a stylish and elegant design.
Reasons To Buy ✅
No shrinking
Free belt with stripe bar
Designed for beginners
IBJJF Gi Approved
Multitude of colors
Drawstring pants
Elite Sports, founded to bridge the gap of poor quality and unaffordable combat sports gear, are quickly creating a big name for themselves in the world of MMA, BJJ, and Muay Thai. They've constantly featured on our top lists when it comes to MMA gloves, headgear, and even gym bags for training.
The Elite Sports Gi is pearl woven, meaning it boasts a lightweight build with a tight weave. A Pearl weave jacket can sometimes mean a rougher and more abrasive Gi, but we've not found this to be the case from our trials. Another huge benefit to the lightweight element is that it can disperse sweat much quicker than a thicker Gi.
Thicker and heavier Gi's will absorb sweat and hold it for longer, meaning the likelihood of bad smells is higher. If you speak to any long-time BJJ practitioner, they'll tell you how revolting a bad-smelling Gi can be, so choose wisely!
One great benefit to this Gi is the style – it's super simple yet sleek and aesthetic. As a beginner, walking into a new gym with a fancy dragon-covered Gi can make you stand out in a less than desirable way. There's an unwritten code of BJJ that you have to earn your Gi, and white-belts should be humble and modest with their look. The Elite Sports Gi does just that, with plain colors that are IBJJF approved, a simple logo that brings out the outfit's character, and perfect for any price range.
Hayabusa Goorudo 3 – Best Gold Weave BJJ Gi
Hayabusa Goorudo 3 Gold Weave Jiu Jitsu Gi - White, A0
MATERIAL: Jacket: 550-GSM gold weave cotton. Pants: 12oz twill cotton with stretch drawstring. IBJJF approved BJJ kimono for training or competition.
DURABILITY/QUALITY: This gi was made to be sturdy, tough, and durable to withstand hard training, strong grips, and all the challenges Jiu Jitsu throws at you.
FIT: Gi weight per size: A0 - 3.9 lbs, A1 - 4.2 lbs, A2 - 4.5 lbs, A3 - 4.6 lbs, A4 - 4.7 lbs, A5 - 5.8 lbs See product description below for SIZE CHART,
Reasons To Buy ✅
Gold Weave
Elite design
Soft fabric and comfortable

IBJJF Gi Approved
Hayabusa, known for being one of the top brands in combat sports training, has a beginner Gi's designed for those who are happy to spend a little more cash knowing they're getting top quality.
Manufactured using a high-quality gold weave technique. This gold weave stitching produces a stronger Gi than a single weave but lighter than double weave – a perfect hybrid. The textile weight is 550 GSM, which is definitely on the heavier side of a lightweight Gi. Still, these are the qualities to look for, increased durability and quality that aren't sacrificed than a lesser weave or cheaper Gi.
A huge selling point of this Gi is the embroidery and design. The perfect combination of refined and stylish without standing out like a dragon-covered print that the legit rollers can only wear—quality patchwork and a distinct appearance that will have compliments from your fellow training partners. Hayabusa has also cleverly ensured that they have all the IBJJF approved colors ready for you to choose from.
Fuji BJJ Uniform Gi – Best Traditional Design
FUJI– All-Around BJJ Uniform – BJJ & Jiu Jitsu Gi
BJJ Gi: FUJI BJJ Gi (kimono) is the best-selling and most trusted Fuji Gi (kimono) in the world. The FUJI All-around is an award-winning Jiu Jitsu Gi (kimono), recognized by many industry publications!
Jiu-Jitsu Uniform: Mid-weight with stiff, thick collar and multi-layered reinforcement across all stress points, designed for fit, durability, and comfort
Cotton Blend Kimono: The pants of the BJJ Kimono are a premium cotton blend twill pants with a cotton drawstring
Reasons To Buy ✅
Fuji Brand
Single weave

IBJJF Gi Approved

100% cotton material
Reasons To Avoid ❌
Not pre-shrunk
No belt included
Fuji has been creating martial arts gear since 1969 and knows a thing or two about BJJ Gis. When it comes to all BJJ training apparel types, one of the market leaders shines predominately in beginner gear. Knowing exactly what new-starters to the sport require, they've created the ideal value for money option.
A low-priced, IBJJF approved Gi that is comfortable and lightweight. The Fuji BJJ uniform ticks all the boxes for a no-frills option that includes both jacket and pants, although no additional belt. What's important here are the basic qualities that are nailed from the get got. A durable 100% cotton material will wash easily and last a healthy amount of time as long as good care is taken.
Checking the size chart here is a must, as from our experience, we found that these Gi's ran a little on the larger size (I'm an A4), but after a warm wash, they shrunk down to size. I would have preferred a pre-shrunk option here to take the guesswork out.
Venum Elite Light 2.0 – Best For Long-Term
Reasons To Buy ✅
World-renowned brand
100% Cotton
Pearl Weave
Incredible design
Lightweight backpack included
This Venum Elite model is designed and catered for those who want to look and feel great during training. Without a doubt, compared to all of the tried and tested BJJ Gi's in this review, hands-down, the Venum Elite Light 2.0 is the best-looking.
A 350GSM pearl weave stitching alongside the 100% cotton material means a relatively lightweight design and all-around comfort while training. You won't feel a cardboard-like, rough texture when wearing this Gi.
Reinforced stitching around the core wear and tear zones such as the pants knee areas, crotch area, arms, and lapels mean Venum has purpose-built this Gi to withstand a lot of training and competition wear and keep going.
The premium qualities of this Gi blow the other beginner Gi's out of the water, without a doubt. However, when considering a beginner's price range, this is almost double the cost, and we must consider this. Venum is the option you choose if you are happy to buy once and not cheap.
Buyers Guide To The Best BJJ Gi For Beginners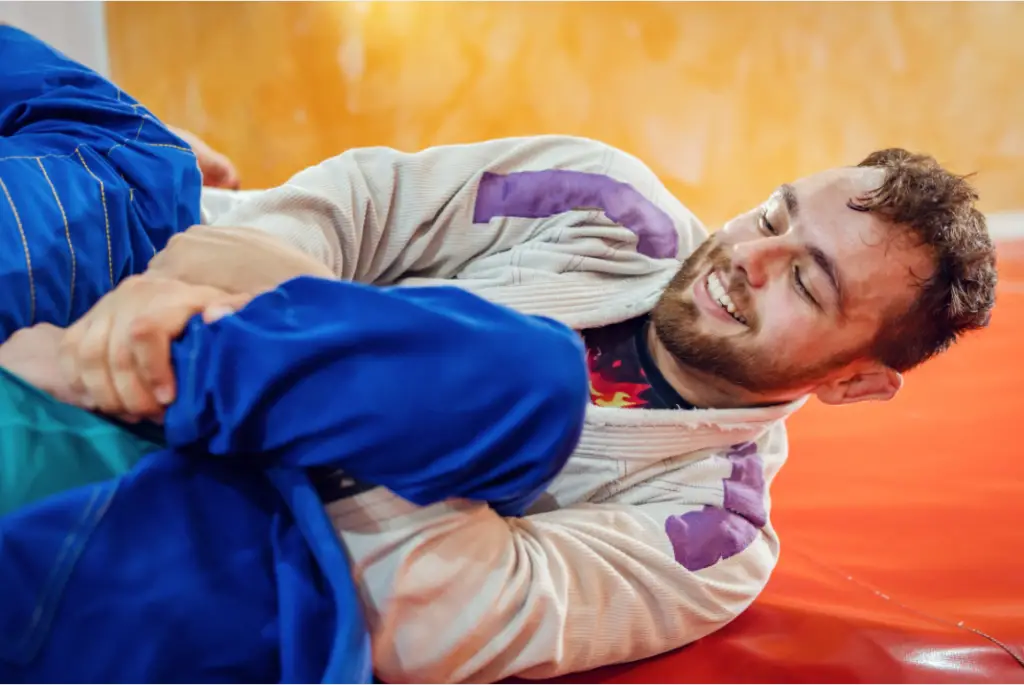 Affordability
Let's be honest; if you're starting BJJ for the first time, there's no guarantee you'll see it through to the end like any new hobby or sport. This is why it's important to start with gear that won't break the bank while you figure out if this is what you love to do. As the saying goes, "all the gear and no idea!"
You'll also want to look at what you get with your purchase of your Gi. Does it come with your first white belt, or perhaps a carrying bag? Will your new Brazilian Jiu-Jitsu gym provide you with your first white belt? These are questions you should look to answer and calculate the overall cost of your new Gi.
What does make sense is if you've trained in combat sports for some time, or even No-Gi grappling, and you know you'll stick with BJJ. It's an accepted transition that most athletes take – and if your opponents are, you should also have these skills. You may be a beginner, but knowing you'll continue to train BJJ means you should consider spending more the first time around.
Sizing
Sizing for BJJ Gis isn't as straight forward as a Small, Medium, or Large. Gis are categorized as:
A = Adult male
F = Adult female
M = 5-14-year-old male or female
| | | |
| --- | --- | --- |
| Size | Height Ranges | Weight Range |
| A0 | 5ft 4" – 5ft 7" | 60 – 65kg (132 – 143lbs) |
| A1 | 5ft 7" – 5ft 9" | 65 – 72kg (143 – 158lbs) |
| A1L | 5ft 11" – 6ft | 65 – 72kg (143 – 158lbs) |
| A2 | 5ft 8" – 6ft | 72 – 82kg (158 – 180lbs) |
| A2L | 5ft 11" – 6ft 2" | 72 – 82kg (158 – 180lbs) |
| A3 | 6ft 1" – 6ft 3 | 82 – 95kg (180 – 209lbs) |
| A3L | 6ft 3" – 6ft 4" | 82 – 95kg (180 – 209lbs) |
| A4 | 6ft 1" – 6ft 4" | 95 – 120kg (209 – 264lbs) |
Typically adult sizes range from 0-4, with "L" for long sizes which affect the jacket and pants.
There is an advantage here to online shopping such as Amazon where you can order multiple sizes and easily return those that don't fit.
Materials
The material Gi's are made from is typically much thicker than your standard clothing. This is to endure the aggressive wear and tear caused by pulling and rolling around in the Gi. Over the years, the technology for this type of outfit has improved and can fall into helpful categories to ease your decision-making.
The majority of Gi's will be cotton, although, in recent years, bamboo and hemp have made a splash. The qualities of a cotton Gi are that it is breathable, comfortable, and stronger when wet. This is needed in the sport of BJJ. What's also important is the type of weave, how a Gi has been stitched together. This can range from single, double, gold, and more commonly used, pearl weave. Pearl weave is the most popular today; they provide a lightweight Gi.
Frequently Asked Questions (FAQs)
What is the best Gi for BJJ?
The best BJJ Gi for BJJ depends on your budget and experience. For beginners, the best BJJ Gi is the Tatami Nova Absolute due to its affordability, simplistic design, and IBJJF compatibility.
What color BJJ Gi should I get?
The traditional BJJ Gi is white, however, as a beginner, you can choose from white, royal blue, or black if you're also considering entering an official BJJ competition.
There are certain rules that won't allow you to compete if you wear other colors. If you're not hoping to compete against other beginner opponents, the color of your Gi won't matter.
Is Gi or No Gi harder?
There are several considerations to account for before answering whether Gi or No-Gi is harder. No-Gi is more fast-paced due to the lack of holds on the clothing, where opponents may stall. On the flip side, the grip strength and endurance required to hold your opponent takes a considerable amount of time to build and will play as a huge advantage.
Do I need a Gi to start BJJ?
You don't need a Gi to start your first day in BJJ. Calling ahead or just turning up is fine, most training facilities will have a spare Gi jacket and belt to borrow.
However, you will need to purchase a Gi by your next class in order to learn and continue training.
Should I wash my Gi after every use?
In order to avoid shrinking the gi when washing, make sure you hand wash the uniform with cold water and let it air dry. If it takes more than twenty-four hours to dry the uniform, purchase two gis, so you don't have to show up to the mat with wet clothes.
BJJ gis shrink because they are made of cotton, which gets affected by hot water. Most modern washing machines use hot water, and even the ones that use lukewarm water have heat-producing dryers that evaporate the moisture. As a result, your gi will shrink if given a regular wash-and-dry treatment.