So you've decided to get serious about lifting. You love the Squat like your mother's peach cobbler. The Deadlift is like your long lost brother. Your spare bed is the Bench Press. Well, then it's time for a PB busting new belt.
You've been at this for a number of years and now that you're tweaking and refining your training, the weight on the bar is starting to look serious. You understand the importance of strength training and you've noticed every other heavy lifter has this magic band around their waist that gives them Herculean strength and power that only a titan like you can harness.
This my friend, is a weight lifting belt and it will change the way you powerlift for good. We cover the best weightlifting belts for powerlifting.
Finding the right weightlifting belt for powerlifting can be tricky. There are hundreds of brands with different sizes, shapes, and uses. Remember, whenever measuring the size of a weightlifting belt, ensure you measure around your belly button, not your actual waist.
The best weightlifting belts are what works well for you, but here we've outlined some of the most reliable, comfortable, durable, and affordable powerlifting belts on the market.
Now, these are typically heavy-duty belts but can be used for all sorts of things. Olympic weightlifting, powerlifting, CrossFit, even heavy lifting around the house.
If you want to skip ahead to our top 3 picks for the best powerlifting belts then check these out👇
Fitness To Diet is supported by its audience. When you purchase through links on our site, we may earn an affiliate commission, at no additional cost to you. Learn more.
Best Weightlifting Belts For Powerlifting
| Belt | Buckle Type | Material | Waist Sizes | Width | Thickness |
| --- | --- | --- | --- | --- | --- |
| RDX Powerlifting Belt | Double Prong | Oil-Tanned Nubuck Leather | 26″ – 45″ | 4″ | 10mm |
| RDX Powerlifting Belt | Lever Buckle | Oil-Tanned Nubuck Leather | 28″ – 44″ | 4″ | 10mm |
| Steel Sweat Powerlifting Belt | Single Prong | Vegetable-Tanned Real Leather | 25″ – 50″ | 4″ | 10mm |
| Dark Iron Fitness Powerlifting Belt | Double Prong | Cowhide Leather | 23″ – 49″ | 4″ | – |
Weightlifting belt comparison table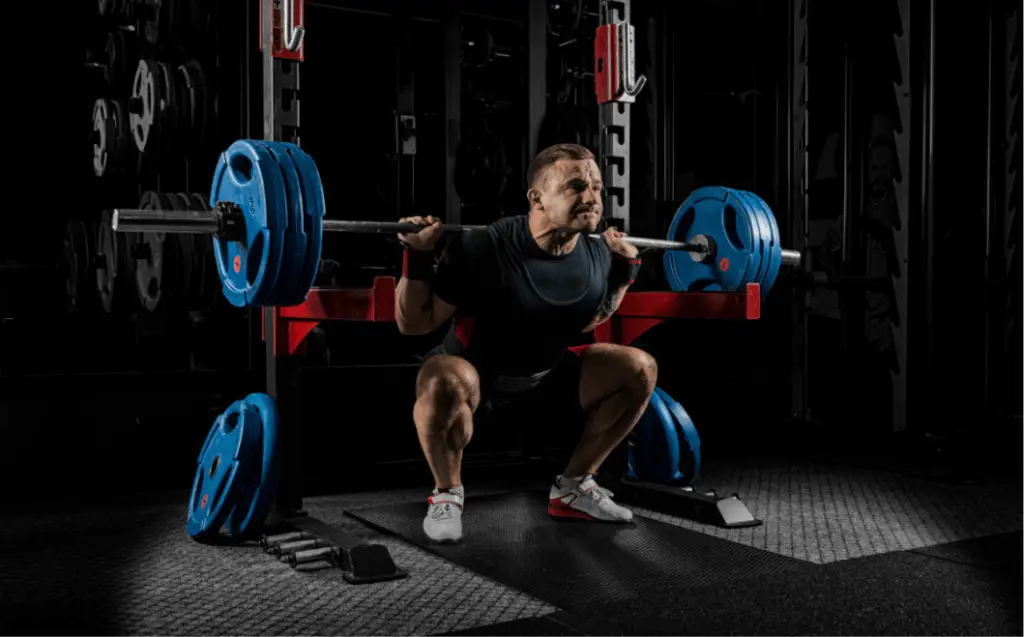 Best Overall Weightlifting Belt For Powerlifting
RDX is one of the leading brands in the weightlifting and powerlifting scene, and have been around for over 20 years building very high-quality gear. The two-pronged weightlifting belt is built with very durable oiled nubuck leather.
This belt will carry you through your intermediate journey to advanced. Your squat, deadlift, and cleans will undoubtedly increase with this fierce support to your back.
Nubuck leather is made from the stronger outer layer from the animals hide across the full surface area, and therefore much more durable and long-lasting. Not only that, but RDX has also taken this material through an 'oiling' process which improves the leather's resistance to water and stains – something essential to withhold the hard wear and tear of powerlifting life.
Alongside the leather is the stainless steel buckle for MAXIMUM durability and long-lasting use, and peace of mind.
Ranging from 26" to 45", this weightlifting belt clearly caters to the bigger man. These sizes range from small, medium, large, and x-large. The belt has a 4-inch width for full coverage around the back and uncompromising lumbar support. Compared to basic gym weightlifting belts, this is much wider and may feel strange at first, but once you find the right position you'll never go back.
The RDX belts are also 10 millimeters thick (roughly half an inch) which makes you feel safe and secure when strapped in, exactly what's needed for heavy squats and deadlifts.
Having a 'double-pronged' belt more evenly distributes the stress placed on the belt as opposed to a single prong, and can hold everything together more securely. Not to mention they look more badass!
The build quality is second to none, there's no fault there. A premium feel without a doubt, and for a reasonable price. The main downside is the size of these belts. They won't fit into a rucksack, and if you have a small duffel bag then you'll struggle to fit in much else. If you tend to carry a larger gym bag then this shouldn't be a huge problem.
On the whole, this should be the staple of your lifting gear. It's versatile, tested, solid quality, and does the job very well. ⭐⭐⭐⭐⭐
Reasons To Buy ✅
Industry-Leading Quality
Competition-Safe Dimensions
Moisture-Wicking, Reduces Odours
Great Back and Lumbar Support
Reasons To Avoid ❌
Difficult to fit in smaller gym bags
The Best Weightlifting Belt With Lever Buckle
Reasons To Buy ✅
Easy To Adjust Lever
Excellent Build Quality Belt
Moisture-Wicking, Reduces Odours
Great Back and Lumbar Support
Reasons To Avoid ❌
Lifetime of Lever Buckle
Feeling of Support Vs Prongs
For all the reasons stated above, RDX's lever operated weightlifting belt still ranks the highest for our standards.
The exact same high quality build as the two-pronged belt has just got an 'ease-of-use' upgrade which now makes it a whole lot easier to get the best fit for your lifts. The RDX lever belt comes with 7 precision holes for the lever to fit into.
Now, the main benefit of the lever is not so much when you're strapping in, but more so when you're done with your lift – it's significantly easier to slap the clasp off and give you that immediate breathing space after a big lift.
Those athletes competing in CrossFit, either recreationally or as part of the CrossFit games – you'll also benefit massively from this belt. As you go from an olympic lift to kipping pull-ups, you'll want to very quickly strip off this belt. The lever buckle helps you do just that.
I've personally tested this belt for 3 months and found a few nuances with the lever buckle system. The 'hooks' on the lever are quite small and can often feel like they're not locking into place, but rather digging into the belt material. This may sound like minutia, but when you're stepping up to do a PB on the squat rack, the last thing you want to feel is a lack of support.
Although the belt I've tested has had no issues with the lever buckle itself, there are reports online that point out that it can break and a replacement buckle would need to be purchased.
Overall, a top tier build quality belt from RDX that suits powerlifting, bodybuilding, and CrossFit with the practicality of a new lever system, just as long as it doesn't break! ⭐⭐⭐⭐
Best Single Pronged Weightlifting Belt
Steel Sweat Powerlifting Belt for Weight Lifting - 4" Wide by 10mm Thick - Single Prong Heavy Duty Adjustable Weightlifting Belt, High Grade Leather - BOLT Black Large
LONG LASTING & STRONG: Premium full grain high quality real leather lifting belt using aniline leather for a soft and comfortable feel. This belt will last for years utilizing screw rivets which will prevent popping out over time.
QUICK & EASY to ADJUST: Single prong roller buckle, made of stainless steel so it wonât rust. Allowing you to make easy adjustments from hole to hole when needed. Easier to use than a 2 prong buckle and will not break like a lever belt pronged system.
IMPROVED SUPPORT: Giving you 10mm thickness for better lumbar and core support for those serious about powerlifting. A stronger core, means more efficient your force transfer, which means you will lift more weights.
Reasons To Buy ✅
Easy Use Single Prong
Compatible up to 50" Waist
Long-lasting Vegetable Tanned Cowhide
Powerlifting Federation Compliant
Reasons To Avoid ❌
Not As Secure As Double Prong
Unlike a two-pronged or lever belt, the single pronged weightlifting belt means you can very easily adjust the belt in the moment of your big lift, there's little to no faffing around trying to make it fit – a single prong takes the effort away.
For those serious lifters, the Steel Sweat weightlifting belt is 100% compliant with the Powerlifting Federation. In terms of real comfort, the suede interior lining is perfectly designed to wrap around your torso with minimal discomfort or distraction.
This industrial-strength, purpose build, easy to use weightlifting belt by Steel Sweat is built for the big bodybuilder, strongman, and advanced lifter. Of all the belts we've looked at it's the only one that has an XXL size for up to a 50" waist. ⭐⭐⭐⭐⭐
Best Weightlifting Belt For Beginners
Sale
Dark Iron Fitness Weight Lifting Belt for Men & Women - 100% Leather Belts, Adjustable Back Support & Stability for Gym, Weightlifting, Strength Training, Squat or Deadlift up to 600 lbs
Strong: Our weightlifting belts for men and women leather don't break, tear, or wear out. Enhances workouts while providing safe protection for your spine and core.
Comfortable: Made from 100% genuine buffalo hide leather, the weight lifting belts are designed to be soft, supple, and flexible so they can help eliminate any pain, yet remain super supportive
600 Lb Limit: Allowed you to squat or deadlift well over 500 and 600 pounds without issues. The weight lifting belt for women and men is USAPL approved.
Reasons To Buy ✅
Great For Beginners
IPF Approved
Sturdy
Double Pronged
Reasons To Avoid ❌
Bogus Stats
Thickness Not Quoted
If you're new to the lifting game or even heavy weightlifting, then you'll need a suitable belt to support you achieve your gains. Most of the belts we've looked at start at 25" and larger.
The reasons we've picked Dark Iron Fitness as the winner of the 'Beginner' category is for its size and versatility for those starting out. Beginners might take heed of some much-needed advice for muscle hypertrophy on their journey to great power…and responsibility 🕷
You can find sizes ranging from X-small, medium, all the way to X-large for the big body shaped beginners.
When it comes to the basics like squatting and deadlifting, this will help you on your journey to an intermediate lifter.
This belt opts for a double-pronged finish which as we've already mentioned, even distributes the stress of the load across the belt better than a single pronged belt.
The Dark Iron Fitness weightlifting belt is also International Powerlifting Federation (IPF) approved and meets the standards for competitions.
Whilst the company boasts a number of stats on their page, such as "10% more weight lifted", and "Barbell Deadlift and Squat 275kg without breaking", these aren't verified scientifically, but purely anecdotal from the customer feedback. If a belt could guarantee a 10% increase on your lifts that would truly be magical!
Ticking all the boxes for a new weightlifter that needs an entry-level belt, the Dark Iron Fitness brand is great for beginners and small waist lifters. IPF approved and sturdy, it's a strong contender for this category. ⭐⭐⭐⭐
What belts do powerlifters use?
Powerlifters use belts that can increase their primary lifts such as the Squat and Deadlift. Safety and functionality is a secondary or tertiary concern in most cases.