The ultimate 170 calories healthy chocolate protein powder mug cake with low carb, high protein ingredients and tastes incredible. This no egg protein mug cake recipe takes just a couple of minutes to prepare and cooks in under a minute! After baking this no egg protein mug cake – this will be the only recipe you'll need to remember.
Protein Powder Mug Cake
At FitnessToDiet.com, we love our recipes, and we're starting to roll out a whole new series of quick, healthy snacks that are packed full of the macro and micronutrients your body needs.
We also understand how tough it can get when you're cutting sugars and carb-heavy foods, so we've experimented plenty to get the right balance of flavor and nutrients. This recipe has no eggs, no bananas, and no flour.
With a total of 26g of protein and only 8g of carbs, 4g of fat – it's a no brainer. Who would have thought that cakes could be healthy!
What Is A Mug Cake? 🎂☕
Simple. A cake in a mug. Made famous initially by the Nutella Mug Cake, it's essentially microwaving a handful of ingredients to produce a cake in a mug.
Our take on this is to use Whey Protein as the core ingredient to ensure a high protein content and balance the texture with our other ingredients.
You can really take this recipe and make it your own. I always tend to use high-quality whey protein, and Optimum Nutrition is the brand I've chosen for 10 years. If you want to go for a bold chocolatey flavor, then 'Double Rich Chocolate' is great. For a no egg protein powder mug cake, 'Cookies and Cream,' 'Chocolate Peanut Butter' have both worked a treat too. Optimum Nutrition is great as it includes 5.5g of BCAA's, too, which is a bonus.
However, our top pick from multiple rounds of testing goes to Promix – their 'Raw Chocolate' and 'Peanut Butter Chocolate' protein powders taste significantly better than any other powder and are ethically sourced and lab-tested.
Fitness To Diet is supported by its audience. When you purchase through links on our site, we may earn an affiliate commission, at no additional cost to you. Learn more.
PROMIX- Whey Protein Powder

✅ Unsweetened, light, and smooth taste
✅ Made from milk from certified grass-fed cows
✅ Minimally filtered for a higher concentration of Omega-3s and CLA
✅ Since 2011 Promix has been working directly with farmers.
✅ 5.9g of branched-chain amino acids per serving
✅ Multitude of flavors

Cocoa powder is important to get right for a no egg protein powder mug cake. Given that you'll be using such a little amount it's worth spending a little extra for a higher quality premium product. Seven Mills do a fine powder, as do Naturya.
I've tried this recipe with whole milk, semi-skimmed, and almond milk. If you can spare the extra calories I'd recommend whole milk – but almond milk works just as good. Whole milk gives it some extra volume and flavor which isn't that bad for a total of 4 grams of sugar.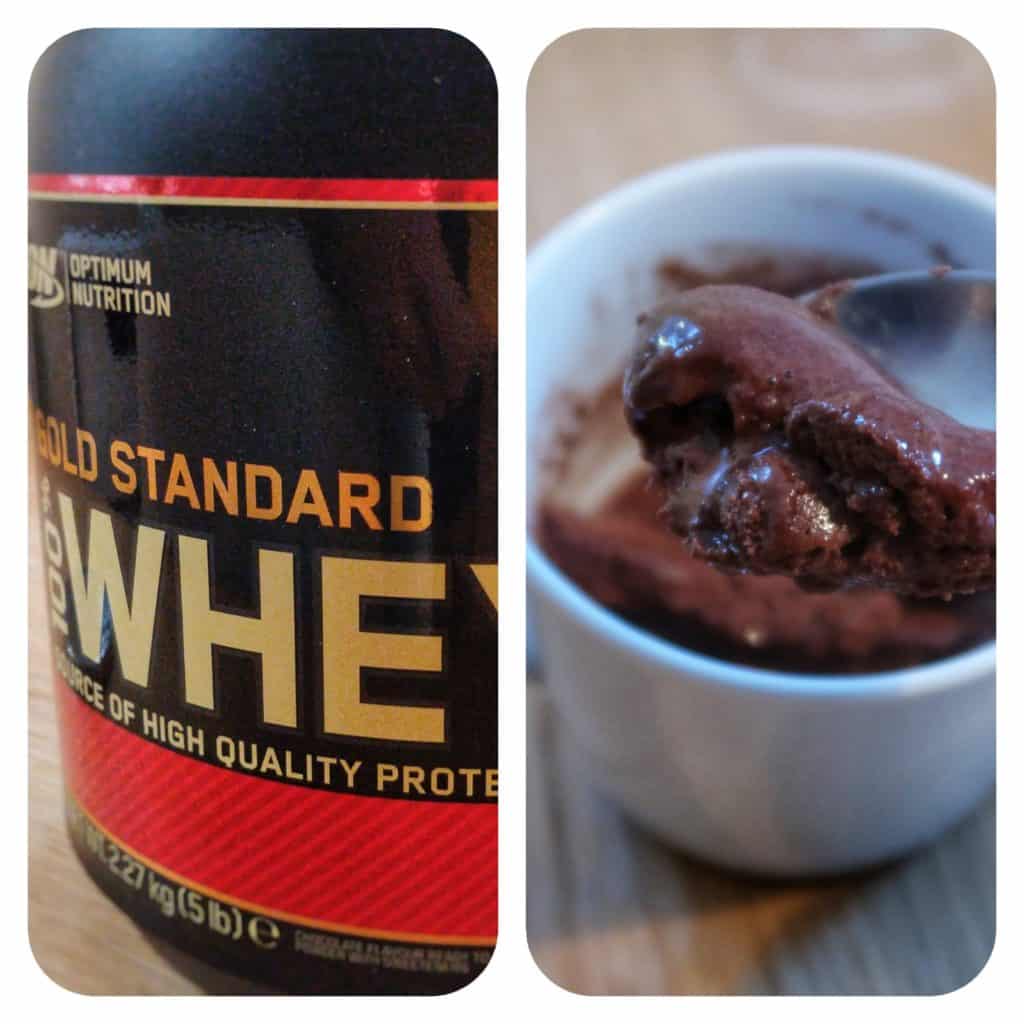 No Egg Protein Powder Mug Cake Recipe
Ingredients
30g / ¼ Cup Optimum Nutrition Whey Protein Powder
5g / 1 Teaspoon Cocoa Powder or Crushed Cacao Nibs
2.5g / ½ Teaspoon Baking Powder
60ml / ¼ Cup Milk
Method
Mix the Whey Protein, Cocoa Powder, and Baking Powder carefully in a mug with a teaspoon.
Add the milk and keep stirring until everything has mixed and you have a nice consistency.
*Important part*
Microwave time. Start with 30 seconds. Check on it, then another 5-10 seconds whilst watching carefully. You don't want it to be a solid cake – the goal is to have it half-baked and gooey.
It might take a few attempts to get this right, and when you do it's a game changer. It's important not to let the mixture overcook as whey has a propensity to turn very spongy and inedible.
When microwaving, keep watching (especially the last 10 seconds) as the mixture rises, and stop roughly as it reaches the top of the mug.
When you take it out the texture should be gooey, moist, and very chocolatey.
Nutritional Information For No Egg Protein Powder Mug Cake
For 170 calories, no eggs, flour, or bananas, and jam-packed with protein – you'll struggle to find a better alternative. If you do have any alternative recipes – drop us a comment below!
If you've enjoyed this protein mug cake recipe then share it with friends! You can also find the ingredients we've used on Amazon below.
Sale
Frequently Asked Questions (FAQ's)
Do mug cakes actually work?
Microwave mug cakes do actually work. They're simple to make and often require very few ingredients and aren't time intensive. In most cases, a mug cake won't taste better than an actual cake, however, they're versatile and can be healthy, high protein, vegan, and gluten-free – a great snack for the sweet tooth.
Mug cakes are often made in the microwave, although there are oven options. They're easy even for those with little no cooking experience and can be spruced up with chocolate chips, a teaspoon of peanut butter or any other nut butter.
Is it OK to microwave protein powder?
It is absolutely OK to eat protein powder mug cakes! They are a quick fix to a sweet tooth and can be adjusted to be high-protein meals with delicious fillings like chocolate chips or a touch of dark chocolate.
Whether you use vanilla vegan protein powder or peanut butter protein for a slightly different twist, you can always add some exciting toppings like maple syrup or a few healthy nuts.
Can you add protein powder to cakes?
You can add protein powder to cakes but it will often negatively impact the texture of the cake. Whey protein typically creates a more chalky consistency that isn't as soft and fluffy as most baking flours.
You can experiment with different dry ingredients such as coconut flour or almond flour, and possibly other nut butter to find a consistency you like.
Does baking protein powder destroy it?
Baking with protein powder does not destroy the protein. Cooking with protein powder, as with any other type of protein (meat, eggs, fish) denatures the protein, which is essentially changing the structure which effects the digestion in your body and nothing more.
Denatured protein doesn't mean that you lose the nutritional value – it remains the same.
Why are mug cakes so popular?
Protein mug cakes are so popular because they can be made so quickly, with regular household ingredients, and taste exceptional.
A lot of athletes tend to have a sweet tooth or cravings for sweet things post-workout, and a protein cake does just this. The benefits are a low-calorie high protein cake with a variety of easy ingredients like Greek yogurt, coconut flour, peanut butter, coconut oil, vanilla extract, and still be low carbohydrates, includes fiber, and is microwave safe!