If you have a sweet tooth but don't want to polish off a jar of Nutella with ALL of its 2,156 calories, then there is a great high protein alternative! The gourmet wizards at Myprotein have come up with a high protein spread that comes in 3 delicious flavors and 87% less sugar than Nutella.
| Factor | Rating |
| --- | --- |
| Taste | 5⭐⭐⭐⭐⭐ |
| Quality | 5⭐⭐⭐⭐⭐ |
| Nutritional Content | 3⭐⭐⭐ |
| Value for Money | 4⭐⭐⭐⭐ |
| Overall | 4⭐⭐⭐⭐ |
| | |
It tastes like Nutella, but it's better!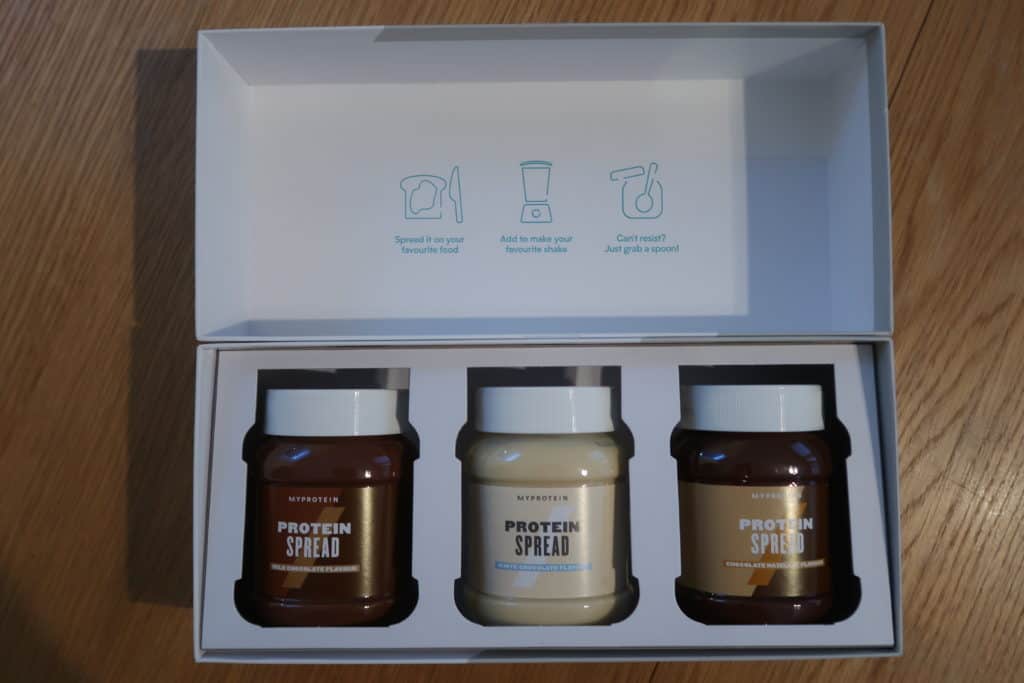 We all know that a healthy and consistent diet will help you achieve your fitness goals, whether it's to lose fat or build muscle. However, this is often easier said than done and more often than not, a naughty treat can get in the way of your results. By preparing yourself and your kitchen with the right foods to ensure you stay sane but also lean, you have more chance of success. MyProtein recognizes this and understands that a teaspoon of Nutella can sometimes become a ladle and then visible abs soon go into hiding!
Choosing a high protein and low sugar spread can help curb sugar cravings whilst topping up your protein content for the day, and the crazy scientists in the MyProtein labs have conjured up just that.
What Is A Protein Spread?
Essentially MyProtein has created a low sugar alternative to the common supermarket chocolate spread. The calories and sugar content in a normal chocolate spread like Nutella are super high and unsustainable to consume consistently for a plethora of reasons such as weight gain, heart disease, and type 2 diabetes.
You'll see as we break the calories down that this won't replace your protein bars, or shakes, but can be used as a treat now and again when you're sugar cravings are kicking in.
Protein Spread Flavours
The three high protein spreads that are currently available are:
White Chocolate Flavour
Milk Chocolate Flavour
Chocolate Hazelnut Flavour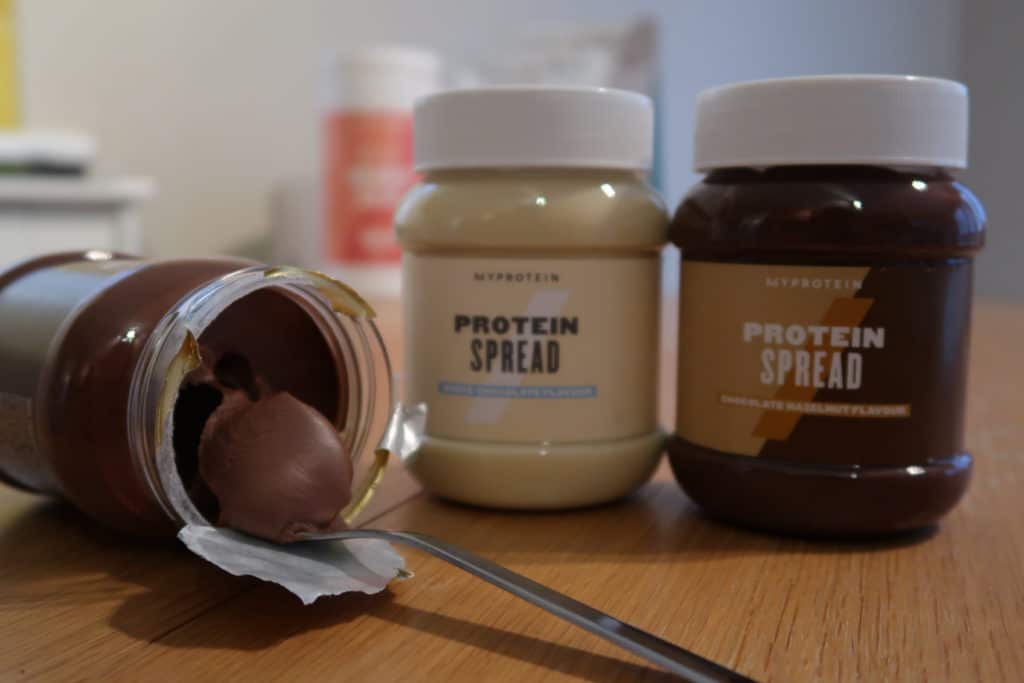 Nutritional Information Comparison
Let's breakdown what's inside these spreads. Below we compare the ever-popular Nutella and MyProtein's brand new 'Trio Box' spreads of all the three flavours to understand the differences in nutritional information.
| Nutritional Information | Nutella | Choc Hazelnut | Milk Chocolate | White Chocolate |
| --- | --- | --- | --- | --- |
| Calories | 80 | 78 | 81 | 87 |
| Fat | 4.6 | 5.6 | 6.1 | 6 |
| Saturates | 1.6 | 1.3 | 1.7 | 1.5 |
| Carbs | 8.6 | 5 | 4.4 | 5 |
| Sugars | 8.4 | 1.1 | 0.9 | 1 |
| Protein | 0.9 | 3.1 | 3.2 | 3.2 |
Nutritional Information Breakdown
What Does It Taste Like?
Whilst all of these are delicious (yes I've tried them all!), Chocolate Hazelnut might as well be Nutella – it's that good. My second in the top 3 would have to be White Chocolate as it is remarkably close to what Milkybar tastes like – doesn't that take you back to the '90s?
Normally when cooking with 'whey' as an ingredient, it's difficult to get the right consistency in the mixture – you'll know this if you've ever tried to make your homemade protein pancakes, or even tried our incredibly popular chocolate protein mug cake. Because of this, I expected the spreads to be somewhat chalky and lack the smooth, glossy texture that Nutella delivers. That was not the case! This spread delivers.
Chocolate Hazelnut Flavour
I was pleasantly surprised when the spoon first broke through the surface of the Chocolate Hazelnut spread, and it looked and felt just like a regular chocolate spread. There is a creamy and sweet taste that accompanies the Chocolate Hazelnut flavor, but it isn't too sweet, surprisingly. For something to taste of this caliber, you wouldn't expect just 1g of sugar per teaspoon.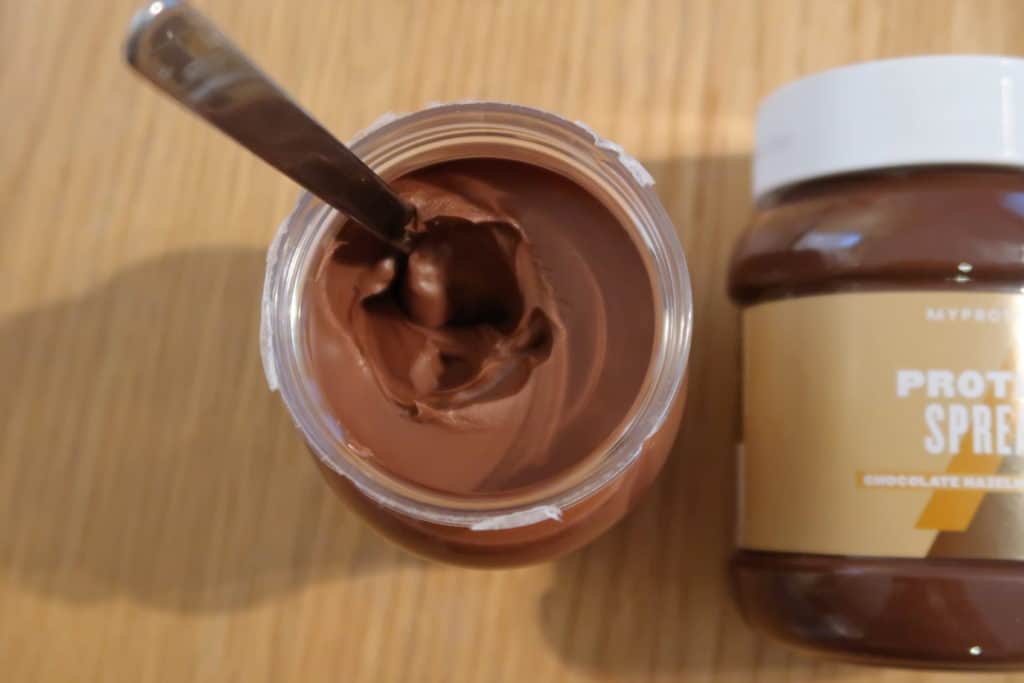 White Chocolate Flavour
If you're like me and were introduced to the Milkybar Kid from the TV commercials back in the 1990's you'll have a strong affinity to white chocolate! MyProtein was probably thinking about the same thing when they created this flavor as it's very close to the real thing. The White Chocolate spread will no doubt be some people's top pick and I can understand why, it contains the subtle vanilla aromas, yet plenty of character and consistency of a real white chocolate bar.
Milk Chocolate Flavour
My least favorite out of the three, but still, a solid competitor in low sugar chocolate spread alternative. Compared to the Chocolate Hazelnut there isn't as much flavor and distinction to it which is probably why I've ranked it third. Had I tried it without the White Chocolate or Chocolate Hazelnut to compare against it may have been a different story.
Ingredients
Whey Protein Concentrate
MyProtein has opted to use Whey Protein Concentrate for these spreads. Whey Protein Concentrate is 80% protein by weight and is typically used in most fitness supplements. Although Whey Protein Isolate has slightly more protein content by weight (circa 90%) they are both derived from the same source of whey and both contain the same amino acids.
If you want a more detailed comparison of Isolate Vs Concentrate then head over to our article on Clear Whey Protein.
Fats
Whilst the overall sugar is significantly lower than most normal spreads, you'll have noticed that the protein spread still contains a high-fat content. Some of these fats come from coconut oil which is a great source of fat as it is made up of medium-chain triglycerides or MCT which goes straight to the liver as a source of quick energy or it's turned into ketones.
Suggested Use
The versatility of these spreads is fantastic. I've considered it to be useful for both gaining muscle mass and trying to cut body fat too.
You can add a spoonful of the spread to a bowl of oats and it can transform the flavor. Granted it'll add a few extra calories but you can choose how much to add depending on your goals (or hunger pains!). No doubt necessary when training in extreme sports like BJJ or MMA!
Or if you're tight on calories, a small teaspoon goes very well with a cracker or Ryvita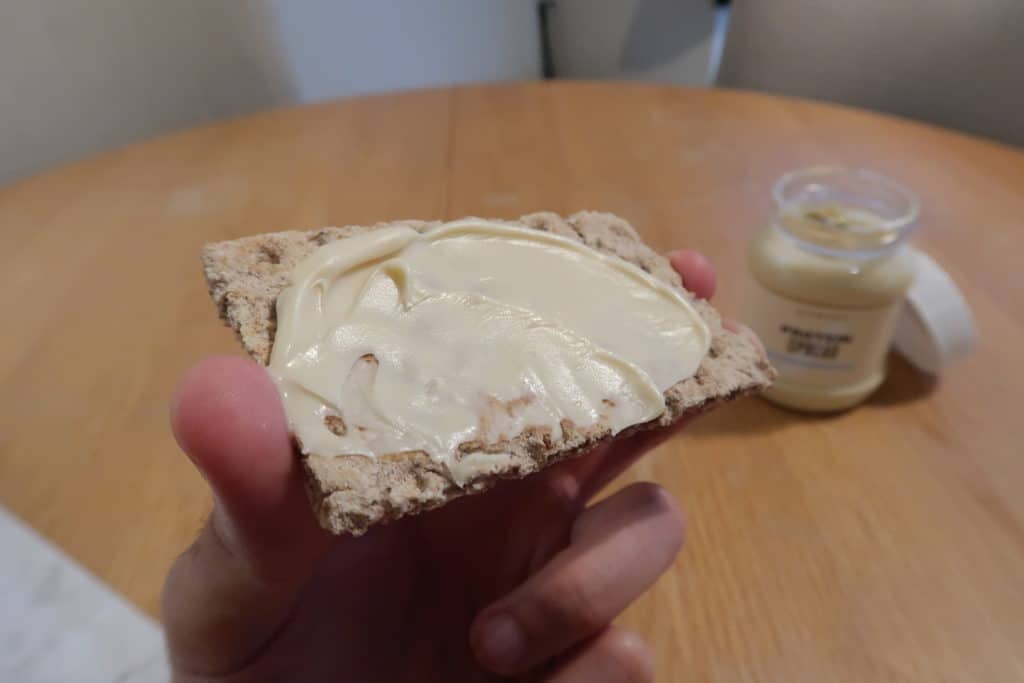 High Protein Spread – Our Verdict ⭐⭐⭐⭐
It has to be an astounding YES from us. Being able to keep sweet, tasty goodies in the kitchen that you can have now and again is a winner. You feel less guilty as there much less sugar than Nutella, and it's not too expensive given how long it'll last.
The only downside is that there are better sweet protein snacks that will give you plenty of protein – but if you can't live without chocolate spread then don't wait to add this to your secret stash now (^_^)