Many female MMA fighters weave their hair into cornrows when they fight. Is this something they are required to do by the rules of the sport? Do they braid the cornrows to keep their opponents from ripping their hair out, or is it a personal choice?
Female MMA fighters have cornrows for safety and as part of their overall image and brand. Long hair can distract the fighter, and although pulling a fighter's hair is illegal, accidents happen. But they are not required to wear cornrows, and some female MMA fighters choose not to.  
This article will explain the real safety concerns that make female fighters put their hair into cornrows. It will also let you know what the MMA unified rules say about hair, which women do not use cornrows, and which men do.  
Female Fighters Have Cornrows or Braids for Safety
Female fighters are not required to braid their hair or wear cornrows. According to the 2018 amended MMA unified rules, women contestants must wear a short-sleeved shirt (or a sleeveless rash guard). Although they could once wear breast protectors, they cannot wear them now or loose-fitting tops. And they do not need to wear the groin protection that men are required.  
Other than those specific dress rules, both male and female fighters follow the same rules for fighting–gloves, no shoes, and so on.
However, the MMA rules do mention hair once, under Cage/Ring Attire:
"When deemed necessary by the referee, all mixed martial artists shall have their hair secured in a manner that does not interfere with the vision and safety of either contestant."
Notice the word all—this rule does not apply only to men. There have been situations where men had to comply with this rule (more about that later). The referee has the final word, and since not all female fighters use cornrows, it must be rare for the referee to insist they do.
Pulling an opponent's hair is an illegal action. A fighter cannot pull an opponent's hair to gain control over them, nor can they use their hair as a tool to hold the opponent. But why would a fighter want to do that?
So what are the safety concerns that female MMA fighters have?
Long Hair Can be Dangerous to the Fighter
A fighter with long hair can be at a disadvantage in several ways.
Their hair can get caught in the cage, under their body when they are on the ground, or in other ways.
An opponent can accidentally pull on it (or, in the heat of battle, do it on purpose).
Long hair can get in the fighter's face, making it more challenging to see, which puts her at a disadvantage.
Even buns and ponytails are less than ideal as they can come undone. And a contestant cannot use any object that could cause injury to secure their hair. And if you have ever worn a hairband, you know they can snag and break.
When training, women athletes with long hair often tie their hair into a bun or ponytail and save the cornrows for fights.
Female Fighters Use Their Hairstyle as Part of Their Brand
There are several types of braids an MMA fighter can choose from, some of these include:
Boxer Braid
French Braid
Dutch Braid
4 Strand Braid
Pull Through Braid
Reverse Braid
DNA Braid
And many more.
Fighters in MMA create a persona or brand based on their looks, mannerisms, victory dances, and more. The creation of a persona applies to men and women. For example, Clay Guida is known for his long hair, and Ronda Rousey for her mean staredowns.
Even some referees have a brand – Mike Beltran has a long, braided beard. When It looked as though he had cut it off in UFC241, the Twitter world went crazy. Later the MMA world learned that the judge and referee had asked him to tuck the beard into his shirt.
Athletes generally respect other fighters' brands, which includes hair. For example, once Ronda Rousey's hairdresser wanted to change Rousey's hairstyle, she refused the new hairstyle because it was too close to how another fighter styled her cornrows.
Not All Female MMA Athletes Have Cornrows
Although many female MMA fighters have cornrows, not all do. Or, they had them at one time but then changed their look.
Rose Namajunas, for example, has used cornrows but also sported a crew cut. 
When Chelsea LaGrasse fought Shinju Nozawa, she had her hair in a pair of buns on her head.
In a UFC bantamweight championship match between Ronda Rousey and Amanda Nunes, Amanda had her hair tied in a bun.
In the 2018 match-up between Alyssa Garcia and Mia Miao Phuket, Mia had her hair tied up, but not in braids.
But those fighters are among the exceptions.
Cornrows Can Lead to Hair Loss
The practical cornrows can lead to Traction Alopecia, a type of hair loss caused by tension on the hair shafts. Excessive pressure can cause hair to be pulled out and damage the follicles. Over time this damage causes hair production to cease.
Traction Alopecia affects the hair at the front of the scalp and temples. There are treatments for the condition if the follicles are still producing hair.  
Dancers, models, and celebrities who have to keep their hair pulled back or in braids suffer from this condition, and it could become a problem for MMA fighters unless they follow this advice from hair experts:  
Fighters should remove the braids after fights.
Use a conditioner, leave it in the hair for an hour, and then wash it out.
Luckily, most women fighters only wear braids for the fights and work out with their hair in a ponytail or bun. Women have not been fighting in the UFC long enough if the cornrows will cause permanent damage.
Men Can Also Have Cornrows or Braids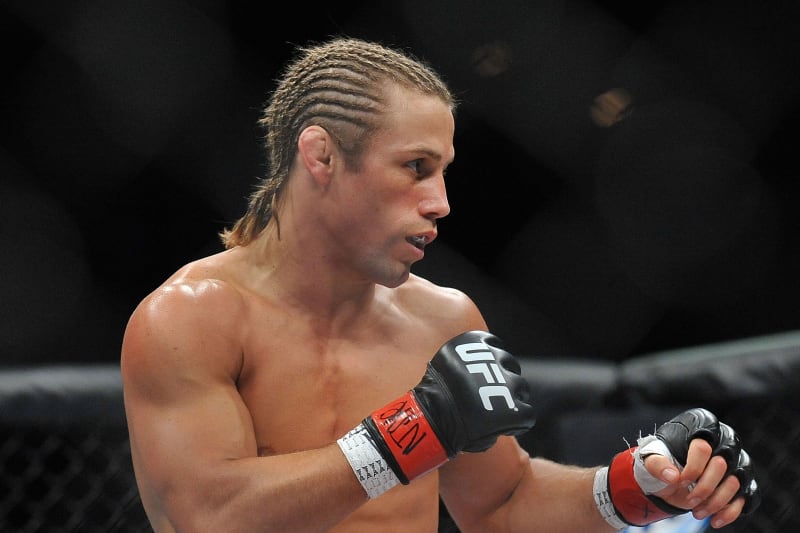 There are a few male UFC fighters that also sport cornrows.   
Urijah Faber is possibly the best-known male fighter sporting cornrows, but he is not the only one. The 2019 fighter of the year, Jorge Masvidal, and rising star Sean O'Malley are two other fighters with cornrows.
Just as women do, male fighters use their hair to create an image and brand. It has been suggested by Dorothy Willis of Bleacher Report that men use their hair to communicate messages of strength and fierceness. Chuck, "the Iceman" Liddell, had a mohawk while Dan Hardy's mohawk is inspired by punk music. Then, Chris Leben, whose brand is that fighters can never be sure what they will see when they step into the Octagon.
A rare incident where a fighter was asked to braid his hair happened to Clay Guida in 2012. Guida's long, shoulder-length blonde hair was one of his trademarks. However, his opponent, Gray Maynard, filed a complaint, insisting that Guida's hair would be distracting, giving him an unfair advantage.
Some would say that Maynard was trying to gain an advantage by having Guida change his hair. Regardless, it was a lackluster fight, and Maynard won in a split decision.
Bottom Line
The UFC fights are real—fighters get hurt, get cut, and occasionally break bones. However, the fights are also an event, with the fighters the stars. To distinguish themselves, they create a look, whether it's being tattooed, painting their toenails, how they come into the Octagon, the press interviews before, and more.  
Women cannot do as much with their hair as men—unless they are willing to shave it all off, try a mullet, or sport a mohawk. So they can use their cornrows as part of their brand and keep themselves safe while in training or the Octagon.
Sources