You love ice-cream, you love chocolate, but you hate calories. Whether you're 8 or 80 years old, most people love ice-cream. If there's any way to incorporate it into your diet without damaging results, then who would say no? This incredibly satisfying 250 calorie Whey Protein Powder Ice-Cream recipe is exactly what you need in your life right now, plus it's gluten-free and vegetarian-friendly.
The market is most definitely saturated with all kinds of protein powder ice creams, from Halo to Jude's. They all tout low calorie, low sugar, and high protein, leaving us wondering how they do it. Some actually taste great, but it's fair to say the price most definitely does not.
Even in winter, we all crave a sugary frozen treat, but I'll show you how to make and master the simple homemade high protein ice-cream and save on calories and money. There are also many whey protein ice cream recipes out there, but they can be complicated and require unnecessary ingredients. You don't need anything special to make this; that means no ice cream maker or hard to source ingredients. A few home ingredients from home and a blender is all you need.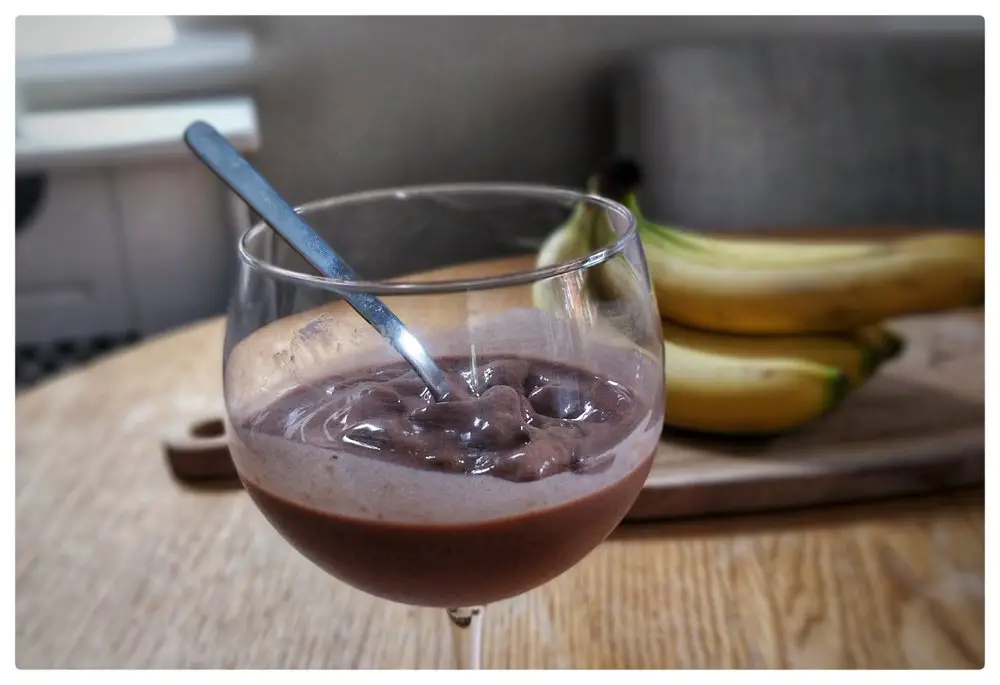 This healthy 4 ingredients high protein ice-cream is your key to curbing sugar cravings and staying lean through summer. If you're already sick of our delicious 170 calorie whey protein chocolate mug cake, then switching to ice-cream is perfect. Let's not even think about what would happen if you mixed the two…
Ingredients (Makes 3 servings)
3 Scoops of Optimum Nutrition Double Rich Chocolate Whey Protein

3 ripe medium-sized Bananas (~350 grams)

250g / 1 Cup 0% fat Yogurt

60ml / ¼ Cup Milk (I use 2% milk)

10g / 2 Teaspoon Cocoa Powder (Optional)
How To Make Protein Ice Cream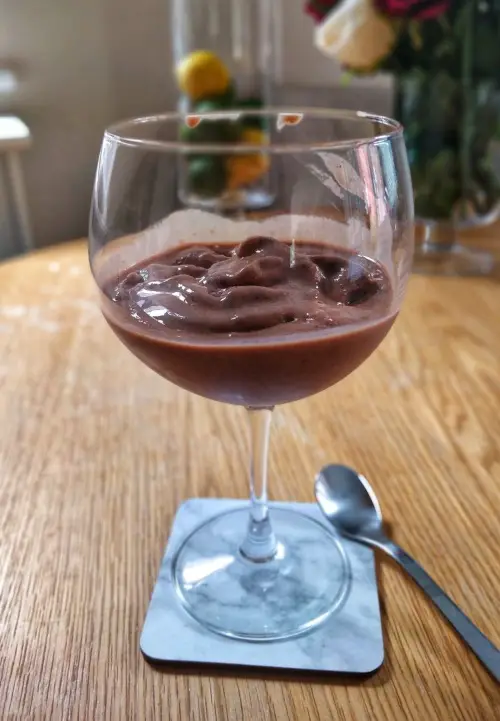 The method is straightforward. Slice your bananas lengthways and freeze for a minimum of 6 hours. Then blend all the ingredients. I always use Optimum Nutrition with my whey recipes as I've found the quality and overall consistency of their product is yet to be matched. Once you're comfortable making this recipe – you can try different whey powder flavors too.
I've found the easiest way to do this is to blend the yogurt, milk, whey protein, and cocoa powder first so that the dry ingredients are already mixed with the wet ingredients. The final step is to blend the frozen bananas into this mixture to give it the thickness and right consistency for ice cream – not to mention make it cold!
If you're finding that your blender isn't powerful enough to blend frozen bananas, you can blend everything first, then place it into a freezer-safe container and freeze for 3-5 hours.
You'll want to remove the ice-cream from the freezer and allow it to thaw for 20-30 minutes, or until you can get a spoon in, before serving. Bear in mind that the ingredients we're using make 3 servings, so don't eat it all at once – but if you do, I won't judge.
Macronutrients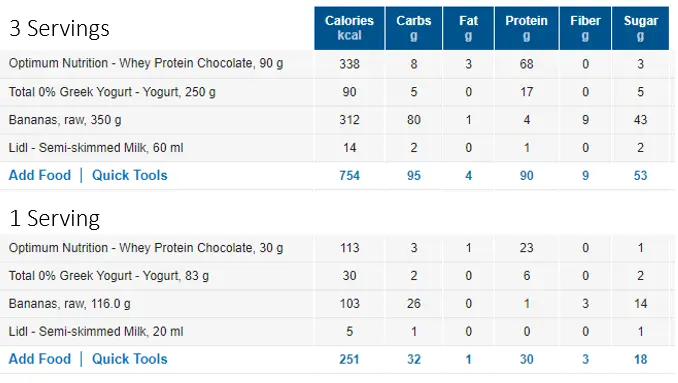 One serving of this homemade protein ice-cream provides 30g of protein! At just 250 calories, it's the sweetest pre or post-workout snack you could have. With almost 0 fat and 32g of carbs, mostly from the banana, this is a super healthy and nutritious meal.