The UFC is the biggest MMA promotion company in the world. Maybe when you watch the fights, you wonder what these guys and gals eat to be so fit and strong. Are their diets super strict, or could you catch them eating something the rest of us eat, like a plate of spaghetti?
MMA fighters do eat spaghetti. But their diets vary a lot. Generally speaking, they have a structured diet based on the recommendations of their nutritionist. But each fighter has a different body with individual needs, so there is no one-diet-fits-all.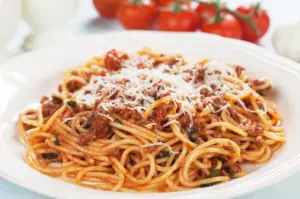 This article will discuss what some of the most famous MMA fighters eat, including Johny Hendricks, Conor McGregor, and Ronda Rousey. I will also mention some of the different components of a typical MMA training regimen, so you will get an idea of what it takes to become a fighter in the UFC.
Fitness To Diet is supported by its audience. When you purchase through links on our site, we may earn an affiliate commission, at no additional cost to you. Learn more.
Different Diets of MMA Fighters
We've established that diets vary amongst different MMA fighters, but I can imagine you might like a few examples. Here are a few: 
Johny Hendricks
Source: sherdog.com
Hendricks sometimes eats oatmeal for breakfast, but usually, it's 3 scrambled eggs and some asparagus, spinach, tomatoes, onions, and peppers. Omelette-a-la-badass.
Hendricks says that he eats so much during the off-season that when he goes back into training, his nutritionist asks him to reduce his stomach's size so he can eat smaller meals. Apparently, in college, he ate Mcdonald's 3-4 times per day. He says he liked to eat junk food and lift weights. Now, though, he can no longer do that because it would be too hard for him to lose the extra weight for his fights. 
Hendricks eats complete meals, meaning that he will have some carbs, protein, and fat sources on the plate when he sits down to eat. The exception is the meal he has before bed-time, which includes no carbs. 
Conor McGregor
Source: mirror.co.uk
Conor's diet is very healthy. He aims to give himself the absolute best chance at winning in his chosen sport, which has proven successful. In November 2016, when McGregor beat Eddie Alvarez, he became the first fighter in UFC history to hold titles in two weight divisions simultaneously.
In an interview with the Daily Mail, McGregor said: "I eat good meat – chicken, salmon, some steak – and many quality greens and some fruits like bananas." He likes to stick to sweet potatoes (which are known to be very nutritional). For breakfast, he usually has an omelet with an americano.
Protein is crucial to building muscle and recovering from training, so to get sufficient amounts, Conor has regular protein shakes around his training sessions. In case you're wondering what kind he uses, that would be SYNTHA-6 Whey Protein Powder. 
Ronda Rousey
Source: usatoday.com
In the morning, Rousey has a special coffee she always sticks to. With her coffee, she adds grass-fed butter, cinnamon, stevia, and raw coconut oil. 
Yeah, I was surprised too.
As you would have noticed, there's a lot of fat in that coffee. But before you say, "isn't that going to make her fat?" hear me out. Whatever you eat in the morning has a big impact on how you metabolize your food throughout the day. By eating lots of fat first thing in the morning, Rousey is programming her body to metabolize fat throughout her day, making her leaner. Not so stupid, Ronda.
Rousey has three meals per day, which get smaller and smaller as the day goes on. She starts her day with a big breakfast, has a medium-sized lunch, and ends with a small dinner. Her breakfast usually consists of oats, chia seeds, hemp seeds, cinnamon, agave nectar, almond butter, and raisins. 
Just in case you underestimate her, Ronda Rousey was undefeated in the UFC for two and a half years, and she was the first female fighter to be introduced into the UFC hall of fame. Yeah, don't mess with her. 
Wait. What? Not All MMA Fighters Eat Meat?
Despite the common conception that meat is crucial to building muscle, the argument is made more and more that a plant-based diet is superior. 
And the UFC seems to agree. For example, Nate Diaz, who beat Conor McGregor in March 2016, does not eat meat. Nate's brother – Nick Diaz – posted a tweet three days after the fight, saying, "Conor McGregor got his ass kicked by a vegan." Lol.
Alex Caceres, a featherweight in the UFC, is also a vegan. James "Lightning" Wilks, the former Ultimate Fighter Welterweight Champion, adds to the list of successful fighters who do not eat meat. If you are interested in learning more about this, I would highly recommend watching "The Game Changers" on Netflix – it's an absolute, well, game changer.
How Do These Modern Gladiators Train?
It's important to eat well in such good shape, but if you eat well but never exercise, it's unlikely you'll develop any fighting skills. So how do these elite athletes train? Do they spend time punching frozen meat and running upstairs triumphantly? 
Shadowboxing
Although it may appear silly, Shadowboxing is an important part of any MMA fighter's training regimen. Essentially, shadow boxing is pretending to fight an opponent, usually while looking into a mirror. "You're saying they're just throwing punches at nothing?" That's exactly what I'm saying. 
They do this because it allows them to see their punching technique and improve upon it. When you punch a bag, you can work on hitting with power, but shadow boxing has the advantage of taking the focus away from impact, which allows all your mental bandwidth to focus on technique. Maybe your elbow needs to come up higher, and maybe you need to swing your torso more. Shadowboxing exposes weaknesses in technique.
Bag Work
Bag work consists of practicing kicks and punches on a punching bag. MMA fighters can practice hitting a physical surface by hitting a bag, representing an opponent's body. This makes it more realistic than Shadowboxing and allows the fighter to understand their technique to a greater extent because they feel the result. 
While shadow boxing can show you how well you punch, punching a bag will allow you to feel how much power you are putting into those punches. Power is ultimately what you want with a punch – technique is the way you maximize it. There are many different bags, including speed bags, jumbo bags, maize bags, and uppercut bags.
Working on Their Core
The strength of your core influences all your kicks and punches' strength, so naturally, it's in MMA fighters' best interest to have a strong core. Interestingly enough, your core is the part of your body that has the most influence on your posture. Go figure. 
In case you'd like to strengthen those posture muscles, I'd recommend the Fitness Invention Ab Wheel. Not only does it work your abs, but it also works your entire core, including your obliques and lower back. It also helps to strengthen your shoulders, arms, and legs. And it comes with a skipping rope – another staple in the MMA training regimen!
Ab Roller Wheel - Ab Wheel Roller & Jump Rope - Ab Roller for Abs Workout - Ab Wheel Roller for Core Workout - Abs Roller - Ab Workout Equipment - Abs Wheel - Exercise Wheels for Abs
✅ Tone Your Abs and Body: 3-IN-1 ultra-wide ab roller wheel is designed to help you build stronger, bigger abdominal muscles. Ab wheel comes with 2 bonuses - top quality jump rope (value: $12) and a knee mat (value:$10). Improve your overall health and exercise at home, gym or office. Add to cart NOW to enjoy this 3-IN-1 set with Amazon Prime.
✅ Premium Quality: Train with the awesome fitness equipment you deserve. The abdominal wheel is made out of durable non-slip rubber and strong stainless steel that ensures stability and comfort for your workouts. The skipping rope is constructed with lightweight ergonomic handles for extra comfort and a strong grip. The jumping rope can be adjusted to the desired height and can be used indoor and outdoor.
✅ Full Body Workout: Take your body to the next level. Strengthen and tone your abdominal muscles, shoulders, arms and legs with this premium quality home gym equipment. Jump rope workout can maximize your cardio endurance, stamina, and speed that makes a great fitness workout.
Final Thoughts
In terms of diets amongst MMA fighters, there is no holy grail. There is no one best diet. It varies hugely – each diet has its advantages, and each fighter has his/her personal preferences. We've also seen that contrary to popular belief, it is not necessary to eat meat to be strong. You need protein to build muscle, which can be found in a vegetarian or vegan diet. The UFC is proof of this.  
Sources